Onsite public Sunday morning worship won't resume before May 2021 at the earliest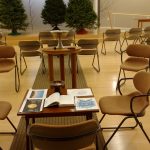 Anyone using CVUUS grounds or buildings MUST get clearance and schedule ahead of time with Laura DURING THESE HOURS: M-F 8 am-12 pm  office@cvuus.org. In an emergency when Laura can't be reached, contact Rev. Barnaby 989-9303, take pre-screening health survey before attending, adhere to "CVUUS COVID CHECKLIST" and sign in and out. Those singing or playing musical instruments inside should follow this: Singing and Playing Instruments in Sanctuary 9.9.20
CVUUS COVID CHECKLIST
BEFORE ENTERING BUILDING:
TAKE THIS PRE-SCREENING HEALTH SURVEY. IF YOU ANSWER YES TO ANY OF THESE QUESTIONS, YOU MAY NOT ENTER CVUUS BUILDINGS.
In the past 14 days, have you had close contact with a person confirmed to have COVID-19 or have not traveled out-of-state for reason that requires quarantining under current VDH orders? See map at VDH for red zones.           Yes      No
Today or in the past 24 hours have you had any of the following COVID 19 symptoms not due to known allergies? 
Cough, Shortness of Breath or Difficulty Breathing, Fever (above 100.4°F) or felt feverish, Chills, Muscle Pain, Fatigue, Sore Throat, New loss of taste or smell, Headache, Nausea/vomiting, Diarrhea      Yes    No
Have you been at a multi-family gathering in last two weeks?  Yes   No
————————————————————————————————-
AS SOON AS YOU ENTER BUILDING:
take temperature if you haven't taken it before coming > if over 100.4, YOU MAY NOT ENTER
use hand sanitizer OR wash your hands for 20 seconds using soap & water at sink
use disinfectant wipes or spray to disinfect the doorknob behind you, the thermometer,  and anything else you touch near the entry
WHILE IN BUILDING:
wear a face covering that covers your nose and mouth when in the presence of others
stay at least 6 feet away from others not in your household
use only the assigned meeting room and designated bathrooms
when possible, open doors and windows to promote air flow to the greatest extent possible and/or run fans, air exchanger, air purifier if these are available
WHILE MEETING OUTSIDE:
wear a face covering that covers your nose and mouth when in the presence of others
stay at least 6 feet away from others not in your household
use only the designated bathrooms
we recommend bringing your own chair
BEFORE YOU LEAVE BUILDING/GROUNDS:
Close and lock any open windows; turn off overhead fans, lights and equipment as needed.
use disinfectant wipes or spray to disinfect ANYTHING YOU TOUCHED while you were here: doorknobs, window latches, light switches, chairs, tables, toilet handles, faucets, counters, handrails, hand sanitizer, etc.
if we have run out of any essential COVID supplies, please tell Laura
If you get COVID symptoms or a COVID diagnosis within 14 days
of being at CVUUS, inside or outside, please let Laura know ASAP!
Use the form at all entrances to provide your name, the date, phone number if we need to reach you and attendees with you so we can do contract tracing if needed. Look for hand sanitizer, disinfecting wipes and spray, and thermometer to help you comply.
If you are a staff employee or CVUUS volunteer doing regular work on our grounds or buildings (e.g, checking equipment, dropping off supplies, pruning) and certify that you understand and comply with our checklist (by filling it out at least once and stating this on the form), you can simply sign-in on the clipboard at entrances so we can track who is coming and going. Help contractors entering our buildings sign-in/ complete the form (e.g., Russell Construction).
CVUUS formed a Safe Congregation Team (Alan Moore, Will Porter, Mike Greenwood, Jay and Tracey Harrington, Poppy Rees, Donna LaRose, Rev. Barnaby) last year to hone our procedures. It created the new Emergency Procedures posted throughout our buildings, assigned a safety volunteer to monitor our doors during worship, and more. When the COVID crisis escalated in March, CVUUS consulted the expertise of Paul Seward (a doctor, in addition to Will Porter) and Richard Hopkins (experienced in epidemiology). It agreed to follow the protocols of Gov. Scott and CDC. The Board formed a COVID 19 Advisory Team in April specifically to focus on legal aspects and best practices during a state of constant change (see note below from Board President). We closed the buildings to public use, urged CVUUS teams to meet online, and established a CVUUS Zoom account. CVUUS is committed to keeping you safe and apprised of our policies. Follow them here. Look for how these are being evaluated and opportunities to share your thoughts.
How will we decide on using our buildings during the COVID-19 era?
A Note from the CVUUS Board President (May 20, 2020)
Dear all,
As you may be aware, we use policy governance to make decisions at CVUUS. The general structure is that the Board, which is elected by the congregation, enacts policies to guide the minister's decisions, and the minister reports back to the Board about adherence to those policies. The COVID-19 crisis presents new challenges, and hence the need for a new policy:
Policy on the use of CVUUS facilities while Governor Scott's "Stay Home/Stay Safe" executive order is in effect
CVUUS will adhere to the Governor's executive order when determining whether and how CVUUS facilities will be used. In cases where CVUUS's mission to serve the wider community involves work that arguably falls within the Governor's standards for "necessary activity," the minister will have the authority to approve use of CVUUS facilities for that work if advised by one of the several medical professionals in the congregation that such a course of action is safe for those doing the work and those in the broader community with whom they may subsequently come in contact.
Fortunately, we do have doctors and even epidemiologists among us, so we don't lack for expertise. We are also aware that the Governor relies on the Centers for Disease Control and the Vermont Department of Health as he updates the executive order.
At the same time, we are nothing if not planners in this congregation, and it can be frustrating to look to the long term when we have no idea when things we used to take for granted, like getting together in groups, will be advisable. For one thing, we have to plan our budget for next year. The Board has decided that for budgeting purposes, we assume that we will not be holding services in our sanctuary before January 1, 2021. This is partly in response to an anticipated shortfall, given the results of this year's canvass; you'll read more on that in another communication from me soon. But it also seems extremely unlikely that it will be safe for us to gather before then. Indeed, after that vote of the Board just last week, the UUA made this statement:
"In the midst of uncertainty, it is the UUA's strong recommendation that congregations plan for ongoing virtual gathering and operations through May 2021. This applies to worship, events, committee meetings, staff meetings, one-on-one visits, rites of passage, and more. While smaller gatherings may be able to resume sooner if conditions improve, planning for virtual operations that could continue for a full year is advisable."
The Board has not discussed this recommendation – please keep in mind that we are a group of seven busy volunteers, and opening-up questions don't have the same urgency that closing-down questions did – but I will speak for myself to say I appreciate the UUA's thoughtful approach here.
Going forward,
the group ( Barnaby, Priscilla Bremser and Kerri Duquette-Hoffman from the Board, Jean Terwilliger from the Council of Ministries, and Dr. Will Porter) that drafted the facilities policy above will continue to meet and consider whether the policy needs tweaking or we need additional ones;
the Board will continue to pay attention to the Governor's executive order updates, recommendations from the UUA, and advice from our local experts;
the Board will err on the side of caution in deciding when and how to reopen our facilities to groups. The health of our congregants and the members of the larger human community is paramount.
Meanwhile, please feel free to contact me or another Board member if you have questions, concerns, or ideas to share.
Priscilla (bremser@middlebury.edu)
UUA Guidelines for Gathering In-Person
UUA Guidelines for Gathering Outside