Masking Policy due to Delta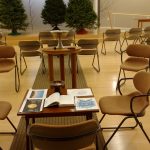 Anyone using CVUUS grounds or buildings MUST: Get clearance and schedule ahead of time with Laura in the Office preferably DURING THESE HOURS: M-F 8-12    office@cvuus.org. In an emergency when Laura can't be reached, contact Rev. Barnaby 989-9303. Take pre-screening health survey before attending and sign in on clipboard at entrances.
GROUP MEETINGS INSIDE or OUTSIDE are permitted IF they make reasonable effort to accommodate those who wish to attend virtually and follow guidance on current VT DOH and CVUUS Safe Congregation Team restrictions. If you meet inside, wear face coverings and social distance.  If you meet outside, choose to wear face coverings OR maintain social distancing.
CVUUS encourages all eligible congregants and friends to be fully vaccinated. Contact our Caring Network if you want a ride to and from or help scheduling your appointment or to be tested.
Masking: We ask everyone coming into the building to have a mask. We can provide some if you forget. Inside–be masked AND distanced if with other people not in your household. Outside – be masked OR distanced if with other people. Exception: speakers at designated microphones will be strongly encouraged to wear a mask, but not required, while using the mic.
Singing: Group singing may only occur in the last 15 minutes of the service. There may be no more than 2 pieces of group singing in any one service.  This is the music following the sermon and the postlude. If group singing happens in a service, we encourage congregants to leave the Sanctuary promptly after the service. Masks must be worn when singing at all times.
CVUUS COVID CHECKLIST FORM
BEFORE ENTERING BUILDING/ HAVING MEETING: TAKE PRE-SCREENING HEALTH SURVEY. IF YOU ANSWER YES TO ANY OF THE QUESTIONS, YOU MAY NOT ENTER CVUUS BUILDINGS OR MEET.
Today or in the past 24 hours have you had any of the following symptoms? Cough, shortness of Breath or Difficulty Breathing, Fever (above 100.4°F ) or felt feverish, Chills, Muscle Pain, Sore Throat, New loss of taste or smell, fatigue, Headache, Diarrhea, Nausea/vomiting  YES   NO
AS SOON AS YOU ENTER BUILDING:
use hand sanitizer OR wash your hands for 20 seconds using soap & water at sink
Sign in on clipboard
WHILE MEETING IN BUILDING:
wear a face covering that covers your nose and mouth and maintain appropriate social distancing from others not in your household
when possible, open doors and windows to promote air flow to greatest extent possible and/or—if available–turn on fans, ventilation system and air purifier.
follow policy for singing or playing instruments
WHILE MEETING OUTSIDE:
wear a face covering that covers your nose and mouth OR maintain appropriate social distancing from others not in your household 
BEFORE YOU LEAVE BUILDING/GROUNDS:
Close and lock any open windows; turn off overhead fans and lights as needed.
Wipe heavily used surfaces with disinfectant wipes or spray
If you get COVID symptoms or a COVID diagnosis within 14 days of being at CVUUS, inside or outside, please let Laura know ASAP!
Use the form at all entrances to provide your name, the date, phone number if we need to reach you and attendees with you so we can do contract tracing if needed. Look for hand sanitizer, disinfecting wipes and spray to help you comply.
If you are a staff employee or CVUUS volunteer doing regular work on our grounds or buildings (e.g, checking equipment, dropping off supplies, pruning) and certify that you understand and comply with our checklist (by filling it out at least once and stating this on the form), you can simply sign-in on the clipboard at entrances so we can track who is coming and going. Help contractors entering our buildings sign-in/ complete the form (e.g., Russell Construction).
CVUUS has a Safe Congregation Team (Alan Moore, Will Porter, Mike Greenwood, Poppy Rees, Laura Asermily, Rev. Barnaby) to hone our procedures. It created the Emergency Procedures posted throughout our buildings, assigned a safety volunteer to monitor our doors during worship, and more. When the COVID crisis escalated in March, CVUUS consulted the expertise of Paul Seward (a doctor, in addition to Will Porter) and Richard Hopkins (experienced in epidemiology). It agreed to follow the protocols of Gov. Scott and CDC. The Board formed a COVID 19 Advisory Team in April 2020 specifically to focus on legal aspects and best practices during a state of constant change (see note below from Board President). We closed the buildings to public use, urged CVUUS teams to meet online, and established a CVUUS Zoom account. CVUUS is committed to keeping you safe and apprised of our policies. Follow them here. Look for how these are being evaluated and opportunities to share your thoughts.
COVID Policy Board Update (March 2021)
1) No congregants will be invited to Sunday morning worship pending further notice. Those creating worship can continue to use the Sanctuary for live or videotaping service elements providing all distancing, cleaning, and masking rules are observed. The current sign-in procedures will continue to be used unless the Safe Congregation Team recommends changes. People who have been fully vaccinated, including the waiting period after the last vaccination, are not required to mask if only vaccinated people are present, but are urged to do so. We will use the honor system but people are required to enter the date of their final required vaccination on the check-in sheet.
2) Small groups cannot yet meet on campus without the approval of Rev. Barnaby or, if he has delegated the decision, Laura. We continue to observe the state guidance to use "necessity" in making judgments. In general, a "necessary" onsite meeting will be one that serves a broad social action need for which one of our spaces is especially well suited (for example, cooking for Charter House in our Fellowship Hall kitchen or the use of the Sanctuary for the Red Cross blood drive). A second category would be meetings where the facilities themselves are a focus of the discussion (for ex., meetings of the Facilities, Library, or Safe Congregations teams or to test how a small group can provide a hybrid meeting).
3) Inclusiveness is a primary concern in all we do. Small groups with permission to meet on campus shall, wherever practical, make it possible for other congregants to participate via Zoom, Skype, phone or some other remote access technology, and urge people to use that option if there is any reason to believe it might be safer. All small groups shall intentionally address our goal of keeping those who cannot be at an on-campus meeting as fully integrated into their meeting process and outcomes as possible.
4) Maintenance activities and any work on the facility or landscape shall be coordinated through Laura and performed to the greatest extent possible with masking and proper distancing. 
5) Employees are allowed to work on campus but encouraged to continue working remotely until fully vaccinated. Masking on campus and other existing safety measures will continue to be our preferred practice for employees until further notice.
UUA Guidelines for Gathering In-Person
UUA Guidelines for Gathering Outside