Masking/ Severe Weather Policies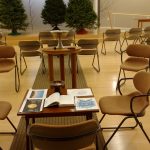 Anyone using CVUUS grounds or buildings MUST: Get clearance and schedule ahead of time with Laura in the Office preferably DURING THESE HOURS: M-F 8-12    office@cvuus.org. In an emergency when Laura can't be reached, contact Rev. Barnaby 989-9303. Take pre-screening health survey before attending and sign in on clipboard at entrances.
GROUP MEETINGS INSIDE or OUTSIDE are permitted IF they make reasonable effort to accommodate those who wish to attend virtually and follow guidance on current VT DOH and CVUUS Safe Congregation Team restrictions. While we are restricting our use of our meeting spaces during the current Covid surge, we are still making CVUUS available for public service events and activities like cooking for Charter House. See here for more about scheduling and renting our environmentally-friendly, award-winning well-ventilated spaces with wifi and media access for multi-platform meetings.
CVUUS encourages all eligible congregants and friends to be fully vaccinated. Contact our Caring Network if you want a ride to and from or help scheduling your appointment or to be tested or help acquiring a home rapid test kit.
Masking: We ask everyone coming into the building to mask effectively (see tips and links below). We can provide some if you forget. CVUUS provides an emergency supply of KN95 masks in the black box outside Fenn House facing the sanctuary. Inside–be masked AND distanced if with other people not in your household. Outside – be masked OR distanced if with other people. Exception: speakers at designated microphones will be strongly encouraged to wear a mask, but not required, while using the mic.
Singing: Group singing may only occur in the last 15 minutes of the service. There may be no more than 2 pieces of group singing in any one service.  This is the music following the sermon and the postlude. If group singing happens in a service, we encourage congregants to leave the Sanctuary promptly after the service. Masks must be worn when singing at all times.
Snow/Severe Weather Cancellation Policy: It is impossible to predict all of the winter weather conditions that might warrant the closing of CVUUS. This is especially true for services on Sunday morning when no one would want us to be closed. In an effort to provide an approach that might enable members and friends to anticipate what to expect, the following guidelines are being offered: 1) In the event of a major snow or ice storm on a Saturday night/Sunday morning, check the office voicemail (802-388-8080) and our website www.cvuus.org 2) Don't take any unnecessary chances. If you feel that there is significant reason to question your safety while traveling on the streets, stay home. 3) If an ice storm is in progress, stay home.  Thanks for remembering to use our mats and shoe trays to protect our beautiful sanctuary floor from mud, grit, and sticky ice melt and for checking to be sure doors are closed tightly behind you.
CVUUS COVID CHECKLIST FORM
BEFORE ENTERING BUILDING/ HAVING MEETING: TAKE PRE-SCREENING HEALTH SURVEY. IF YOU ANSWER YES TO ANY OF THE QUESTIONS, YOU MAY NOT ENTER CVUUS BUILDINGS OR MEET.
Today or in the past 24 hours have you had any of the following symptoms? Cough, shortness of Breath or Difficulty Breathing, Fever (above 100.4°F ) or felt feverish, Chills, Muscle Pain, Sore Throat, New loss of taste or smell, fatigue, Headache, Diarrhea, Nausea/vomiting  YES   NO
AS SOON AS YOU ENTER BUILDING:
use hand sanitizer OR wash your hands for 20 seconds using soap & water at sink
Sign in on clipboard
WHILE MEETING IN BUILDING:
wear a face covering that covers your nose and mouth and maintain appropriate social distancing from others not in your household
when possible, open doors and windows to promote air flow to greatest extent possible and/or turn on ventilation system and air purifier.
follow policy for singing or playing instruments
WHILE MEETING OUTSIDE:
wear a face covering that covers your nose and mouth OR maintain appropriate social distancing from others not in your household 
BEFORE YOU LEAVE BUILDING/GROUNDS:
Close and lock any open windows; turn off lights and turn down heat as needed.
Wipe heavily used surfaces with disinfectant wipes or spray
If you get COVID symptoms or a COVID diagnosis within 14 days of being at CVUUS, inside or outside, please let Laura know ASAP!
CVUUS ZOOM
Ask Laura (388-8080 or office@cvuus.org)  how you can request a cvuus zoom meeting. To "claim host" once you are in: Click on your name in "participants" and scroll down below the list of names  and click "claim host" and where it asks for the "host key", put in the 6 numbers that Laura will give you and you can find in our newsletter. You can also do this from "chat."  In the bottom right corner of Chat, there are 3 dots. Click them. Click claim. To allow everyone to share their screen: Click on "Security" in your bottom toolbar. Click on "share screens" and you should be all set.
Safe Congregation Team
CVUUS has a Safe Congregation Team (Alan Moore, Will Porter, Mike Greenwood, Poppy Rees, Laura Asermily, Rev. Barnaby) to hone our procedures. It created the Emergency Procedures posted throughout our buildings, assigned a safety volunteer to monitor our doors during worship, and more. When the COVID crisis escalated in March 2020, CVUUS consulted the expertise of Paul Seward (a doctor, in addition to Will Porter) and Richard Hopkins (experienced in epidemiology). It agreed to follow the protocols of Gov. Scott and CDC. The Board formed a COVID 19 Advisory Team in April 2020 specifically to focus on legal aspects and best practices during a state of constant change. We closed the buildings to public use, urged CVUUS teams to meet online, and established a CVUUS Zoom account (see above for how to arrange an online meeting). CVUUS is committed to keeping you safe and apprised of our policies.
A Covid Love Letter from Safe Congregation Team 1.6.21
When the Safe Congregation Team met (online) on Jan 5, no one expected we'd end up with good news to share. Two years into the pandemic, the Covid virus is spreading faster than ever in Vermont and even here in Addison County, which has long been a pacesetter in terms of safety. The team was well aware we haven't felt it safe to meet in the Sanctuary since Christmas Eve, even with masks and limited attendance. Projections are that Covid will get worse here before it gets better.
But then we started talking about what we have to be grateful for. Our much improved capacity for meeting online. High vaccination and booster rates in the congregation and the spread of such protections against the worst risks across all generations. Our vastly improved knowledge of how to cope with the virus, including effective masking.
Each time we've been knocked back, we've learned more about bouncing back. And CVUUS has invested in devices like portable air filters that will help us. However long the double whammy of Omicron and Delta keeps us apart, we are optimistic with good reason that we will resume being together sooner and more safely once the tide turns than was the case with earlier surges.
That got us thinking positively about new ways CVUUS can help us through this rough patch and toward the brighter future. Such as stepping up support for congregants who need the types of masks shown to work best, and sharing practical advice on how they can be reused.
I told the team that sometimes I've rushed downtown, or even walked there, without remembering to bring any mask. Rather than take chances with my safety and that of those I encounter, I've swung by CVUUS and picked up one of the surgical masks we keep at the door to the Sanctuary.
That led the team to discuss ways to let all of you do what I've done. We've ordered some good quality KN95 masks that we will keep in the black mailbox at the entrance to Fenn House. They should be in place by next Monday. Grab one if you need it. We will continue to stock surgical masks as well — there are some situations where it's wise to double up on what you wear.
When is that, you ask? Take a look at the links below on best practices for masking. And watch our Weekly Blasts and newsletters for updates to these links.
We also decided to order some home test kits because they can be hard to find, and we worry that some of you might feel they are too costly to use even if you need one. Our preliminary order as an experiment is for 10 of them that the Caring Network will be able to deliver at no cost to you (if you want to help offset the cost, you can send a contribution to the office at your convenience). These kits won't arrive for another two weeks so watch for an announcement when they do. But you can contact Michele Lowy (mslowy@gmail.com) or Kathryn Schloff (kathrynschloff@gmail.com) if you know you will need one or more, and especially if you would like to temporarily join the Caring Network team to help administer this Covid program.
Bottom line: the name "Safe Congregation Team" can sometimes imply that we are concerned with addressing fears. But we were reminded this week that we are really here for you, like the Caring Network, to serve the Spirit of Life-Giving Love.
Blessed be, Rev. Barnaby on behalf of the Safe Congregation Team (Alan Moore, Mike Greenwood, Dr. Will Porter, Poppy Rees, and Laura Asermily)
COVID TIPS from the CVUUS Safe Congregation Team 1.5.22
The COVID Omicron variant is much more contagious than past variants.  We know many vaccinated people who are catching it.  Luckily, their vaccinations and boosters are keeping them from getting really sick!  Still, the best thing is to avoid getting it if you can.
GET A BOOSTER, IF YOU HAVEN'T ALREADY
Vaccination and boosters are by far the best way to try to avoid getting really sick if you get COVID
GET A BETTER MASK – NOT CLOTH
Get a certified, well-fitted, high filtration mask such as N95, KN95 or KF94.  
Just a cloth (doesn't filter well enough) or surgical (doesn't fit well enough) mask is not protective enough against Omicron.  Order using the links below.  Double mask (cloth mask over a surgical mask) while you wait for them to arrive.
Powecom KN95 white mask, ear loops – pack of 10 is $9.80 with free shipping
Powecom KN95 black mask, ear loops – pack of 10 is $11.80 with free shipping
Harley N95 white mask, 2 head bands – pack of 20 is $45 with free shipping
KIDS Powecom KN95 white mask, ear loops – pack of 10 is $12.50 with free shipping
YOU CAN USE REUSE ALL THESE MASKS!
You can reuse "disposable" masks until they are visibly worn or dirty.  BUT you should give them a 5-day break in between uses.  After you wear one, leave it somewhere unsealed (so it dries out) for 5 days – basket, hook, paper bag, etc.  Some people write numbers or do a color-coding thing to keep track of mask usage.
UUA Guidelines for Gathering In-Person
UUA Guidelines for Gathering Outside