Canvass Fundraising Campaign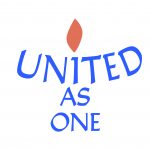 2020 Spring Pledge Drive: United as One
Dear Members and Friends of CVUUS,
             We looked forward to leading this year's pledge drive in March! We kicked things off on Sun, March 1st, with Barnaby's Canvass Sermon. The theme of this year's pledge drive is United as One. This came to us from the hymn, "Gather the Spirit," (347) which touches on the reasons we gather, and the ways we gather, and yet reminds us that "our separate fires will kindle one flame…[with] the chorus of life resounding as one." There are so many gifts we bring to CVUUS and a variety of reasons we come together in beloved community, but with the canvass, there's really just one goal: to get financial commitments from enough people to meet the operating expenses of CVUUS for the year ahead.
We sent you budget information and details about what it costs to staff, operate and maintain our church. The February 16th congregational conversation was about this year's pledge drive and some of the ways we hope to connect with and engage all our members and friends. As we plan to be United as One, we also know it takes about seven times, and seven ways to ensure information is communicated effectively across large diverse groups. We have discussed some of the ways we will solicit pledges and engage everyone in the important canvass process. Thanks for reading this pledge drive preview and get ready for a "next generation canvass" in March.           
Below are canvass messages and testimonials from March:
Sunday, March 1st  –Stewardship Service & Pledge Drive Kick-off
Wednesday, March 4th –Special Email Blast with the new secure electronic pledge form:  https://cvuus.breezechms.com/form/3b77c8
Sunday, March 8th –Testimonial by Tracey Harrington, Clarity of Values
Sunday, March 22nd –Testimonial by Ted Scheu, You're the Top
Sunday, March 29th –Testimonial, What CVUUS Means to Me.
So much has changed since we planned and launched this pledge drive back in January and February. We could never have guessed where we would be today and how the world would have been stopped in its tracks by this sneaky virus. As Barnaby and others have said many times, please do not let the timing of our pledge drive add to your stress and anxiety. None of us know what the upcoming fiscal year will bring, but we do know the importance CVUUS will play in our lives, and the lives of those around us, as we make this journey together.
Please go to the link to our electronic pledge form listed above. Making comments like, "Same as last year, as long as nothing big happens," are fine! We are looking to reach our goal of 130 pledging units and full participation from our membership. We also need to have some idea of what our revenue will be for the upcoming fiscal year so we can design a budget that stays within those amounts. Thank you to all those who have pledged already!
Your financial support of CVUUS is so greatly appreciated, as are all the ways you give to our beloved community.  Please take care and let us know if you have any questions we can help answer.
With love, Tracey & Jay Harrington/ 388-2882/ 4.mt.mice@gmail.com
May 2020 Pledge Drive Update
We are thankful for the 102 pledge units who have pledged for the July 2020 – June 2021 budget year as of April 2020.  The canvass team is following up by phone for those folks we have not heard back from yet.  You can pledge online at: https://cvuus.breezechms.com/form/3b77c8
Our original canvass pledge/one-time gift goal for this pledge drive was $303,809.   Based on the current situation with COVID-19 and the pledges we have received to date, the finance team has reduced the overall budget plan and therefore the revised pledge drive goal is $280,000. So far, 109 pledge units have responded and we've received $252,146 in pledges and $7200 in one time gifts bringing us to $259,346 as mid-May.
We very much appreciate everyone who has pledged and encourage those who have not yet pledged to do so.  If anyone has situations which would allow additional one-time gifts to CVUUS, please keep us in mind.