Canvass Fundraising Campaign
2023-24: Standing on the Threshold of Our Future
The 2023 canvass will be led by John  Barstow (jbbarstow@gmail.com) and Kate Gridley (kmgridley@gmail.com). Some of you might say "And who are they?" since over the pandemic—the past two and a half years—John and Kate have been scarce…. No doubt about it, they have been conservative about attending services and events at CVUUS for many reasons: aging parent care, autoimmune medical conditions, work, and other health reasons. But this is important: while they may have stayed away, they have remained connected…behind the scenes.
So they said YES to running the canvass because, for starters, they can model the living, breathing example of  "coming in from the cold…to the warmth of community … back in through the door…" and because they love this community.
         Threshold            Door            Portal            Love
In early conversations (with Rev. Barnaby, Doug Richards, Hannah Sessions, Ellen Flight and Mary Hadley), as they talked about "coming in from the cold," this gave rise to an image they are considering using  — a woodblock print that son Charles made after he found an actual door in a piney wood in the middle of an island off Maine coast. He was young. He thought he had found a magic portal.
Kate and John look forward to putting fun into fundraising, and have spoken with Ronnie Romano and Asa Baker-Rouse about using our imaginations for fun renditions of musical numbers and to Poppy Rees about involving RE. They began brainstorming with the worship team so that canvas skits or songs or testimonials or announcements might be PART of the services, woven in, thematically relevant. and began brainstorming with the worship team  and others so that canvas skits or songs or testimonials or announcements might be PART of the services, woven in, thematically relevant. WHY do they want this year's canvas to be integrated into worship? It's a big year. LOTS going on:
We are preparing for a transition
We are celebrating Rev. Barnaby's tenure
We will welcome an Interim Minister
Eventually we will go through a process and…welcome a new minister
We are coming back to worship, post first phase of Covid.
We are in transition.
It is a complex, scary, hopeful world.
Change makes some folks nervous, others love it.
What do people need from CVUUS today? What purpose are we serving, and will we serve in the upcoming year? What will challenge us and call us to act? What are our gifts? What is our vision? Where will we be in in five years? How does CVUUS move forward into the future? WHO is CVUUS? What is CVUUS's place in our culture? HOW does CVUUS stay safe, relevant, spiritual?
The Canvass opening service will be Sunday January 29th, when Kate and John will introduce this year's theme: Standing on the Threshold of Our Future.   
Online pledges are easiest for us to handle and technical assistance can be obtained by emailing Mary at mary@hadleykids.com.
Go to [Breeze form link to come soon].
For a paper pledge form please reach out to Laura at office@cvuus.org or (802) 388-8080.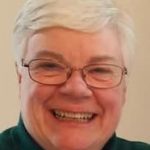 Is it time to think of your pledge as a sustaining financial gift rather than an annual commitment?
If there is one thing the pandemic has taught us it is that we need to reassess how we do things, and not only how we do things, but why we do things. What is the purpose of what we do and how do our actions support those goals?
As we plan the budget to present to the members of CVUUS at our Annual Meeting each year we hold a canvass so members and friends can commit a financial pledge to support that budget. In fact, our By-laws stipulate that to be a member a person must make a financial contribution of record   annually, unless waived. This is because we are all stewards of our society and responsible for what we build to leave to future generations.
The budget is about the prudent and responsible use of the money congregants give us to fulfill our mission. Where we allocate our dollars is about our priorities and where our members focus their time and effort. But the canvass is about so much more than the money. The canvass is about meeting face-to-face, about hearing each other's stories, about finding out about what are priorities to each of us as individuals and also about fun, fellowship, and celebration. But what happens during a pandemic? What happens when health authorities have asked us to limit face-to-face contact? What happens when fellowship and celebration are limited or restricted?
It is clear as we move into the future that we need to continue to be creative about how we make connections with each other and how we nurture and support one another on our spiritual journeys. The pandemic created obstacles, but it also revealed some barriers that individuals may have been experiencing prior to Covid-19. I think it taught us we can do better.
Your Board will be coordinating the Pledge Campaign this year, beginning in March. In anticipation of that undertaking we are, in "Covid fashion," reassessing how we do things to make this a more sustainable task going forward. To this end, we ask everyone to consider making their pledge going forward a sustaining gift. A sustaining pledge can be set up as an automatic withdrawal from a bank account, an automatic charge to a credit card, or a donation set up through an IRA or Trust account, providing an amount of money sent automatically to the congregation on a regular basis every month, quarter or annually. Sustaining pledges are not only beneficial to the congregation for budgeting purposes but can cut down on the administrative demands of starting over each year. Cash flow is often more consistent due to funds coming in on a more regular basis. It also means that the annual canvas can focus on saying thank you and providing fun, fellowship, and celebration.
While sustaining pledges will allow CVUUS to anticipate a base of support as we plan for and reassess our programing, staffing needs, support of members and friends, and outreach to the larger community for the upcoming year we would hope that members would evaluate their own level of giving on an annual basis in support of those goals and plan to increase their support as possible. Sustaining pledges show your commitment to supporting the growth and development of CVUUS for future generations.  The generosity in this community is something we should be proud of. You will be hearing from your Board soon regarding your 2022-23 pledge. Visit our website at cvuus.org and click on "give" in the upper right-hand corner to explore the many options for supporting CVUUS and each other, while determining the best option for yourself.
Ann Webster, Treasurer
Charitable Giving Options
Stock Transfer Giving: We recently converted one of the CVUUS investment funds to a brokerage account that allows transfer/donation of stock from member or friend non-Vanguard accounts to the CVUUS Vanguard account. This will simplify our financial processes and costs less than our previous process through Cetera. We have successfully received the first stock donation using the new Vanguard account, so if you are interested in giving to CVUUS in this way you can refer to Vanguard account 29559438 and DTC# 0062. See guidance about doing this from your IRA below.
Online Giving: Our new Breeze Church Management software enables many different ways to contribute funds to CVUUS!  3 are documented below and demonstrated further here: New Giving Methods demo
Questions? Contact Mary Hadley or Kris Butler.
QCDS: A Better Way to Give (If You're Old Enough)  Do you have a traditional IRA (Individual Retirement Account)? If so, then you've made a deal with the Internal Revenue Service: Your IRA grows, tax free, until you reach a certain age (70½ if your 70th birthday was before July 1, 2019, and 72 if your 70th birthday was later). Starting with the year in which you reach that age, you're required to withdraw a minimum amount every year—the required minimum distribution, or RMD. And, since your IRA grew tax free, the entire RMD is generally taxable as regular income.
But there's a provision in the tax code that allows you to donate funds directly from your IRA to a qualified charity, like CVUUS. That's called a qualified charitable distribution (QCD), and it's different from donating your money to the charity. That's because the QCD never comes into your possession; instead, it goes right from the IRA to the donee. As a result, the amount of the QCD isn't part of your income, and you're not taxed on it. Nevertheless, a QCD counts toward your required minimum distribution.
Why is a QCD better than donating your money and deducting it on your federal tax return? First, the doubling of the standard deduction in 2017 means many more taxpayers now find it advantageous to take the standard deduction instead of itemizing charitable and other deductions. So for many, gifts to charity have become essentially non-deductible. Second, because QCDs aren't counted as part of your income, they lower your gross income in a way that deductions don't. That means income-dependent items like Medicare premiums could be lower if QCDs drop your income enough.
To make a qualified charitable distribution, contact the investment firm that holds your IRA. Many have web-based forms you can fill out. You can have a check mailed directly to the charity, or mailed to you but made out to the charity, so you can pass it on. The important thing is that the check not be made out to you, but to the charity; that's what makes it a QCD. You may even be able establish check writing on your IRA account, and then you can write checks for smaller QCDs.
There are some subtleties regarding QCDs. For example, you can't use a Roth IRA, nor a SEP IRA that's active. So it's a good idea to consult your tax advisor before proceeding. And, of course, don't forego retirement income unless you're sure you won't need it. Rich Wolfson, Finance Team
Testimonials from 2021-22 CVUUS Canvass Pledge Drive: Bound for Joy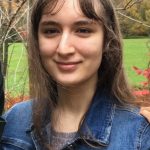 "As someone who has grown up in this church community, I have so many great memories of CVUUS. As a child, I remember playing a dead body in a Monty Python skit and making art projects in RE. And with the youth group I was able to cook dinners at the John Graham Shelter and travel to NYC. This church let me try so many new experiences and helped to build my confidence in public speaking. I'm grateful to now be able to give back to this church as a worship."  Wren Colwell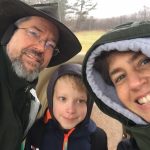 "For us, CVUUS is an extended family that both ties us to our roots and gives us wings.  This warmly interconnected community offers nurturing, inspiration, and support in many ways – to us as a family and to the wider community.  It is a joy to experience the loving creativity that emerges from CVUUS hearts and minds!  Our involvement brings depth to our lives, and we in turn happily share our resources to support the values that CVUUS embodies and shares with the larger world."  Hanson Martin Family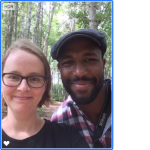 "CVUUS provides our family with a community of people who are open to various ways of being, who are inquisitive about the wider world, and who individually and collectively strive to make things better. For our children especially, it is a space where they can be their true selves, ask questions, and feel valued." Lindsey & Kemi Fuentes-George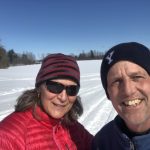 "We are grateful to be part of the CVUUS community, surrounded by others who strive to live out UU principles.  Whether through local, national, or global efforts, CVUUS inspires us to look beyond the challenges in our own lives to see how we can make a difference in the lives of others. We are thankful to have raised our three sons in this open, welcoming community that helped them become the thoughtful adults they are today." Mary & Peter Conlon
2022-23: Creating Ripples to Amplify Love in Our World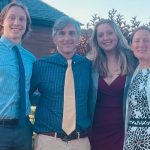 What better a time than on the heels of a two-year pandemic to remember the ways that our community exists to love, to comfort, to challenge, and to nurture in a myriad of ways.  When we could not worship together our work continued, and our collective efforts were a powerful and  reassuring constant, as ripples across a surface. When making your pledge we invited you to provide 3 words summarizing CVUUS and collected responses from each of us as the canvass progressed to celebrate all the ways that the good work of CVUUS ripples through our hearts, our communities, and across generations! Chair Hannah Sessions for the Board which led the canvass.