Lifespan Learning at CVUUS
We provide children, youth, young adults, and adults an opportunity to explore, reflect, and learn in a nurturing spiritual community. See this message from Poppy Rees, Dir of Religious Exploration:
Religious Exploration
CVUUS offers Religious Exploration (RE) programs for all ages, inspiring:
Ethical growth – internalizing enduring values like justice, equity, and compassion, and gaining tools to act on them in everyday life.
Social growth – connecting with peers and people of all ages on a deeper level. Finding acceptance among people who see beyond the superficial.
Spiritual growth – feeling a connection with the sacred within, among, and beyond us.
Our Religious Exploration program isn't school classes – it's small groups, big groups, stories, games, singing, cooking, community service and fun. On a Sunday, you might find the preschoolers singing songs about kindness, the 2nd graders engaging with a story about loss and bereavement, the 5th graders talking with a Muslim couple about Islam, the 7th graders learning about responsibility in a lesson from our progressive sexuality education program, and the high-school youth raising money for the local homeless shelter. Many programs incorporate social justice activities, worship opportunities, service trips, fellowship, and fun.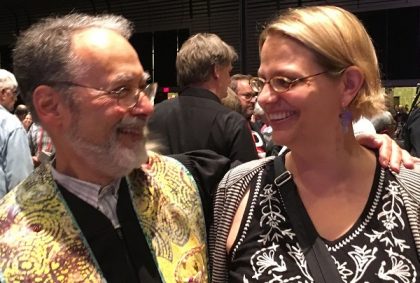 Who Organizes RE
Our Director of Religious Exploration, Poppy Rees, oversees the program along with the R.E. Council and many other people.  The program is led, taught, and assisted by a mix of parents and others from the congregation.  Leading or assisting in the RE program can be a very fulfilling way to deepen one's own faith.
When We Offer RE
Children's Religious Exploration programs are offered on Sunday mornings, and high school youth and adult programs are usually offered on Sunday afternoons or evenings.  Some younger programs, like Neighboring Faiths, have trips and events at other times.
Adult religious exploration opportunities include Small Group Ministries (small discussion groups) and more.
What's Up Right Now
Though we are not together in body, my spirit is very much with all of you right now!  As things normalize a little bit, I am working on RE ideas for now and down the road.  Here are some ~
Friday May 1, we're having a RE Zoom Room for all ages.  A chance for kids to come say hi, show and tell, light our chalice together, and see each other.  We'll see who shows up and what other Zoom activities we could do together. Zooms for separate RE groups coming soon.
Youth Group has been rocking the Sunday Zoom time! – they are even planning an Unbirthday Party that involves secret presents being carefully dropped at houses and then unwrapped on Zoom.  We are in talks about how to virtually celebrate our graduating Seniors.
Reaching out to individual families  I have been in contact with many families, checking in to see if they need anything, how they are doing, and sometimes bringing them things.  I sent out a very brief survey weeks ago, to see how people were doing and what they might be interested in from RE.  A few families responded but I think most of us were just hanging on at that point, so I'm going to send it out again soon.
Weekly Zoom meetings with the DREs (Directors of Religious Exploration, like me) from the UU churches in Burlington, Montpelier, and Norwich Since this first began, we have been checking in with each other to share ideas about worship, Times for All Ages, videos, Zoom tips, and ponder future RE ideas.  Montpelier is about our size, so it's especially useful to hear how it's going there.  We are ALL finding that our families are very busy dealing with working, schooling, and parenting at home right now and not wanting much programming yet.
Times for All Ages and other worship things  Have you heard the verb "skilling up"?  As in, we are doing tons of "skilling up" right now to figure out how to make decent videos, record ourselves, make slideshows, find royalty-free photographs, use Zoom, and find effective ways to connect virtually!
New private CVUUS Parents Facebook group  click here to join the group
My main goal right now is to share things with you that bring JOY and CONNECTION.  If you have ideas, please contact me      ~ Poppy Rees, your Director of Religious Exploration, re@cvuus.org
Learn More
Contact our Director of Religious Exploration to get connected and to join CVUUS Parents private Facebook group.
RACE, CLASS, & OTHER COMPLEXITIES
Race, class and other complexities
Injustice and prejudice can be challenging to confront. Parents who accompany their children's quest for answers grow as justice-makers alongside them.
APPROACHES TO REAL TALK ABOUT JUSTICE