Lifespan Learning at CVUUS
We provide children, youth, young adults, and adults an opportunity to explore, reflect, and learn in a nurturing spiritual community. See this message from Poppy Rees, Dir of Religious Exploration:
Religious Exploration
CVUUS offers Religious Exploration (RE) programs for all ages, inspiring:
Ethical growth – internalizing enduring values like justice, equity, and compassion, and gaining tools to act on them in everyday life.
Social growth – connecting with peers and people of all ages on a deeper level. Finding acceptance among people who see beyond the superficial.
Spiritual growth – feeling a connection with the sacred within, among, and beyond us.
Our Religious Exploration program isn't school classes – it's small groups, big groups, stories, games, singing, cooking, community service and fun. On a Sunday, you might find the preschoolers singing songs about kindness, the 2nd graders engaging with a story about loss and bereavement, the 5th graders talking with a Muslim couple about Islam, the 7th graders learning about responsibility in a lesson from our progressive sexuality education program, and the high-school youth raising money for the local homeless shelter. Many programs incorporate social justice activities, worship opportunities, service trips, fellowship, and fun.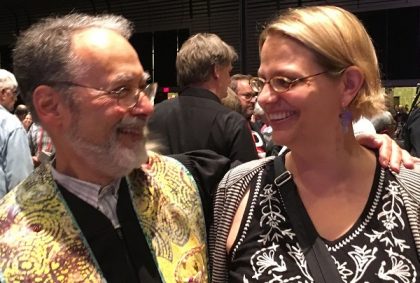 Who Organizes RE
Our Director of Religious Exploration, Poppy Rees (re@cvuus.org), oversees the program along with the R.E. Council and many other people.  The program is led, taught, and assisted by a mix of parents and others from the congregation.  Leading or assisting in the RE program can be a very fulfilling way to deepen one's own faith.
When We Offer RE
Children's Religious Exploration programs are offered on Sunday mornings, and high school youth and adult programs are usually offered on Sunday afternoons or evenings.  Some younger programs, like Neighboring Faiths, have trips and events at other times.
Adult religious exploration opportunities include Small Group Ministries (small discussion groups) and more.
What's Up Right Now
View Sunday Worship Time for All Ages with Poppy when she reads stories and shares lessons. Look for links in our Weekly Blast, like this one:  TFAA this week – I Am One – A Book of Action and here. She offered this Bonus video in her weekly message to families: "A Kids Book About Systemic Racism" – read by Poppy
Over June
I am sharing the article below about gender and pronouns. I strongly recommend that you read it. It goes beyond just using someone's pronouns when you know them. It asks us to not assume someone's gender and/or pronouns.
What does this look like? It means using the inclusive non-binary pronouns of they/their/them. So even if I see someone and I think they are female, if I don't know, I say "they." "Look at that person's dress! I wonder where they got it?" (Instead of, "Look at that woman's dress! I wonder where she got it?")
This is HARD. I am not good at it. I am needing lots of reminders. Please remind me if you hear me make a gender assumption.
I strongly encourage you to do this yourself. And do it around your kids. And teach your kids to do it. The kids are so much better than the adults at doing this. Yay kids!
I'm happy to talk about this with any of you if you have questions or suggestions.
Article about not assuming someone's pronouns and more
"They/them and preferred pronouns: How to explain to kids (and conscious parents)"
Secret Kindness Agents ZOOM CAMP (not by CVUUS)
https://www.facebook.com/SecretKindnessAgents/posts/its-time-sign-your-youth-andor-yourself-up-for-activism-camp-by-the-secret-kindn/2908388962773625/
Since there won't be in-person worship this Summer, there won't be an in-person Summer RE program. Though there are some families that are ready to come back in person, there are many that aren't yet.
We ARE planning 2 Summer gatherings for RE families. We encourage you to join us on July 17 and August 7 at Branbury Beach State Park on Lake Dunmore. It will be very casual and choose-your-own-adventure. You bring your own food and sit where you like – close or far away. We'll pay your entrance fees. Rain dates are the next day (July 18 and Aug 8). Details to come.
We also encourage families that are ready to meet in person to do that, if you want! Our buildings and yards are available for gatherings. Contact Laura in the office to make plans.
REINVENTION BAGS
One last REinvention bag will be going out the week of June 21. Info to come.
Hope you are all hanging in there.  Let me know if you need anything ~
Over May
By the Fall, things are going to be a LOT different at CVUUS.  We will be returning to in-person worship services! High school and middle school kids can be fully vaccinated.  Vaccinations for elementary (and pre-school?) kids will hopefully be rolling out. Which means that we can return to in-person RE at CVUUS!
What will it look like? What will it be? What about space, distancing, masks, ventilation?  There is a lot we won't know until Fall but here's what we know so far about next year:
Grades 9-12: High School Youth Group will continue – looking for 2 co-leaders
Grades 7-8: OWL (Our Whole Lives) is happening if we get the leaders (very hopeful)
Grades 4-6/5-6:  half-year OWL (since we couldn't run it this year) if we get the leaders (very hopeful) –  paired with…? Anti-racism program of some sort?
Grades 3-pre-school:  a mystery!  Depends on vaccinations and current guidance on safe spacing.  Some ideas –anti-racism program, outside environmental program, Undercover Kindness Agents, Spirit Play?  Looking for suggestions.
Nursery:  this is the most unknown.  This group can't be vaccinated until winter (we think).  The Nursery space is smallish.  Our old Nursery staff graduated.  We know that parents of Nursery kids will need support, so that they can attend worship and we will do our best.  We don't know what this will be yet.
If you have ideas or suggestions about RE next year, please let me know!
Over April
Stuffie Animal Sleepover: 20 stuffies from 12 families visited CVUUS on April 23-24 and had so much fun! See what they did: TFAA this week – Stuffie Sleepover highlights VIDEO (5 min) 
WHAT'S UP WITH THE BAG OF FLOUR? We signed up for King Arthur Baking Company's Bake for Good program and delivered RE-Invention bags of baking supplies and the hope that your child will bake something and share some of it with someone else.
On Sunday, May 16, on Zoom, 9 of our middle schoolers will take part in our biennial Coming of Age service.  They will share their "credos" (words about what matters to them and what they believe), play music, sing, do readings and more.  Please come to the service to support these youth!
This has been a hard year for them, as it has for all of us.  Remote or part-time school, no school dances or clubs. Masks worn all the time. Rare socializing.  No movies.  You know the list.  AND they are going through middle school!  A very hard time for many of us where we often felt lonely, left out, self-conscious, and were constantly comparing ourselves to others.  My 8th grade year was the worst.
These teens – Ethan Spritzer, Clara Chant, Callie Rees, Kaden Hammond, Elyse Singh, India Danyow, Mary Harrington, and Dimitri Rodrigue – have met with Allie Izzard (Zooming in from grad school in Delaware!) and me since the late Fall.  We have played games, shared Joys & Concerns, made and sent Valentines to congregants, eaten sugary snacks sent in REinvention bags, had mini-campfires and made mini-smores, and spent this Spring – over Zoom – doing the hard work of thinking about the things that go into credos – what do they care about? Believe in? Think matters? What makes them them? What are their core values?
And they have done this without getting to do the usual fun Coming of Age stuff.  No Boston trip. No Fall overnight at CVUUS. No pizza and ice cream while sitting around on the Fenn House lawn.  Yet they have showed up, again and again, on Zoom, to be with each other and Allie and me.  I am deeply grateful to have had this time with them, as they go through this awful year.  For me, it has been a total gift to get to see them – especially when I don't get to see most of the CVUUS kids and youth.
So please come to May 16 Coming of Age service.  To support them, yes, but mostly to be moved by who these 8 youth ARE, what they care about, and how they hope to make the world better.
Over March
As I write this, I'm three days away from being able to sign up to get my COVID vaccination.  A week later, my husband JP can sign up.  My parents are fully vaccinated.  This is all very reassuring and exciting…but what about my kids?  And your kids?
This is a question all parents are asking right now.  All of our kids between 12-16 might get vaccinated this summer or early Fall—we don't yet know.  The timeline for kids under 12 is even more mysterious.  I keep seeing "in early 2022" but maybe earlier?  Things seems to be moving quicker that we think which is great news.
In a few months, my family will become a split family with two people who are allowed to travel outside Vermont without quarantining, see other vaccinated people without masks (limits apply), and other things that will open up  – and two people who can't do much of those things.
So what do I do with that?  Can I plan a trip to Maine? Safely sign my kid up for a summer camp that will be inside?  Let them go to a friend's house inside with masks?  I am spending more and more time scouring the internet to try to find some answers to these questions.  Even Vermont guidelines about gathering have had some fuzzy areas.
And what does that mean, as we start talking about opening up again, in person? I don't know.
I DO know that it means we can't plan any RE things in person yet.  And we are thinking a LOT about lots of questions involving children and youth: inside vs outside, this summer, at worship services, and in the Fall.
Our entire CVUUS community hasn't been able to meet in person for months but this is going to start changing.  By Summer, we will have vaccinated adults and unvaccinated children and youth (and their mostly vaccinated parents).  Our CVUUS family will be a split family for a while.
It is our job to figure out how to stay together as one strong united community, as we navigate this period.  To make everyone feel loved and cared for, despite our differences in what we can all do.  As always, right?  We always have differences and strive to be radically inclusive to ALL, especially those who are most vulnerable and in need.  It will take lots of thoughtfulness.
If you have thoughts about the coming months and re-opening, I would love to hear them!
Over February
This is my sixth start to my newsletter piece this month.  I have been sitting, trying to figure out what I have to offer you all in this piece.   Ideas, information, hope, strategies?  And none of that feels authentic to write about in this moment.
It's not that I'm really depressed and can't offer anything.  But I'm…waiting, I guess.  I feel greyish and not all shiny and full of ideas.  Which is not unusual for this time of the year.  It's cold.  It's only January and I'm waiting for warmer weather.  I have a stronger urge than normal to just watch movies and eat cookies.  Add that to being on month – 11? 10? I lost track – of a pandemic and it's even tougher.
So, I'm not sure what I can offer to parents and others in this newsletter other than to say I'm in this with you.  This is hard.  Christmas had its own stressors but it gave me something to put lots of energy and time into and now it's January, with no major event that needs planning in sight. Maybe I need to go all in on Groundhog's Day this year? Callie wants to plan a summer vacation out of state, hopeful that we'll be able to do that by summer.  And I think there's a good chance of that but I don't know, so we don't plan yet.  We're not planning summer camps yet.  There's not a timeline for vaccines for kids yet.  A new coronavirus variant might be coming.  And so….I'm waiting.
Waiting for information, for timelines, for COVID numbers, for warmer weather, for travel restriction information.  Like many/most/all of you.  And as I wait, I am very aware of how lucky I am to have a warm house, a great flexible job, a family, and good health.  I'm aware – and it's still hard.
The only thing I guess I know (is it knowing if I use the word "guess"?) is that JUST waiting when there is nothing specific to wait for is probably not the best way to go. 
So there are 2 things I am going to do: 1) I am going to make a list of things that I am hoping for.  Specific things like going to the ocean, summer camps for Callie, going to a movie in a theater, eating in a restaurant, hanging out in my parents' living room AND 2) I am going to find ONE thing, even if it's small, in the future, that I can work on.  Hope is important, even if it hurts because it's scary.  Yes, hope can lead to big disappointment.  But I need hope.  My kids need hope.  We all need hope.  And I am hopeful.  So I'm going to be SUPER hopeful and go all in on it.  I will hope for unrealistic timelines and summer trips.  I'll hope for the next school year to be completely normal.  And to do RE in Fenn House next year.  And to have Festival on Green.
And if these hopes don't happen when I had hoped, then so be it.  But I'm not
going to let this pandemic take away one of the only things I can still do.  Hope. 
What are you hoping for?
Over January
By the time you read this, 2020 will be over.  Over!  A new year has started with all the possibility that new years bring.  And this year holds a vaccine and a new president and for this, I am deeply grateful.
I'm not going to make "resolutions" but I am going to make intentions.  So much of this past year was about trauma, being frozen, slogging through, worrying, waiting, and missing.  And there will be more of that this year but I see the shifts coming ahead.  And what will I shift to?  Will it be back to the way things were?  Because there are things I should not shift back to.
This Great Pause or horrible pandemic or whatever you want to call it needs to have learning come out of it, not just loss.  Needs to have better ways come out of it.  I don't know what that will look like for me or my family.  Or CVUUS or RE.  But I do know that I'm not going to just return to the last way I did things, simply because that's how I did things.
But that is the path of least resistance.  So, I know that without some strong intentions, it will be very hard to not slide back to the familiar, regardless of its usefulness.
When I think of how I want this year to be, what does it FEEL like?  Do I want to be excited? Strong? Thoughtful? Calm?  What do I want this year to LOOK like?  Is it full of things? Or spacious?  Am I alone or with others? Where am I?  What's in the space around me? What am I doing?
And for others in my life?  What are my kids feeling and doing?  What are the kids at CVUUS feeling and doing?
I know that some written, spoken, and shared intentions are my best chance at moving toward how I want things to feel and be.  Even one intention is better than none.
So here's one – I want to stop constantly overthinking things.  I want to let go of searching for the *perfect* thing, story, song, words, timing, action that will make everyone happy.  It's an illusion. It eats up tons of time, energy and joy.  I want to go with initial ideas more often and more quickly.  And accept that there will be a range of reactions.
There.  One intention. Stop constantly overthinking things.
What's one intention for you?  Feel free to email it to me if you want a witness.  I won't judge, even if you don't live it the way you want to.  And I will celebrate with you if you do. Or don't.
Would love to hear from anyone who wants to be part of our REinvention!
Over December
STARTING TUES, DEC 1:  BUY GAYT HEART ORNAMENTS MADE BY THE KIDS  COVID-safe pickup.  Drop by CVUUS to buy annual Guest at Your Table ornaments.  They will be in purple "ornaments" box outside Fenn House back door.  $2 each – larger donations welcome!  All money goes to the UUSC Guest At Your Table human rights program. See more here. If you can't pick up, contact Poppy or Bobbi for delivery.
SAT, DEC 5, 4-5 pm:     YOUTH GROUP ON ZOOM  More games!
SUN, DEC 6, 4-5 pm:     COMING OF AGE ON ZOOM  More games!
SAT, DEC 19, 4-5 pm: *ZOOM* 7th Annual INTERACTIVE NO-REHEARSAL CHRISTMAS PAGEANT! Yes, we're doing it live on Zoom, so you can invite your  Minnesota cousins to take part or come see the kids in it!  Despite many things being different this Holiday season, you can still count on cuteness, chaos, costumes, and Christmas cheer. Family-friendly service for all ages.  Come be part of our joyful story with Mary,          Joseph, shepherds, sheep, angels, animals, wise people, and stars – flexible on who shows up – multiple Marys, kangaroos… Anyone can play any part – no limits based on gender, age, size or anything else.  Put together your own costumes (virtual/physical backgrounds?) and just show up.  We'll spotlight you in Zoom when the time comes.  7th Grade Narrators, readings by kids, and music by kids, Kate Gridley, and  Poppy.  Take part or just watch and SING ALONG with the traditional  carols.  Ends with candle lighting and singing "Silent Night."  Led by Dir. of Religious Exploration, Poppy Rees.
SUN, DEC 20, 10 am: RECORDED ZOOM CHRISTMAS PAGEANT Couldn't come to the live Zoom Pageant?  This Sunday's Worship Service will be a recording of the Pageant, followed by Coffee Hour.
SUN, DEC 20, 4-5 pm: COMING OF AGE ON ZOOM
THURS, DEC 24, 5:30: CHRISTMAS EVE SERVICE streamed  Pre-recorded music-filled service led by Rev. Barnaby.
Over November
It feels like some things have settled into a new normal but the new normal is often very hard.  We are all trying to figure out how to give our kids some sort of Halloween that feels good enough.  And then there's Thanksgiving and the December holidays.  And then…  It's a lot to hold in our hearts and minds and hands.  The RE program has some things coming up that we hope will bring a little joy and connection to kids and families, dates still being worked out.
RE groups will NOT be meeting inside, at least for now.  We'll meet on Zoom and do outdoor things when we can.
RE boxes/bags  We'll be delivering (or you can pick them up) another round of bags containing activities and snacks (it's not RE without snacks!).  Look for a gratitude activity for the whole family, an ornament-making packet and more.
Time for All Ages  After every Sunday service, I am taking the video of my Time for All Ages and emailing it out to all families.  It is great when I get feedback and hear about kids and families watching them.
Coming of Age Info Night & Ice Cream Social (Zoom)  We had a very successful "Games and Snacks" event in mid-October.  15 of us, masked and socially-distanced, played lots of outside games, ate a ridiculous amount of unhealthy food, and heard a little bit about this year's Coming of Age program for grades 7-8.  Forgot to take pictures!  In November, we'll have a Zoom COA Info Night & Ice Cream Social to share lots of info about this year.
Youth Group  High School Youth Group also had a "Games and Snacks" event with a much smaller but wonderful group.  We'll have a November Zoom meet-up to play games and brainstorm Youth Group ideas for this year.  **We are looking for people to help facilitate!  Talk to Poppy**
"YOUTH v GOV" documentary world premiere for Coming of Age & Youth Group – Nov 14?
A new documentary about the 21 youth plaintiffs in Juliana v. United States (including Levi Draheim, a 13-year-old UU from Florida!) suing the government over climate change.  Years ago, Kids for Kids sent supportive cards to these kids and now we'll get to see them in a film!
Would love to hear from anyone who wants to be part of our REinvention!
Over October
Now that school has successfully started, we will be rolling out more RE things!
We are taking it month by month and there are still many questions, especially about HOW groups should meet: on Zoom and/or inside with social-distancing and masks?  We will be checking in with the parents and kids in older groups.
So what are we doing for RE right now?
Time for All Ages After every Sunday service, I am taking the video of my Time for All Ages and emailing it out to all families.  It is great when I get feedback and hear about kids and families watching them.
Coming of Age (grades 7-8) We are going to have an outside, socially-distanced and masked GAMES & SNACKS event on Saturday, October 10 from 4-6.  We are hoping to have this group meet twice a month and there's a lot that is still being figured out.  Much more info to come to families.
High School Youth Group  We are going to have an outside, socially-distanced and masked GAMES & SNACKS event on SUNDAY,   October 11 from 4-6.  We are hoping to have this group meet twice a month and there's a lot that is still being figured out.  Much more info to come to families.
Sparky stickers Back-to-school letters went out with a Sparky sticker for each kid – a reminder to take care of your inner spark, the thing that makes you you.  Good for laptops, water bottles, or other places where they'll remind kids that we love and support them.
Fall Boxes We're hoping to deliver RE boxes again to each family, like we did in the Summer.  Boxes to include various things including, of course, yummy snacks (a key part of RE!).
Would love to hear from anyone who wants to be part of our REinvention!
Over September
RE-INVENTION THIS YEAR
School started.  Our families are feeling the push-pull of wanting our kids to have a normal life again, to be with friends and people – and – wanting them to be safe.  Staying at home is the safest but we can't do that all the time and be okay, so we are making risk assessments and doing things we know aren't the safest but we hope are feeding their spirits and hearts.  And ours.  And this is hard and sometimes scary.
We are buying masks we hope will work (comfortable, not to hot, fitted, 3 layers…. wait, what's the latest study say now?) with little guidance.  We are making decisions about homeschooling or remote school 5 days or a mix of remote/in-person.  There are no easy choices right now.  We are trying to work, trying to parent "enough", trying to get enough sleep, and some of us are just trying to keep it together.
SO – what does this mean for the Religious Exploration (RE) program this year?  It means…
Reinvention.  If ever there were a year to try different things, this is it.
We are asking lots of questions.  What will lift up the kids?  What do they need? What could we give them that would be helpful and joyful?  We want to help them feel hopeful, happier, and stronger.
Families are all over the place with what they might want for RE, what they need, and how they might engage (or not – some are waiting for us to be able to meet in person)
We will be reaching out to kids and parents after school has been running for a few weeks to see what they want and need
Planning only a few months out, not for the whole year – we need to be flexible and support kids and families where they ARE, physically and emotionally
Multiple delivery methods:  boxes, mailings, videos to watch when you want to, some Zoom…different ways to interact with each other and with CVUUS
Our parents with children at home are handling a lot, so we'll be reaching out to congregants without kids at home to see if they want to be part of lifting up and connecting with our kids and families with children
REinvention.     Hope.     Joy.     Fun.    Community. 
If you want to be part of RE this year or have any ideas for things to do, I would love to hear from you.
And to everyone – I love you.  I miss you.  I am in this with you.
Over the Summer
Our normal Summer RE program was cancelled due to COVID restrictions so Summer Care Packages were delivered to 29 families, from Westport NY to Hinesburg to Brandon.  Besides containing our end-of-OWL gift book for the OWL youth, they also had some homemade treats, summer fun things, coloring pages, small chalices, and our RE Chalice Lighting: We are Unitarian Universalists.  We are a church of open  minds, loving hearts, and helping hands. In the meantime, we encouraged families to check out a few ONLINE RESOURCES:
Revolutionary Humans  A Black-run organization supporting social justice efforts in parenthood for all families.
How To Deal With Parent Burnout Going Into Summer During COVID-19   2-minute read
Learn More
Contact our Director of Religious Exploration to get connected and to join CVUUS Parents private Facebook group.
RACE, CLASS, & OTHER COMPLEXITIES
Race, class and other complexities
Injustice and prejudice can be challenging to confront. Parents who accompany their children's quest for answers grow as justice-makers alongside them.
APPROACHES TO REAL TALK ABOUT JUSTICE