Music and Choir
Our music ministry team explores the many ways to bring music into our lives using our prized grand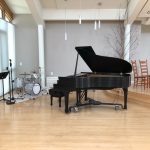 Steinway piano, drum set, other instruments and choral options.  Our sanctuary has been a favored performance space for the community, including piano recitals, chamber music performances, and Middlebury Opera Company events. CVUUS has hosted contra dances, coffee houses and concerts in addition to enriching worship services. We're paying close attention to latest guidance on singing and playing instruments at CVUUS. We are providing opportunities for us to sing together safely during worship and events. Watch our Weekly Blast for guidance.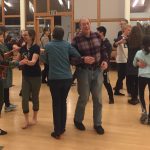 Music Ministry Team
Carol Harden (leader),  Ronnie Romano (Music Dir.), Chris  Murphy, YOU?! Contact charden@utk.edu if you have ideas or want to join our ministry.
New Music Director Selected
Meet Ronnie Romano 
Ronnie Romano, our new Director of Music, is a recent (2020) graduate of Middlebury College, where he majored in music and minored in Chinese.  Last year, he served as Music Director and organist of First United Methodist Church in Ticonderoga, NY.  Among his ongoing activities are his work as Music Director of the Wellspring Hospice Singers in Middlebury and music instructor for the Choral Chameleon Institute in New York City. He also offers private lessons on ear training, piano, music theory, and score reading and is founding director of a new choir at All Souls Interfaith Gathering in Shelburne, VT.
Ronnie brings remarkable breadth and depth of experience to CVUUS. As a student at Middlebury College, he was music director and pianist for the Middlebury College Musical Theatre performances of 25th Annual Putnam County Spelling Bee, Spring Awakening, Cabaret, and The Light in the Plazza.  He was also assistant conductor, accompanist, and a singer for the Middlebury College Choir and a teaching assistant for music theory classes.  In the summer of 2018, as music director and pianist for Brecht on Brecht at the Atlantic Theatre company in NYC, he played piano on stage for the duration of the show's Off-Broadway run.  Ronnie spent a semester at Keble College, University of Oxford, and, in 2019, participated in a month-long intensive course at the European American Musical Alliance in Paris.  We are delighted to have him on our staff and look forward to his leadership and ideas as we strengthen and grow our music program.
View Ronnie's introduction to us from a recent worship here.
Singing and the Body
Singing is one of the purest forms of musical expression. It is unfiltered—it flows not out of us into another instrument, but simply out of us—we are the instrument. CVUUS Music Dir. Ronnie Romano offered a workshop on Oct 2021on Zoom  exploring the origins of music through the human voice, offering some singing and listening techniques to heighten our musical ears, and singing through some songs together. No prior experience in singing or music was necessary. Attendants simply brought their totally unique, one-of-a-kind instrument with them—their bodies! And it's never too late to join Choir. Contact Ronnie at music@cvuus.org to be added to our choir email list.
Choir rehearsal back indoors at Sanctuary!
We started fall rehearsals outdoors in the CSAC tent at 109 Catamount Park off Exchange St (across from Vermont Sun) on Wednesdays at 5:30 pm and performed outdoors while masked. In mid-Oct we returned indoors to our beloved Sanctuary and will perform in the last 15 minutes if service masked and invite the congregation to sing along and encourage them to leave the sanctuary quickly if we sing together. We follow COVID protocols defined here.  It is never too late to join. Want to meet with Ronnie one on one? Contact him at music@cvuus.org or 201-388-4038 to be added to his list. Look for email from choir@cvuus.org (and check your spam folders for initial ones).
What's the Future of Music at CVUUS? Congregational Conversation
We reconvened for monthly congregational conversations (3rd Sunday following worship Oct through May). October's focus was on the future of music at CVUUS. Want to suggest a topic for a future one? Contact Council of Ministries member Alan Moore.
Here are a few music links to lift you during these uncertain times.
Bound to Love, Spirit of Justice
CVUUS Choir offered us songs composed by Amanda Udis-Kessler, a long time UU composer who invites us to share her music widely via her website queersacredmusic.com. https://www.facebook.com/lucytune/videos/10160691614827678 https://www.facebook.com/lucytune/videos/10160708012312678
How Sweet the Darkness of the Falling Leaf Moon
Liam Greenwood was inspired to create this piano recording accompanied by falling leaves along and on Otter Creek. Watch here.
Hope Lingers On
Look at what some CVUUS congregants have created with other Middlebury Community Chorus members https://youtu.be/cagvRHdMNXg
Lo How a Rose
CVUUS Choir at holiday time. https://www.facebook.com/lucytune/videos/10160783516697678
We Are
Look at what the UUA General Assembly created for online worship. Listen to We Are performed by Dr. Ysaÿe Barnwell and the UUA General Assembly 2020 virtual choir and Tomorrow. Expand it to full screen for full effect!
Wake Now My Senses
An old Irish melody with lyrics by Rev. Thomas Mikelson, a UU minister who died earlier this year. It's often sung at the installation of ministers at a congregation or at ordinations: https://www.youtube.com/watch?v=ojptYH9yqFs
Just As Long As I Have Breath
A 17th century tune with words by Alicia Carpenter: https://www.youtube.com/watch?v=eFGQA1Iw4HQ
Blessed Spirit of My Life
Starts out the same way and then turns another direction — a hymn looking back at what is a well-lived life: https://www.youtube.com/watch?v=cOKyNZyC0Ss
A Fierce Unrest
The least sung hymn in this list. Another old tune (1815) but with atheist lyrics by the 20th century writer Don Maquis.  https://www.youtube.com/watch?v=wepC6-JGlgU
Let It Be a Dance
Troubadour UU minister Ric Masten's one famous song regularly makes the favorite and most hated lists among UU's (the latter, usually, in congregations where it has been sung to death): https://www.youtube.com/watch?v=_Zv6dxVOn1A
We Laugh, We Cry
Just the first verse here of the four …. https://www.youtube.com/watch?v=XQMgNJBZVFk.
We Would Be One
One of several hymns written to the Finnish composer Sibelius's tune "Finlandia".
Though I May Speak With Bravest Fire
Modern lyrics based on Biblical text to an old English tune called "Gift of Love" – https://www.youtube.com/watch?v=AXSI8krPwx0
Spirit of Life
At All Souls in Washington DC, they sing it in Spanish first. https://www.youtube.com/watch?v=LikvoIiN_bU
Listen to this sample of Chuck Miller's wonderful postludes: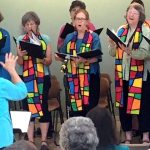 Listen to the choir favorites worship service:
Choir Favorites: It's All about Love. Lucy Tenenbaum led us in celebrating our favorite worship songs and launching our summer Spirituality and the Arts worship services. Watch the Preservice Photo Montage celebrating Choir Dir. Lucy Tenenbaum's years at CVUUS with Chuck Miller's original music. More here. (June 20, 2021)
Watch Community Is the Heart of Choir Worship Service here a special choir service of wonderful new recordings of favorite songs and shared past recordings. (June 21, 2020)