Music and Choir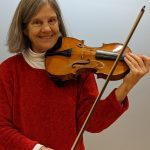 Our music ministry team explores the many ways to bring music into our lives using our prized grand piano, drum set, other instruments and choral options. They've hosted contra dances, coffee houses and concerts in addition to enriching worship services. Contact Carol Harden at charden@utk.edu if you have ideas or want to join the team. We're paying close attention to latest guidance on singing and playing instruments at CVUUS. Please follow these: Singing and Playing Instruments in Sanctuary 9.9.20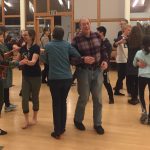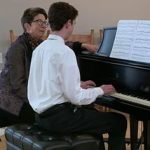 Staffing Update: With Kate Gridley retiring after 20 years of serving as an accompanist and her fellow accompanist Chuck Miller hoping to return to Florida during future winters, as well as uncertainty about what the pandemic will allow us to do with group singing and choir music, there is broad agreement among the congregation's lay leaders and Rev. Barnaby that the time has come to revisit the longstanding issue of whether CVUUS should try to consolidate our paid music jobs into a single music director position. We welcome everyone's input on what they would like to see happen with any aspect of our music as we develop a Music Director job description. Feel free to contact Rev. Barnaby or Carol Harden, head of the Music Ministry Team, if you have immediate ideas or questions. Watch our communications for updates on the process we are developing for deciding whether this possible change is the right thing for us as we head into the 2021-22 church year.
Music Ministry Team: Carol Harden (leader),  Poppy Rees, Shannon LaRose, Chris Murphy, YOU?! Here are Carol and Shannon playing Dennis Murphy and Sean Ryan's polkas outside at CVUUS. These are the two tunes featured in the third class party scene in the movie Titanic, otherwise referred to as the Titanic Set. https://www.facebook.com/CVUUSVT/videos/259169775377870
Here are a few other music links to lift you during these uncertain times.
Bound to Love, Spirit of Justice
CVUUS Choir offered us songs composed by Amanda Udis-Kessler, a long time UU composer who invites us to share her music widely via her website queersacredmusic.com. https://www.facebook.com/lucytune/videos/10160691614827678 https://www.facebook.com/lucytune/videos/10160708012312678
How Sweet the Darkness of the Falling Leaf Moon
Liam Greenwood was inspired to create this piano recording accompanied by falling leaves along and on Otter Creek. Watch here.
Hope Lingers On
Look at what some CVUUS congregants have created with other Middlebury Community Chorus members https://youtu.be/cagvRHdMNXg
Lo How a Rose
CVUUS Choir at holiday time. https://www.facebook.com/lucytune/videos/10160783516697678
We Are
Look at what the UUA General Assembly created for online worship. Listen to We Are performed by Dr. Ysaÿe Barnwell and the UUA General Assembly 2020 virtual choir and Tomorrow. Expand it to full screen for full effect!
Wake Now My Senses
An old Irish melody with lyrics by Rev. Thomas Mikelson, a UU minister who died earlier this year. It's often sung at the installation of ministers at a congregation or at ordinations: https://www.youtube.com/watch?v=ojptYH9yqFs
Just As Long As I Have Breath
A 17th century tune with words by Alicia Carpenter: https://www.youtube.com/watch?v=eFGQA1Iw4HQ
Blessed Spirit of My Life
Starts out the same way and then turns another direction — a hymn looking back at what is a well-lived life: https://www.youtube.com/watch?v=cOKyNZyC0Ss
A Fierce Unrest
The least sung hymn in this list. Another old tune (1815) but with atheist lyrics by the 20th century writer Don Maquis.  https://www.youtube.com/watch?v=wepC6-JGlgU
Let It Be a Dance
Troubadour UU minister Ric Masten's one famous song regularly makes the favorite and most hated lists among UU's (the latter, usually, in congregations where it has been sung to death): https://www.youtube.com/watch?v=_Zv6dxVOn1A
We Laugh, We Cry
Just the first verse here of the four …. https://www.youtube.com/watch?v=XQMgNJBZVFk.
We Would Be One
One of several hymns written to the Finnish composer Sibelius's tune "Finlandia".
Though I May Speak With Bravest Fire
Modern lyrics based on Biblical text to an old English tune called "Gift of Love" – https://www.youtube.com/watch?v=AXSI8krPwx0
Spirit of Life
At All Souls in Washington DC, they sing it in Spanish first. https://www.youtube.com/watch?v=LikvoIiN_bU
Choir Small Group Ministry Online, Wed nights 5:30 pm
Lucy holds virtual Choir gatherings on Wednesdays, except for July.  Both Music and Zoom details are below.  The more the merrier, so invite other congregants by contacting Lucy or office@cvuus.org to add their name to our list!
5:30- 5:45: to get yourself signed in and visit.
5:45- 6:30: Less formal rehearsal with Lucy leading.  (It's all an "experiment")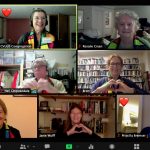 Details of how to join:
One can Zoom on a Smartphone, iPad, Kindle, or Computer.
To join the Zoom session, open the link https://zoom.us/j/96889818147 (Alternately, if you get the free Zoom App from the app store, Open the app, click JOIN, and enter the Meeting ID: 96889818147).
To add the sound, you will get the prompt to click: "Computer Audio". IF you're on a smart phone, after entering the meeting ID you may need to keep tapping # til you get in.
Please announce yourself when you're in.  You may prefer the 'Gallery View', (at the top corner on my computer).
Visit the Choir's online playlist
https://www.youtube.com/playlist?list=PLbIg4joYWFLycq8bNz12Jis1qsX41Wjmv
And our working dropbox 
https://www.dropbox.com/sh/3shv8o2s864xtq7/AADRJPE5HLiqOBqcb8yitb-ea?dl=0
Choir Notes
In May Choir will continue to meet on ZOOM on Wednesdays. You'll have a few more opportunities to come sing, greet the choir, say hello and goodbye to me, and all in all have some singing time to share. It is still, after a full year of Zoom choir, strange to say, "let's sing together, please mute your audio!" But, we spend much more of our rehearsal time chatting and catching up (than we used to in person, where the 90 minute choir rehearsal was planned to the gills!!) I hope some of you, in addition to the regular choir members (that's about 10 of you) will drop by to visit and share some stories. It would mean a lot to me to see some of your dear faces, and share some music that we all enjoy singing.
I look forward to Wednesdays at 5:30 until June 16. Let's keep CVUUS choir a fun and functional group for as long as we can. We have two remaining anthems that Eric Maier is producing into Choir Compilations for us. The final piece from Amanda Udis-Kessler, Justice and Joy! that was programmed for April is moved to May. And, we have HYMNONYM by Chuck Miller for your listening pleasure at the final service in May for Memorial Day. I wrote the words, ,they are simple : Peace for all of us, for eternity. Come June 20th for our Choir-led favorites service.    Blessings, Lucy
The choir always accepts new members. No recording experience is necessary. The choir is a Small Ministry Team, and we welcome you!
We check in, chat a bit, then turn off our mics and sing in our own spaces with music that I put up so you're not singing in a vacuum. The rounds are a lot of fun to learn, then very easy to record as one only has to sing it through 1x then the recording engineer takes it from there to make music. The choir members aren't as happy as when we met in person, but a core group is continuing to show up and make recordings so CVUUS still has a choir presence. We'd love to bring you on board.
The recordings can be made during our rehearsal time. All you need is a computer with some band-width, headphones or earbuds, and a  recording device. I use my iPhone, VoiceMemos. then I send the recording to our drop box https://www.dropbox.com/sh/3shv8o2s864xtq7/AADRJPE5HLiqOBqcb8yitb-ea?dl=0 or Google Docs           folder https://drive.google.com/drive/folders/1BjAfXK3_2xyplQ_wJNnOrh6-8HnqaU1z?usp=sharing
Stay in touch with me via email, lucytunes@me.com, or on the choir FB page, https://www.facebook.com/CVUUSCHOIR  I am available for and love walks and talks. Lucy Tenenbaum, CVUUS Choir Director
Listen to this sample of Chuck Miller's wonderful postludes: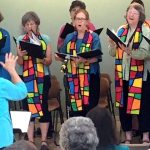 Listen to the choir favorites worship service:
Watch Community Is the Heart of Choir Worship Service here a special choir service of wonderful new recordings of favorite songs and shared past recordings.
Join a large congregation in Colorado of a music-centered Vesper service offered every Wednesday evening at 9 pm EST at Evensong Service Online.
When Will It Be Safe to Sing Together Again?
Our Choir Director
Lucy Allen Tenenbaum, 
CVUUS choir director since November 2014, graduated with a BA in Music from Skidmore College in 1999, and from the University of Kansas with a Master of Music Education in Choral Pedagogy in 2014. She studied voice at Boston University in 1972-73, in Freiburgh Germany at the Freiburg Musicalishes Hochschule in 1974-75, and from various private teachers over the years. She teaches voice at Castleton University, at her home studio in Rutland, and at CVUUS before choir on Wednesdays. Since 1999, she has been the Artistic Director and Conductor of Ladies' Night Women's Chorus, a Rutland County community chorus. She has made a living as a piano tuner-technician since graduating from a 10 month course at North Bennet St. Industrial School Department of Stringed Keyboard Instrument Technology in 1973. She lives with her husband Phil in Rutland. They enjoy having a local daughter and granddaughter, and other family and grandchildren in Laurel Maryland.When she's not making music, she enjoys gardening, bird watching, mushroom and other wild edible foraging, reading and travel. You may contact her at lucytunes@me.com 802-342-8348 or visit her website http://www.lucyallenpianoservice.com/. She is happy to give you voice lessons online.
Our Musical Accompanists
Kate Gridley
Kate accompanies our Sunday services rotating with Chuck Miller. In addition to her work as an accompanist, Kate is  professional painter. More about Kate Gridley.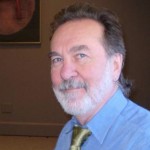 Chuck Miller
Chuck accompanies our Sunday services rotating with Kate Gridley. He taught music for decades at Mary Hogan Elementary School in Middlebury. He is known for his jazz band and playing. Listen to one of his jazz worship services: https://www.cvuus.org/services/jazz-service/ He is happy to help you record music for online viewing.