Worship
UU's gather together in spiritual community because we need constant reminders of what matters most in life. In a world of heartbreak and dehumanization, our congregations and communities call us to our better selves. We learn to live with more wisdom, more connection, and more compassion.
Our Worship Services are weekly reflections that weave together our own thoughts and experiences with music, beauty, poetry, and words that both comfort and challenge. Our programs for all ages inspire us, and awaken us to our capacities to make a difference in our own lives and in the world.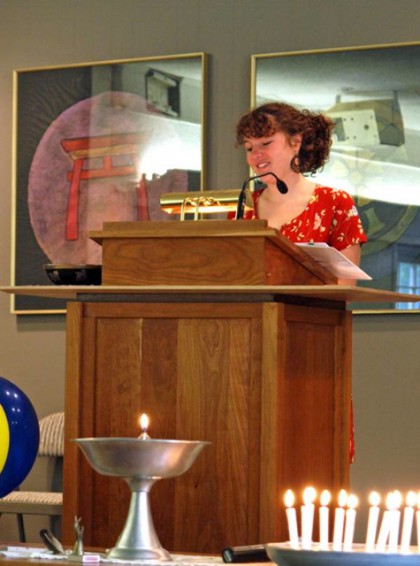 We are inspired not just by religious sources but by the people with whom we journey: the diverse and spirited Unitarian Universalists. You can read the text of many of the sermons given over the last few years.
Covid Policy: We offer worship onsite with masking optional. There is a section reserved for those who wish to remain masked. We also offer worship on Zoom. For more details on our Covid policy, see here.
Severe Weather: It is impossible to predict all of the winter weather conditions that might warrant the closing of CVUUS. This is especially true for services on  Sunday morning when no one would want us to be closed. In an effort to provide an approach that might enable members and friends to anticipate what to expect, the  following guidelines are being offered: 1) In the event of a major snow storm on a Saturday night/Sunday morning, check the office voicemail (802-388-8080) and our  website www.cvuus.org 2) Don't take any unnecessary chances. If you feel that there is significant reason to question your safety while traveling on the streets, stay home. 3) If an ice storm is in progress, stay home.
Thanks for remembering to use our mats and shoe trays to protect our beautiful sanctuary floor from mud, grit, and sticky ice melt.