From the Minister
By the time most of you read this, my Sabbatical will have begun. That doesn't mean you won't bump into me around Addison County at various times before it ends July 31. I'll be coming and going. Like many of you, I find VT a very hard place to leave for a full four months, especially when they span the breathtaking transition from spring into summer!
My first Sabbatical was just three months and nearly all of it was spent near home. I think I've got a much better mix of work, reflection, travel, and rest planned for this one. And I have an encouraging perspective on it thanks to a knitting project Michele began in January.
Michele was inspired by a Twitter post from an extraordinary English woman named Josie George. Since childhood, Josie has suffered from a mysterious physical condition that periodically riddles her with pain, swollen glands, and chronic fatigue. Now in her late 30's and raising an 8 year-old son on her own, Josie has led what she calls a "stop, start" life. As chronicled in a memoir called A Still Life, it has had the unexpected blessing of forcing her into deep attention to her environment as she searches for "sustainable, helpful love."
At the beginning of 2020, just months before the arrival of Covid  introduced all of us to a lot more "stop" in our lives, Josie decided to knit a record of her year in the form of a scarf to which she added two rows every day recording that day's temperature and weather. Temperature ranges and weather conditions each had an assigned color, and the readings were for the same time every day. She did this for 2021 as well, as did a number of others who read about her project online.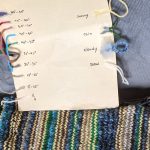 Michele started hers this year, as did CVUUS congregant Dinah Smith with whom she shared the idea. What does this have to do with my Sabbatical? Well, as you can see from the picture taken March 24, Michele's weather scarf reached half the length of our living room couch in slightly less than three months. It's quite colorful, with 10 colors representing 10 degrees of temperature each and four categories for the weather: snowy (white), rainy (green), sunny (yellow) or cloudy (white).
The growing scarf assures me that a four-month Sabbatical is going to contain diversely colorful moments that will give a new look to my year as it progresses. It affirms that each day will be different and yet part of a whole. And it gives me faith that there will be a lot more to share with you by August than I have planned for so far. Last but not least, it inspires deep gratitude and a lot of warm feelings toward a community like this one that knits sabbaticals into what it expects from its minister!              Blessed be, Rev. Barnaby