Rhubarb Festival 2023 Edition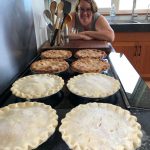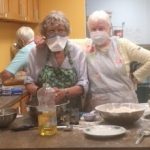 For the past 14 years, on the first Saturday in June, our CVUUS property transforms into a colorful, busy, yummy marketplace with "food, fellowship, and fun." If you are new or have been waiting for a moment to dive in, this is the perfect time! There were lots of ways to help with the pie bees, sign-making, plant sale, cafe, and more.  Mark Saturday June 1, 2024 (10 am – 2 pm) as our 15th rhubarb festival.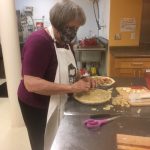 We accepted cash, check or credit card. Proceeds shared with HOPE.
We encouraged people to come early, as we sell out fast on some items.
2023 Rhubarb Festival Thanks
RAW RHUBARB: Thanks to the many who donated and chopped stalks and to Gayle Muenchow for wrangling. We had rhubarb in all configurations, including in raw stalk bundles for sale.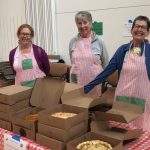 PIES: Rhubarb ($20) and rhubarb/strawberry ($24) pies were sold.  Small ones ($15) and slices ($5) were also sold. Some gluten free, vegan.  Thanks to Ginny Ashenfelter, Kimberli Gray and others for folding boxes. Thanks to Lise Anderson for creating our online sign-up system and Michele Lowy, Brett Millier and Mary Hadley for wrangling supplies and coaching pie makers. Thanks to all our fabulous pie bakers and Brett for pie bee oversite and oven clean up. We aimed for 100 and made a record number of 160. It's not hard. See how Poppy does it in this fun video: "Pies With Poppy from 2020" (5.5 min)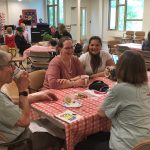 RHUBARB CAFE:  Thanks to those served rhubarb crisp with Wilcox vanilla ice cream ($5/serving) along with assorted beverages in the lower level. Thanks to those making crisp and to Mike Greenwood for oversight.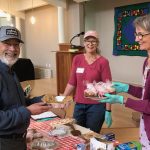 SWEETS & SAVORIES: Thanks to those who provided & sold jams, baked goods, fresh raw stalk bundles, pie slices, and more and to Mary Conlon and Marnie Wood for early work getting this started. Any leftover raw rhubarb not used for these, pies or crisp was available for sale or frozen for future use. Our CUUK Book ($5) are still available for sale.
PLANTS: Thanks for your donations of veggies and houseplants, especially in light of the late frost which took out some, and Dinah  Smith for oversight and Sue Rasmussen and Martha Soderberg for steadfast coverage.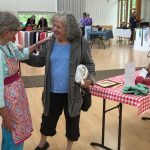 BLING: Mary Conlon with Pat Schmitter arranged and sold jewelry, scarves, ties, and other accessories. Thanks to them and for your donations of these and small brown bags.
MUSIC: Thanks to Carol Harden and Ronnie Romano for providing music for our cafe visitors.
SIGNAGE/PUBLICITY: Thanks to Sheila House for her master work on interior and exterior signage and placement with Bob and Mike Greenwood for the flyer. Can't miss us!
Other ways to help: You could see Top Stalks Lise Anderson or Mary Hadley or Brett Millier. We thank them for herculean effort. So many of you made this day so wildly successful. A true community event.
2022 Rhubarb Festival Thanks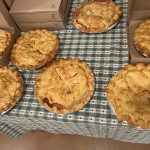 RHUBARB: Thanks to community and CVUUS friends for offering and chopping rhubarb.  Most went into pies, crisp, sweets and savories, but some raw rhubarb stalks were available for purchase for those seeking this. We even had a few plants for sale. Thanks to Gayle Muenchow for wrangling our rhubarb.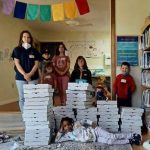 PIES: Strawberry-Rhubarb ~$20 and Rhubarb ~$15 pies were sold out by 11:30 (~150 pies). We had frozen and baked options as well as vegan pies available. We accepted cash, check or credit card. Proceeds shared with HOPE ($2000). Thanks to mavens Lise Anderson, Brett Millier, Michele Lowy and Mary Hadley who coordinated sign up, pie bees and garnering supplies.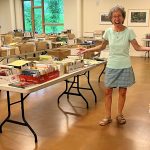 BOOKS:  We offered a massive selection of gently used books, most held over from 2019.  Children got to choose their own books, for free!!!  Thanks to Elizabeth Golden for oversight.
PLANTS: We offered lots of veggies and houseplants and gave leftovers to HOPE. Thanks to Dinah Smith for oversight.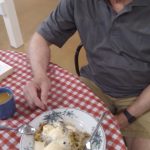 RHUBARB CAFE:  We served rhubarb crisp with Wilcox vanilla ice cream ($5/serving) along with assorted beverages. Sold out! Thanks to Mike Greenwood for oversight.
APRONS/POTHOLDERS (NEW!): You could buy rhubarb-colored potholders ($5) and aprons ($15). Thanks to Kathryn Schloff for oversight.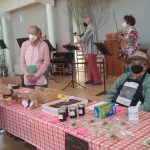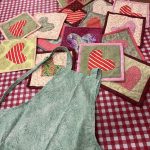 SWEETS & SAVORIES: You could buy jams, baked goods, raw stalks, pie slices ($5), and more. Like pies, these sold out early. Thanks to Marnie Wood and then Mary Conlon for oversight.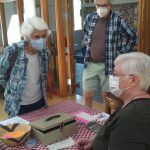 WRAP UP: We sold out of all food early. Check back soon on proceed total. Thanks to the newcomers who "leaned in" to pie making, rhubarb chopping, baking, box making, media, and sales, among other festival tasks. And to our RE kids for making boxes and "secret" book marks.  And master publicist and sign maker and placer Sheila House . You couldn't miss us.  And musicians Jay Harrington, Carol Harden and others who joined them. And Alan Moore for pitching in wherever needed and so many more who helped in so, so many ways. Thank you, thank you. It was truly a community event.
Income Breakdown:
pies $2,390 (incl $84 in pie slices)
sweet/savories $550
books $521
plants $532
café $446
aprons $30
hotpads $60
TOTAL: $4,529
fin to budget $2,529.43
fin to charity $2,000
Rhubarb Pie with Crust options from two Helens CVUUS 2020
Mary Hadley received this email from one of our pie buyers: MARY, THAT PIE IS EXQUISITE!! Possibly the best I have ever had, maybe even better than mine… And I teach people how to bake for a living!! Thank you so much! Lisa Fennimore, BAHRM, NECI Chef Instructor, Stafford Technical Center
Carol Harden commented: I add my congratulations and thanks to the organizers and pie-makers!  A fun aspect of making pies was that I found myself visualizing former pie bees — watching Ann Ross roll out dough in perfect circles, admiring Ann Webster's outstanding dough-making prowess, and noting Brett's confidence in the cooking times.  It was a nice connection.
Becky Strum shared: Thanks to all who organized and contributed — what a terrific success.  I am a huge fan of the Rhubarb Festival. I've loved being a part of a pie bee the past three years and was glad I was able to use my rhubarb to make pies this year by myself — miss you all and hope next year to be together again!
Johanna Nichols added: Congratulations to everyone! I think this was a marvelous fundraiser. Clearly, we must have pie! Brett and I held pie bees, but Michele, I think you are
Bonnie Povolny expressed: In a world where the news in my inbox each day brings tears to my eyes, this email is like a drink of mountain stream water during a long hot hike. It refreshes and nourishes and gives me hope to remember that in a beautiful town in Vermont, there are people who bake rhubarb pies, feed the hungry, and speak for the earth. Many thanks for all that you do, CVUUS! With much love.
Congratulations to our 'Pie-Ladies'!!!!!!!! But where are the men. Just curious. I don't eat Rhubarb Pies because I've never developed a taste for them and there's too much 'real sugar' for a diabetic. But, nevertheless, I share your joy and enthusiasm. (I'm jealous because I wish there were a sweet potato pie festival!!!!! That's my southern upbringing!!!) I know we couldn't be together, but I hope that someday when you guys are busy in the Ann Ross Kitchen, we'll have the 'antiques & Leftovers section of this distinctive festival!!!!! Hey, Guys I'll go anywhere to look at other people's junk. So think about that part. Again, you should ALL be proud of the results of  your hard work.(BTW I feel that way about my memoir which I'm sure by now you know I finally got it published!!!!!!!!!!!!!!!)Well, good luck with getting rid of the rest of those rhubarbs. MuchLove, Francois DivaMan Scarborough Officer Clemmons,Etc.!!!!!!
Rhubarb Festival History
Before 2010 CVUUS soon-to-retire minister Johanna Nichols and Ann Ross had discussed in passing the fun of hosting a Rhubarb Festival for the Middlebury community. By early 2010 Ann organized a small group of members who planned an event for the Saturday between college graduation and college reunion weekends. At that time CVUUS had a new sanctuary but not much in the way of kitchen space, just a coffee preparation area in the new building and a small, house-size kitchen in the nearby administrative space, known as Fenn House. The planning group brainstormed activities that our membership could manage in those spaces, and the first festival debuted on June 5th of that year.
In honor of Garrison Keillor's "beebopareebop rhubarb pie" we had Chuck Miller (Rich Dworsky) at the piano, and two men (one was Jim Burnett) dressed as cowboys (Dusty and Rusty) serving slices of pie and ice cream to people at card tables. We sold 50 pies and ran out! Ann Ross got into the spirit and organized a pantry of "all things rhubarb" to sell. We kept it simple! It was just for fun. We never dreamed that it would continue.
The production of rhubarb-based foods has been the unifying element of the event. Always pies, lots of pies. In 2018 about 100 pies were sold as well as other rhubarb treats. At some festivals, there was coffee and pie on offer. That developed into a café lunch with homemade sandwiches, salads, & desserts plus a beverage.
In the past there were various sales and activities. Perhaps the most energetic was called "Kiss the Kid."   Various members names were attached to voting boxes where everyone could drop in their choice for the individual who would cuddle up to a Blue Ledge Farm baby goat and, hopefully, get a kiss. The "vote" was money, so the winner was the person who had collected the most dollars in their box. While this was fun for many folks, a few felt that we were frightening the "kids." So congregational energy was turned elsewhere the following year.
In 2013 RF included a "Father's Finds" area, where shoppers could hopefully purchase a Father's Day gift. The festival also offered a quilt raffle and children's gently used toys and games. Four activities that continued through the years, in addition to the above mentioned food sales, are the sales of plants, used books, used jewelry and scarves, and provision of all-day musical entertainment. In 2014 the group also offered homemade aprons, which decorated the CVUUS sanctuary in spectacular fashion and then went home with the buyers.
Each year since 2013 we've held a festival similar to these, one year with a professional puppet show for  children. 2019 was our first festival with a finished lower level in the building. The previous year the lower level was accessible, but the lighting was dim. In 2019 both the upstairs and downstairs of the Sanctuary were brightly lit and welcoming to all. It takes a village of Unitarians to create a community Rhubarb Festival. We hope that it will continue as a  tradition for many years to come.  Submitted by Sheila House & Johanna Nichols
2019 Rhubarb Festival Wrap-up
CVUUS opened its doors to the community for our 10th Rhubarb Festival, 10 AM – 2 PM. The festival planners counted on the many contributions of our members and friends to create this event.
Pies: These are always the hallmark of the Festival and were front and center again.  Lise Anderson recruited pie makers and bakers and organized "pie bees" over two evenings at Fenn House and our new ground floor kitchen. We welcomed your donations of rhubarb stalks. Rhubarb pies were priced at $18 and strawberry rhubarb at $20.
Lunch: Vanderburghs and others ran a Café featuring sandwich and salad, drink, and dessert for $10 per person.  The café opened at 10:30 AM.
Books and Art: We were 'GOING BIG', expanding our Book Sale to include MORE BOOKS, as well as ART OF ALL KINDS! This expanded effort was designed to RAISE MORE MONEY to benefit the library by BUILIDNG NEW LIBRARY SHELVING in our new Fellowship Hall 'Blue Room'. So we accepted an unlimited number of books of all kinds, for all ages, hard and soft cover. The only exceptions were encyclopedias, older travel guides, magazines and damaged books. We also accepted DVDs and CDs, but not cassette tapes or VHS videos. Friends were welcome to donate books and art as well!
We accepted ANY KIND OF ART – framed or matted, sculpture, ceramic, woven, mobiles, wood carvings, carved walking sticks, 3-D, handmade cards, stained glass, press flowers, knitted clothing, quilts, and more. The art wasn't sold off cheaply, and some of the larger, photo-filled books were priced above the usual 50 cents – $2 prices.
We also extended the book sale for the following Sunday and two Sundays afterward, to sell as many books and art pieces as possible, to maximize our fundraising. Leftover inventory is being stored for future sale by Steve Butterfield.
Bling (used jewelry and scarves) and Plants were also sold and music was offered all day.
2020 Rhubarb Festival Wrap up: We baked and sold 134 pies and sold online by advance order. People could drive by to pick up from our drop off area.
2021 Rhubarb Festival Wrap Up: We sold over 100 pies and made around $2600 which we shared between CVUUS and HOPE . You could choose from rhubarb ($18) or strawberry rhubarb ($24). Pies were sold on a first come basis while pies lasted. No advance or online orders. You could pay by cash, check or credit card.
RHUBARB History and Facts
Rhubarb is a perennial spring vegetable that grows abundantly from May to July. Rhubarb is in the plant family Polygonacea along with knotweed and buckwheat. While the plant is technically a vegetable, the tart edible stalks of the plant are most commonly thought of as a fruit and is eaten in sweet preparations.
Rhubarb has been an important plant for thousands of years. In China, it is referred to as "the great yellow", and appears in ancient Chinese medicine books dating back over 1,800 years. Rhubarb was traded along the Silk Road trade route and was brought to Europe for the first time during the 14th century. The transportation cost of the plant made it very expensive in Medieval Europe and it was more valuable than saffron and opium.
This inspired the development of cultivars that could be grown in Europe. During the 18th century it became more widely available in Europe and with the decreasing price of sugar, it started to become a popular food rather than just a medicinal plant. It's estimated that rhubarb was first grown and eaten in the United States in Philadelphia in the 1730s.
Rhubarb in the Northeast
There are a handful of things that grow better in the Adirondacks than in California, and rhubarb is one of them! Rhubarb thrives in the colder climates of the Northeastern United States where the ground freezes in the winter. To grow at home, simply plant it and try not to run it over with the lawn mower. You will have an abundance for the rest of your life.
To grow it commercially, farmers have to do a little more management to help it emerge early and to minimize pest and disease damage. Rhubarb is not a major crop for vegetable or fruit growers in New York State. It's estimated that there are only 24 acres of it in commercial production across the state.
The Gift That Keeps Giving
In the Adirondack region, rhubarb may be easier to find in your neighbor's backyard than at the grocery store. Because the plants come back every year and thrive on neglect, rhubarb is the gift that keeps giving. You may find that a family member, friend or neighbor, would happily share some with you. If you really like it, ask for a division of their plant in the spring or fall to plant in your yard. Then you can enjoy your own plant next year, and pass along a division of your plant to someone else years after that.
Division every few years helps the plant continue to thrive, so it's really the plant that keeps giving! There are also more modern varieties available for purchase from plant nurseries that grow bigger, sweeter, juicer stalks that you may prefer. If you choose to pick your own rhubarb, just make sure to only eat the stalks. The leaves contain high levels of oxalic acid and can be harmful if eaten, especially in large quantities.
Recipes to try
Because rhubarb is tart on its own, it is most commonly used to make sauces, jams, and compotes with sugar, or used in addition to other fruits in pies and desserts. If you like tart and sour things, try eating rhubarb on its own – some people call it nature's sour patch kid! A few recipes to try:
"CUUK BUUK" featuring rhubarb!
Get lots of rhubarb recipe inspiration here. Contact office@cvuus.org if you'd like to buy one ($10).