Rhubarb Festival "Pies Only" 2021 Edition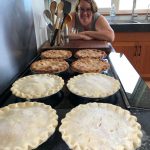 We sold over 100 pies and made around $2600 which shared between CVUUS and HOPE on Sat June 2, 2021, 10 am to noon.
You could choose from rhubarb ($18) or strawberry rhubarb ($24). Pies were sold on a first come basis while pies lasted. No advance or online orders this year. You could pay by cash, check or credit card.
For the past 10 years, May has been the big "run up" of our Annual Rhubarb Festival typically on first Sat in June. As you know, the tag line for the annual CVUUS Rhubarb Festival has long been "food, fellowship, and fun" – but with social distancing part of our "new normal", we decided on a "pies only" event  again this year.  To quote Brett Millier, "it was all about the pies." Hopefully, this will be our last "pies only" event.
Rhubarb Pie with Crust options from two Helens CVUUS 2020
Mary Hadley received this email from one of our pie buyers: MARY, THAT PIE IS EXQUISITE!! Possibly the best I have ever had, maybe even better than mine… And I teach people how to bake for a living!! Thank you so much! Lisa Fennimore, BAHRM, NECI Chef Instructor, Stafford Technical Center
Carol Harden commented: I add my congratulations and thanks to the organizers and pie-makers!  A fun aspect of making pies was that I found myself visualizing former pie bees — watching Ann Ross roll out dough in perfect circles, admiring Ann Webster's outstanding dough-making prowess, and noting Brett's confidence in the cooking times.  It was a nice connection.
Becky Strum shared: Thanks to all who organized and contributed — what a terrific success.  I am a huge fan of the Rhubarb Festival. I've loved being a part of a pie bee the past three years and was glad I was able to use my rhubarb to make pies this year by myself — miss you all and hope next year to be together again!
Johanna Nichols added: Congratulations to everyone! I think this was a marvelous fundraiser. Clearly, we must have pie! Brett and I held pie bees, but Michele, I think you are
Bonnie Povolny expressed: In a world where the news in my inbox each day brings tears to my eyes, this email is like a drink of mountain stream water during a long hot hike. It refreshes and nourishes and gives me hope to remember that in a beautiful town in Vermont, there are people who bake rhubarb pies, feed the hungry, and speak for the earth. Many thanks for all that you do, CVUUS! With much love.
Congratulations to our 'Pie-Ladies'!!!!!!!! But where are the men. Just curious. I don't eat Rhubarb Pies because I've never developed a taste for them and there's too much 'real sugar' for a diabetic. But, nevertheless, I share your joy and enthusiasm. (I'm jealous because I wish there were a sweet potato pie festival!!!!! That's my southern upbringing!!!) I know we couldn't be together, but I hope that someday when you guys are busy in the Ann Ross Kitchen, we'll have the 'antiques & Leftovers section of this distinctive festival!!!!! Hey, Guys I'll go anywhere to look at other people's junk. So think about that part. Again, you should ALL be proud of the results of  your hard work.(BTW I feel that way about my memoir which I'm sure by now you know I finally got it published!!!!!!!!!!!!!!!)Well, good luck with getting rid of the rest of those rhubarbs. MuchLove, Francois DivaMan Scarborough Officer Clemmons,Etc.!!!!!!
Rhubarb Festival History
Before 2010 CVUUS soon-to-retire minister Johanna Nichols and Ann Ross had discussed in passing the fun of hosting a Rhubarb Festival for the Middlebury community. By early 2010 Ann organized a small group of members who planned an event for the Saturday between college graduation and college reunion weekends. At that time CVUUS had a new sanctuary but not much in the way of kitchen space, just a coffee preparation area in the new building and a small, house-size kitchen in the nearby administrative space, known as Fenn House. The planning group brainstormed activities that our membership could manage in those spaces, and the first festival debuted on June 5th of that year.
In honor of Garrison Keillor's "beebopareebop rhubarb pie" we had Chuck Miller (Rich Dworsky) at the piano, and two men (one was Jim Burnett) dressed as cowboys (Dusty and Rusty) serving slices of pie and ice cream to people at card tables. We sold 50 pies and ran out! Ann Ross got into the spirit and organized a pantry of "all things rhubarb" to sell. We kept it simple! It was just for fun. We never dreamed that it would continue.
The production of rhubarb-based foods has been the unifying element of the event. Always pies, lots of pies. In 2018 about 100 pies were sold as well as other rhubarb treats. At some festivals, there was coffee and pie on offer. That developed into a café lunch with homemade sandwiches, salads, & desserts plus a beverage.
In the past there were various sales and activities. Perhaps the most energetic was called "Kiss the Kid."   Various members names were attached to voting boxes where everyone could drop in their choice for the individual who would cuddle up to a Blue Ledge Farm baby goat and, hopefully, get a kiss. The "vote" was money, so the winner was the person who had collected the most dollars in their box. While this was fun for many folks, a few felt that we were frightening the "kids." So congregational energy was turned elsewhere the following year.
In 2013 RF included a "Father's Finds" area, where shoppers could hopefully purchase a Father's Day gift. The festival also offered a quilt raffle and children's gently used toys and games. Four activities that continued through the years, in addition to the above mentioned food sales, are the sales of plants, used books, used jewelry and scarves, and provision of all-day musical entertainment. In 2014 the group also offered homemade aprons, which decorated the CVUUS sanctuary in spectacular fashion and then went home with the buyers.
Each year since 2013 we've held a festival similar to these, one year with a professional puppet show for  children. 2019 was our first festival with a finished lower level in the building. The previous year the lower level was accessible, but the lighting was dim. In 2019 both the upstairs and downstairs of the Sanctuary were brightly lit and welcoming to all. It takes a village of Unitarians to create a community Rhubarb Festival. We hope that it will continue as a  tradition for many years to come.  Submitted by Sheila House & Johanna Nichols
2019 Rhubarb  Festival Wrap-up
CVUUS opened its doors to the community for our 10th Rhubarb Festival, 10 AM – 2 PM. The festival planners counted on the many contributions of our members and friends to create this event.
Pies: These are always the hallmark of the Festival and were front and center again.  Lise Anderson recruited pie makers and bakers and organized "pie bees" over two evenings at Fenn House and our new ground floor kitchen. We welcomed your donations of rhubarb stalks. Rhubarb pies were priced at $18 and strawberry rhubarb at $20.
Lunch: Vanderburghs and others ran a Café featuring sandwich and salad, drink, and dessert for $10 per person.  The café opened at 10:30 AM.
Books and Art: We were 'GOING BIG', expanding our Book Sale to include MORE BOOKS, as well as ART OF ALL KINDS! This expanded effort was designed to RAISE MORE MONEY to benefit the library by BUILIDNG NEW LIBRARY SHELVING in our new Fellowship Hall 'Blue Room'. So we accepted an unlimited number of books of all kinds, for all ages, hard and soft cover. The only exceptions were encyclopedias, older travel guides, magazines and damaged books. We also accepted DVDs and CDs, but not cassette tapes or VHS videos. Friends were welcome to donate books and art as well!
We accepted ANY KIND OF ART – framed or matted, sculpture, ceramic, woven, mobiles, wood carvings, carved walking sticks, 3-D, handmade cards, stained glass, press flowers, knitted clothing, quilts, and more. The art wasn't sold off cheaply, and some of the larger, photo-filled books were priced above the usual 50 cents – $2 prices.
We also extended the book sale for the following Sunday and two Sundays afterward, to sell as many books and art pieces as possible, to maximize our fundraising. Leftover inventory is being stored for future sale by Steve Butterfield.
Bling (used jewelry and scarves) and Plants were also sold and music was offered all day.
2020 Rhubarb Festival Wrap up: We baked and sold 134 pies.