Our Ministers and Staff
Phone number for all staff: (802) 388-8080
Office Hours: Mon – Fri  8 am – noon
Rev. Tricia Hart, Minister
Rev. Tricia began as part-time contracted minister in Aug 2023 along with Rev. Christina Sillari. She was the former interim minister at First Unitarian Universalist Church of Burlington. Email her at revtricia@cvuus.org.
Rev. Christina Sillari, Minister
Rev. Sillari began as part-time contracted minister in Aug 2023 along with Rev. Tricia Hart. Rev. Christina exchanged pulpits with Rev. Barnaby in Fall 2019. Email her at revchristina@cvuus.org.
Click here to listen to a conversation from our ministers.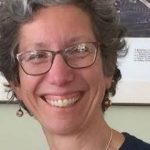 Laura Asermily, Office Manager
Laura handles the administration of CVUUS. Contact Laura with questions about attending CVUUS, renting our beautiful sanctuary, and other questions. More about Laura Asermily.
In office Mon – Friday (8 am- 12 pm).
Email office@cvuus.org or call (802) 388-8080.
Cara Mosier, Bookkeeper
Cara handles bookkeeping and accounting questions, including questions about member's donations.
From home Tuesdays
Email fm@cvuus.org or call 203-314-3347.
Poppy Rees, Director of Religious Exploration
Poppy organizes Sunday morning RE, with programs for children from pre-schoolers through the high school youth group.
Email Poppy at re@cvuus.org or call (802) 349-8508.
Ronnie Romano, Director of Music
Ronnie organizes Sunday morning music as well as other musical offerings and enrichment.
Email Ronnie at music@cvuus.org or call (201-388-4038).
Keith Rickerby, Sexton
Keith handles the surveillance and cleaning our our buildings and grounds. He usually works Fridays 1-3 pm and Saturdays ~7 to 10 am and Sundays ~2-4 pm. He can help open and close for events and monitor parking for large events. Contact him at 989-6036.