Location
Located near the center of Middlebury, between the high school and the new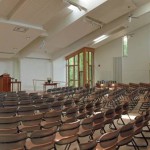 bridge, our new building is bright, warm, and inviting, and reflects our commitment to the inclusion of people of all ages, abilities, and mobilities. Learn about the accessibility of our building and programs.
Office Hours
The congregation's office is open Monday through  Friday mornings 8 am till noon. Contact us at office@cvuus.org or (802) 388-8080.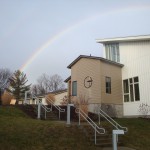 Parking
Our parking lot and bike rack have space for 15 cars and 10 bicycles. For Sunday services and other events, please park at the Middlebury Union High School lot across the street or the Mary Johnson Children's Center across Duane Court (Sundays only).parking-map-2014
Directions
Our Google Maps link offers you door-to-door directions for driving, walking, biking, or public transit.