Location
Located near the center of Middlebury at 2 Duane Ct, between the high school off Charles Ave and the Cross Street Bridge, our new building is bright, warm, and inviting, and reflects our commitment to the inclusion of people of all ages, abilities, and mobilities. Learn about the accessibility of our building and programs.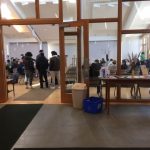 Office Hours
The congregation's office is open Monday through  Friday mornings 8 am till noon. Contact us at office@cvuus.org or (802) 388-8080.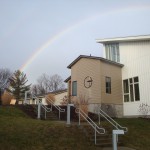 Parking
Our parking lot and bike rack have space for 15 cars and 10 bicycles. For Sunday services and other events, additional parking is available at the Middlebury Union High School lot across the street or the Mary Johnson Children's Center next door (after 5 pm weekdays and on weekends only). You can also park at the CSAC Main St building, downtown lots, Kinney's, along S. Pleasant and walk within 5-10 minutes to CVUUS or be dropped off. Tri-Valley Bus is another option. The Route 7 South bus will let people off at the corner of Cross and Water St. See their schedule at trivalleytransit.org or at many locations downtown.  parking-map-2014
Directions
Google Maps offers you door-to-door directions for driving, walking, biking, or public transit.
From the Middlebury Town Green on Route 7: Take South Pleasant Street to the corner where it turns sharply left and becomes Cross Street. Almost immediately, turn right onto Water Street, which will soon become Charles Avenue. Shortly after the stop sign at Mary Johnson Child Care Center, you will come to the intersection of Duane Court and Charles Avenue. The church office and Fenn House, our religious education building, will be on your left at that corner. Our church meetinghouse is just beyond.
From the south on Route 7: Turn left at the Charles Avenue stoplight. Follow Charles Avenue toward Middlebury Union High School. Stay on Charles Avenue as it turns right past the high school. Continue downhill on Charles Avenue. The meetinghouse will be on your right, followed by the Fenn House.