Nursery and Childcare: Infants-4 years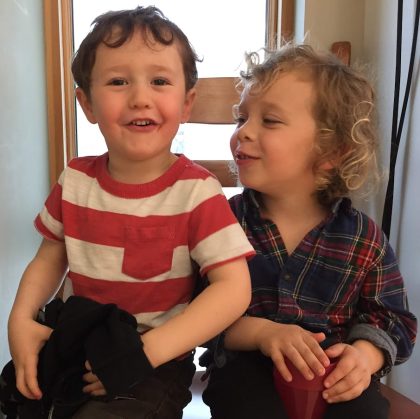 We offer care in the Nursery for children up to age 4 on Sunday mornings from 9:45-11:15.  You are also welcome to keep your child with you during the service.
The Nursery is located just down the hall from the Sanctuary.  Nursery care is provided by Nursery staff and approved volunteers from our congregation.
All people helping in the Nursery are fully vaccinated and boosted for COVID.  As of 8/22, our Nursery is mask-optional.  It has multiple windows and a strong air purifier.
Our nursery offers a bright, clean environment for play, and a place for families to nurse or calm a crying child.  Changing tables are available in the Nursery, as well as a bathroom in the lower level Felllowship Hall. There is also a sliding chair for nursery or comforting a child.
Our time in the Nursery is unstructured and based on the needs of the children in the room.  We have age-appropriate books, art supplies, toys, stuffies, things to build with and much more.
Please sign your children in on the attendance form when you drop them off and sign them out when you pick them up.
Families should leave the necessary supplies and instructions to change and/or feed your little one.  Please let the child care providers know if your child has any special dietary needs or concerns.  Families are asked to bring a change of diapers and any special items the child may need.  We ask that you leave our caregivers with any specific instructions regarding the circumstances under which you would like to be called from the service. If you choose, you may leave your cell phone number so we can page you (cell phones on vibrate only, please) or someone can come find you as needed.