Green Sanctuary Ministry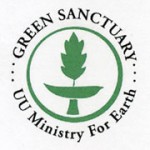 CVUUS is committed to working for environmental sustainabilty. You can read about the UUA's Green Sanctuary Program.
Gleaning: a CVUUS Green Sanctuary Environmental Justice Project
You're invited to plant and glean at local farms, and process fresh produce, to donate to H.O.P.E. and Charter House. Local gleaning opportunities are organized by The Vermont Gleaning Collective, an initiative of Salvation Farms, a network of professionally organized community-based gleaning programs. Salvation Farms' mission is to build increased resilience in Vermont's food systems through agricultural surplus management.
There are a few ways you can get notices and participate. One way is through the Weekly Blast. Another is by getting notices directly by registering at http://salvationfarms.org/get-involved.html. Select the county you wish to glean in (preferably Addison), and the type of work you'd like to do, which includes planting, gleaning, processing, delivering, admin, etc. Once you register, you'll receive emails of opportunities from which you can choose.
You can take home some gleaned items if there's enough. Help with:
– In-field harvesting of surplus produce
– Collecting unsold produce at Middlebury Farmers' Market
– Delivering produce to HOPE's food shelf
– Processing produce for winter use
Or help Charter House with their community garden at Porter Hospital next to Midd DogPark.
Notes on gleaning:
-Unless noted, gleans are usually 1 1/2- 2 hrs, but an exact time is hard to know. Please feel free to stay for whatever amount of time you can.
– We'll glean rain or shine unless there's a chance of T-storms or heat advisory. We can notify you about cancellation if you RSVP through the VT Gleaning Collective.
-To contact us in the field the day of a glean call Lily 802-377-2016
-Please park at the farm and wait for Lily to arrive to receive instructions before we head out into the field.
-Always prepare to walk into the field for the glean- this could be close to where we park or a ways away.
*Most Important* USE THE BATHROOM BEFORE YOU COME. These facilities are limited and the surrounding woods or fields are not an option.
——–What to bring/ wear or remember before a glean——–
*Sunscreen! And a hat or appropriate rain gear, *Water and if needed some snack
*Clothes you are ok with getting dirty, layers are also a good idea if we start a glean in the cooler morning then work into a warmer mid-day or vice versa for afternoon gleans into the evening
*Closed toed shoes sturdy for farm work. (For both shoes and clothes please avoid wearing clothes covered in soil, manure, compost from your own farms or gardens.)
*Any gloves or harvesting knives you prefer to use, but we will provide materials for all gleaners.
*If you feel sick the day of the glean call the number listed above and avoid coming as we are handling food.