Honk to Halt Deportations: Community Voices for Immigrant Rights based in Burlington, VT organized a protest on Sunday, March 14 at 1pm targeting the ICE Data Support Center in Williston, VT to demand an end to deportations and highlight Vermont's role in perpetuating the US's inhumane and unjust immigration system.
They report that while Biden has repealed the worst of the previous administration's executive orders, he has continued to oversee the border regime's ongoing oppression of migrants. His administration has maintained Trump's order that closes the US border to all new migrants, deported over 26,000 people, and arrested and jailed children who have crossed the border in detention facilities.
In perhaps its most obscene act, the administration deported hundreds of Black migrants to Haiti, Cameroon and several other African countries during Black History Month. Such deportations are all too regular and are the result not only of immigration policy, but also the so-called War on Drugs that disproportionately targets Black and Brown migrants for petty crimes, which ICE then uses to justify repatriation.
They have five demands for this protest:
Stop all deportations immediately! The Biden administration must challenge the court's decision to block its moratorium on deportations. Meanwhile, it must use its power to block the scheduling of all deportations from the US. And it must do this without using crime or public health as a pretext for deporting people. That would only bolster the racist and class biased prison industrial complex.
Free them all! The Administration must immediately close down all private and public detention centers, free detained people, offer them social and other needed services, and especially reunite detained children with their relatives and parents.  The Biden order to end private contracts to jail U.S. citizens must also include those which detain migrants.
Stop the High Tech Border Wall! As part of its ongoing construction of a high tech virtual border, Customs and Border Protection plans to install several surveillance towers between Vermont and Québec. This must be stopped immediately, as should Biden's plan to build a new high tech border wall all around the US. Customs and Border Protection is accepting comments only until March 15.  Information about how to submit public comment is available here: https://www.cbp.gov/document/environmental-assessments/draft-ea-swanton-rvss
Defund and Abolish the Border Patrol, ICE, and the Police and Dismantle DHS. Cut the wasteful and racist spending on border repression, detention centers, deportation, police, and mass incarceration. Instead, invest money in communities of color and fund services in immigrant communities. Abolish the unchecked anti-Black, anti-immigrant, and racist reign of ICE, the Border Patrol, the police, and the prison industrial complex. Dismantle DHS, preserving only those institutions that help people.
Create a Just and Safe Economy for All Workers. Invest government money only in jobs that improve conditions for all. Convert jobs at ICE, DHS, and the police into socially useful and unionized ones with livable wages in education, healthcare, and government services.
They are planning this event as a non-arrest honk protest that allows for greater COVID precautions to be taken. More details about the demonstration can be found on their facebook event:https://fb.me/e/12J44dYEY
Volunteers deliver meals and COVID vaccine shots: Open Door Clinic (ODC) receives prepared meals to be distributed to farm workers on Wednesdays and has asked Addison Allies to distribute 150-200 meals throughout  Addison County.  Can give each driver two $20 gas cards every Wednesday to help with the distribution. Food pick up is at ODC (on the Porter hospital grounds) at 10 am on Wednesday.  Julia from ODC will provides the addresses where you deliver. How many addresses you take on/stops you make is up to you.
Volunteers would go to homes, knock on the door and let the person who answers know you have food from ODC and ask how many people in the house and/or how many prepared meals they'd like.
If you don't speak any Spanish, you could prepare a card with the necessary information and just hand it to the person who answers the door.  We could help to create that info card if needed.  You give the number of prepared meals to the person and go on to your next stop.
When Veronica did this in January, she found that most people requested more than one meal per person in the household.  They are small portions.  When she went to a house where no one was home, she left several in a box at the door.
We would want you to wear a mask, but contact will be minimal and always outside.
Let Veronica know if you have any questions and if you want to volunteer for this (vciambra@gmail.com). Volunteering for one Wednesday does not commit you to more than one. ODC is also visiting farms to give the vaccine shot.
Addison Allies Network's Coronavirus Emergency Fund for Immigrant Workers thanks the 62 community members (many from CVUUS), who donated to the fund for a total of $3662.  They've also secured grant funding from United Way of Addison County and The New England Grassroots Environment Fund, each donating $1000.  So far they've assisted 6 immigrant workers who were either unemployed (4) or quarantined (2) with money for food and other essentials.  Donations are welcome: Addison Allies Network, Inc., 58 Seminary St. Ext, Middlebury, VT 05753; or online at Vimeo @addison-allies or PayPal addisonalliesnetwork@gmail.com
Vermont lawmakers have approved some $5 million in stimulus payments for workers who didn't receive stimulus checks from the federal government because of their immigration status. The Vermont Coronavirus Economic Stimulus Equity Program would give adults $1,200, along with $500 for each child. These are Vermont residents who tend to work lower-wage jobs such as tourism and hospitality. It also includes over 1,000 immigrant dairy workers. The proposal will be read one more time in the House before moving on to the Senate. Governor Scott has previously said he supports an aid package for these workers.
https://www.wcax.com/2020/09/08/vt-house-approves-5m-in-stimulus-payments-to-migrant-workers/?fbclid=IwAR1SXn1VRKp85v-dMcCsa8vADJl_EorijjEQjK1D-f8uQ0QHL2gAC0XNwXk
In response to deportations of Addison County farm workers and separation of families, many seek to help. We continue to inquire about how to communicate better with farmers, migrants and volunteers about who we are and what help we offer. CVUUS and other groups work toward meeting migrants' language, legal, banking, shopping, transportation, health and housing needs and hosts a Mexican Consulate Visit each winter. 153 legal documents were processed. Health Checks, winter clothing, legal and banking aid, childcare, tamales and more were provided. The next one will be Sat. Dec 5, 2020.
Much has changed in the 20 plus years since the Addison County Farmworker Coalition first began bringing together workers, farmers, health, and social service agencies:
The Farm Health Task Force was created and continues it's work,
Open Door clinic has hired Spanish Speaking professionals to augment the deep volunteer translator base,
College group Juntos was created
Migrant Justice was created and has mounted wonderful and effective campaigns,
Statewide efforts to enact non-biased policing policies and a driver's privilege card moved successfully through the legislature,
The voices and images of worker's lives continue to be shared through art, photography, film, legislative testimony, and journalism
Banks have opened accounts for people without Social Security numbers
And unfortunately, much has not changed:
An Ag Labor law has never been enacted to give dairy workers legal status
People still feel threatened and insecure about being out in public
Health, mental health, and dental services are still limited
Families still worry about being ripped apart
Farms are under increasing financial pressure and some are going out of business
And the agencies and institutions in our community have also seen many changes: staff turnover, financial challenges shifting policies.
We know that the desire to support the farmworkers and farms in our community is as strong as ever as well as those detained at our southern border. New groups such as Addison Allies Network, Showing Up for Racial Justice and other ad hoc groups have arisen to tackle some of the challenges. We heard what is going on at a "reconnecting" session on June 27: Reconnecting Notes 6-27-18
Addison Allies Network founder Veronica Ciambra tells us about the conditions for migrant farmworkers and how they are helping them and how you can also.
Families Belong Together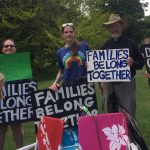 The ACLU guides and thanks those for reaching out to ask how you can help end the cruel separation of families at the border and inhumane treatment of those detained there awaiting asylum. The short answer is you can do a lot, including: informing and educating friends, family and neighbors; speaking out publicly; contacting your local, state and national representatives; and supporting the many organizations fighting this battle on the front lines (this article is a good resource: https://slate.com/news-and- politics/2018/06/how-you-can- fight-family-separation-at- the-border.html).
Here's a short film (~7 min) made by Middlebury College that poignantly depicts the cruel separation of undocumented families here in VT.
The film was inspired by the VT farmworker comic book project by the Open Door Clinic and VT Folk Life Center that we featured in a Summer Spirituality and the Arts worship last year. Spread the word about this beautiful, 3D animation that Middlebury film professor Daniel Houghton and several Middlebury College students, including Justin Holmes, just completed. For those interested in the back story: two years ago, Middlebury College's Jessica Holmes (Justin's mother) reached out to Daniel to see if he might be willing  to create an animation that would highlight the experiences  of undocumented (primarily Mexican) dairy farm workers in Vermont. After pouring over local news and the VT Folklife Center's collection of mini graphic novels, visiting the Mexican Mobile Consulate and travelling with the Open Door Clinic to local farms, Daniel and his team developed a tale of a young child whose life is forever changed when her undocumented father is loaded up into a border patrol van and deported. As Daniel says, "When we began working on the project, the threat of family separation seemed like a tragic possibility. Now watching it become federal policy breaks my heart."
The hope is that through visual art and storytelling, this film can bring attention to the realities of our immigration policy and create momentum for change. So please feel free to share the video link with friends, on FB and other social media outlets. Let's make this go viral and keep the conversation going!
Many attended a demonstration in June 2018 in Burlington starting at top of Church St and ending at Battery Park. Showing Up for Racial Justice demonstrated the same day at the ICE facility in Rouses's Point NY.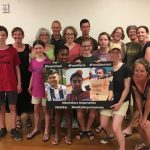 Several Addison County residents protested inhumane border conditions at local 2019 summer parades and events.
EVERYDAY LIVING NEEDS ("Addison Allies Network")
"How Can We Help?" Project: Several recognized that we needed to ask migrant workers what they need and developed a card and flyer where they could see a menu of options and leave the card with us or call and text a contact on the flyer to get help.  That key contact became Veronica Ciambra (802-578-8696 or vciambra@gmail.com or addisonalliesnetwork@gmail.com). Contact her to learn how she took the lead on this and developed it in coordination with others toward forming the "Addison Allies Network." See here: How to Help Card. 
Addison Allies trains volunteers and seeks their stories, successes, questions, concerns about working with (teaching, driving, socializing, otherwise supporting) farm workers. Catch up on some of their stories here: Addison Allies STORIES
"We Can Help" Card: This was developed as part of to the "How Can We Help" project as another tool. The idea was to get it on farms so workers could see it–post it on refrigerators, give it to milk truck drivers or other suppliers to pass on to workers. See here: We Can Help Card
English Language Practice: Many are working to meet this great need. We've had over 30 active volunteers teaching English to about 40 farm workers and offer many opportunities for ESL training with Rebecca Holmes, a highly experienced ESL teacher. Martha Fulda, also an ESL teacher, can assist.  Contact Veronica for details on upcoming classes. We can always use more volunteers to practice English with workers.
1) At Open Door Clinic: Volunteers help with translation of and completion of forms at their sites.
2) On farms: Several are visiting farmworkers and providing language services by tutoring in English or translating English forms or instructions to Spanish and teaching them their rights. Contact Veronica Ciambra (802-578-8696 or vciambra@gmail.com)  or Kathy Comstock (kthycmstck@hotmail.com) to learn how they have done this and accompany them on a lesson or connect with other migrants seeking practice speaking English or to acquire a white board for practice. You can check in and debrief with her at her home on Sunday afternoons (58 Seminary St Ext). Here are some resources from UVM Extension Services:
http://www.osymigrant.org/EnglishWorkbook_VT.pdf http://www.osymigrant.org/EnglishTeacherGuide_VT.pdf http://www.osymigrant.org/Problem-PosingESL_VT.pdf
http://www.osymigrant.org/AdultELLclassesTN.pdf
Workers are in contact through What's App, a messaging app that everyone in our ESL group should use for communication with workers.  free and easy to download onto your phone. www.whatsapp.com Messages are secure with end to end encryption.  But, we should still use caution when communicating about and with workers, particularly when communicating addresses.
Be sure to discuss the GED program with migrant students.  Only requirements are that they have had to have moved at least once since coming to the US and they do not have a high school diploma or the equivalent. GED students work through the UVM Extension Service.  The contact person is Claire Bove- claire.bove@uvm.edu, (802) 476-2003. There is also a program that includes English language study for workers under age 23. (802-476-2003 ext. 223 or alexandra.houghton@uvm.edu)
In addition to having more requests for English language help, we have also had some people seeming to drop out of their studies.  This is to be expected and is no reflection on anyone, teacher or student.  If someone cancels on you a lot and you start to get frustrated, please let Veronica know.  It's okay to stop and maybe resume later on or maybe someone else will pick up your student and work with the situation for a while.  Or, maybe the student is no longer interested. It does seem that the vast majority of the people we are working with are dedicated students. If you are sharing social times with students, please share your experience with Veronica or Kathy.
Neat Repeats has given Addison Allies Network, Inc. $400 to be used for materials and supplies for teaching  English. They want us to know  they need volunteers who enjoy people and have an eye for quality merchandise. Second, they need us to inform our supporters to shop and donate items to Neat Repeats.  They accept, in saleable condition, clothing, shoes, jewelry, linens, small kitchen utensils and other miscellaneous items.
3) At Middlebury College: Juntos, a Middlebury College student organization, aims to help migrants in many ways. They support the Mexican consulate visit each year and produced a brochure on Immigrants in the U.S. Myth vs. Fact.  They invite you to share it to explain the obstacles to legalization.  They seek volunteers to tutor English at their classes on campus when the college is in session and perhaps on farms over the summer or other times. Email them at juntos@middlebury.edu
Working with the farm worker community is not a simple thing.  Schedules are difficult to maneuver; a person may think they want to learn English, but then find it more difficult than expected or that they do not have the time it requires.  Volunteers sometimes tire of the cancelled classes, no shows and miscommunications, especially if you put in a lot of prep time.
People who have been able to stick with this work have changed students regularly and have found other ways to be involved with this community.  Unless you find a very committed English language student, generally workers do not stick with it for too long- they either move out of the area or find studying too difficult. There are students who are not giving up though and continue to work with dedicated teachers. Besides teaching English, other ways that people have been involved include, providing rides, helping to secure driver privilege cards, doing social things, helping workers access necessities and services.  There is a lot of need in the worker community, but it may not be easy to find your niche.  We encourage you to stay with it and explore options.  Let Veronica Ciambra know how she can help.  Thanks for all your time.
Spanish Language Practice: Some are working to help farmers and volunteers learn basic Spanish needed on dairy farms (e.g., don't milk that cow, close the gate). https://www.joe.org/joe/2012june/a7.php. ESL teacher Rebecca Holmes recommends offering Oxford Picture Dictionary (Eng/Span) to help farmers point to what they are trying to communicate.
Some ESL teachers are seeking to learn Spanish. Chris Urban offers Spanish Through Stories classes through the Bristol Recreation Department. He hosted a Teaching English Through Stories workshop for Addison Allies. Teaching language through stories is a very effective method, as can be attested to by the people taking Chris' Spanish Through Stories classes.  Chris used to teach English to farm workers through the UVM Migrant Ed Program and now teaches Spanish at Harwood.  Contact Chris at curban@wwsu.org if you're interested in his future classes or visit  http://access.cvuhs.org/language–music.html#World Languages. There are also Spanish classes at CVU's adult education program, ACCESS, in Hinesburg.
Spanish Books: Thanks to Ann Metcalf and a donation from A Revolutionary Press, we now have a library of books, small, but ever increasing in number, in Spanish that anyone can borrow. Please let language students and other Spanish speaking people you come in contact with know about this.  Here's the list so far. Spanish book library The books will be at Veronica Ciambra's home in Middlebury for now, so just let her know if you have a request.  Also, we are taking requests for additional titles, so please let us know if her know of any requests for specific titles or areas of interest.
Open Door Clinic: ODC provides needed health services for migrants. They are a critical hub of migrant support on many levels and coordinate with many groups seeking to assist migrants. Visit www.opendoormidd.org and scan Vermont-Farm-Labor-Wage-and-Hour-and-Housing-Fact-Sheet-English .
Migrant Health Survey: Cheryl Mitchell worked with Open Door, Migrant Justice and VT Dept of Health to update the 2007 Migrant Health Survey. Open Door used this at the consulate visit:  Intake Form 2017
Here is a quick overview of barriers to health care access.
http://www.bistatepca.org/uploads/pdf/VT%20PC%20Sourcebook/18%20A%20Member%20Farm%20Health%20Initiatives%2006.2015.pdf
Fitness: We started a pilot project with Misty Knoll and Bristol Fitness to get workers, who are interested, into the gym.   Lots of people are helping on this great idea. It all started with a worker telling Lise that he needed exercise and Lise coming up with the idea.  Chris at the fitness center is really welcoming and helpful (and speaks Spanish), Alan presented the idea to the workers, Linda has volunteered to provide rides. Barbara is translating an info blurb for the workers with particulars.  This is truly a group effort.  More drivers may be needed for this very short trip if you live in Bristol or New Haven.
Transportation: We are trying to provide rides as well as information on how to help migrants obtain driver's licenses and provide driving practice.
Driver Privilege Cards
Several of the people we work with are in the process of getting driver privilege cards.  We need more help with this.  There are numerous roles.  I have again attached the how to on getting the card.  Please review it and let me know if you are willing to help with any of this.  We need people willing to take workers to the various appointments and to practice driving.  Most (if not all) already know how to drive, it's a matter of learning how to pass the test. Use these handouts to help:Important Notice for Drivers Noticia Importante para Conductores_Alf
Santo, Carol Price's husband, who is a driver's ed teacher with a drivers ed car, is available to give lessons to people.  Let Veronica Ciambra or her know if you know a worker in need of some driving practice for the test.
If you know a worker interested in buying a car, direct the worker to mechanic/car dealer Dave Wimett in Leicester. This is the place to go in Addison County.  He can do registration right there as well. https://www.wimetttradingcompany.com/inventory.aspx
Rides & Transportation Payments
Norm Tjessom (nkt.xcski@gmail.com) will drive migrants to shop or shop for them and Vernica and Louise G (349-0347) has helped arrange them. Let them know if you're willing to be a driver to shop for migrants or take them to medical appointments, shopping or to errands.
Particularly when traveling long distances, transporting numerous people and/or when large amounts of time is involved, transporting people can be costly to the person providing the ride(s).
Workers who provide rides charge $35 or more per ride.
Some workers have wanted to and even insist on paying for the ride.
The group decided that a $10/hr fee will be charged for transportation services.  This will be explained to riders up front and added to outreach materials.  If the driver does not want the fee, s/he will donate the funds to Open Door Clinic (or we could use any donations to buy English language learning supplies).
Driving for ACTR 
Addison County Transit Resources (ACTR) has expanded its dial-a-ride program to farm workers.  Workers can call a Spanish language line at ACTR and request a ride (with 2 day notice).  ACTR will arrange the ride and pay drivers mileage ($.54.7/ mile).  The worker will be charged a flat fee of $10. To make this program a success, ACTR will need more drivers and will need outreach to workers.  The students at Middlebury College who spearheaded this effort wrote a grant proposal to Neat Repeats for the money to do the outreach.  But, we will need volunteers to help distribute flyers to farms, talk to workers and farmers and generally spread the word.  We need dial-a-ride drivers to sign up with ACTR to be one of their drivers.  Even if you think you may want to drive one time, please sign up. You're not required to provide rides, so please sign up if you think you may want to drive. Mileage is paid to drivers directly by ACTR and is not charged to the worker.  To sign up, you need to complete some ACTR paperwork and they will do a background check. The paperwork is available at the ACTR office on Creek Rd. in Middlebury or can be done online at https://actr-vt.org/.  The application process takes a little time, so please start the process asap. If you want to help with outreach, email vciambra@gmail.com.
Food to Farms: Many efforts are being made to bring food to farms or hubs and to organize social events for cooking ethnic food. We see evidence that food trucks deliver ethnic food, some monthly. NOFA has a strong interest in better supporting the Migrant community and would welcome ideas for how they might do that, beyond the Milk with Dignity campaign.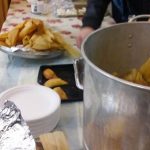 Tamale/Empanada Making Projects: We continue to work with some of the farmworkers to teach cooking classes and to offer a worker friendly community supper with music. We hired a farmworker to provide tamales for the Mexican Consulate Visit. Another surprised us with free tamales and a large urn of "cafe con azucar." Spanish classes and others made empanadas. Some are organizing small tamale making parties on farms and with MNFC on providing more Mexican food supplies in bulk or on special order.
One of the female students that we work with spent the day with Lise Anderson purchasing food and cooking empanadas.  This woman is eager to conduct more of these types of "cooking classes" because she would like to earn money for herself.  If you or anyone you know would like to set up such a class, contact Veronica or Lise (liseand55@gmail.com).  She does not have transportation, nor does she speak much English, thus, both transportation and Spanish speaking skills are necessary to consider.  The woman is also available to cook for you and she is even open to working out any arrangement that suits your needs for domestic chore help as well. So, please spread the word among friends.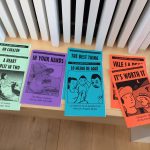 Socializing opportunities are being organized. Workers enjoy local music events and playing pick up soccer, sometimes at Middlebury College field. Some social things that workers and teachers participated in recently- a holiday dinner for Misty Knoll and 4 Hills workers at Carol Price's house; cookie making and delivery to worker homes; Spanish mass in Bridport with dinner for workers after; salsa dancing Two Brothers Tavern in Middlebury (often on Thursday nights at 9 pm), in Burlington and at Tortierelle.
Huertas Project and El Viaje Mas Caro: Both programs are designed to address the unique needs of Vermont's migrant worker population. One helps establish gardens growing migrant food and the other records stories in cartoon format.  Learn about el-viaje-mas-caro project.
Spanish Language Catholic Mass:  St Mary's new pastor Father Luke is very interested in helping migrant workers and the ally group. There is hope of reviving a regular Spanish mass at Bridport's St Bernadette's Church (9 Crown Point Rd Bridport). There was well attended mass and dinner on Dec 15, 7:30 pm in honor of Feast of Our Lady of Guadalupe. Also, St. Michael's college hosts a Spanish mass on second Monday of month.
Spanish Language AA Meeting: St Mary's is hosting a pilot Alcoholics Anonymous meeting on once a month on Saturday. Last one was May 11. Contact St Mary's for future dates.
Migrant Women's Group: Spoke with WomenSafe which supports her effort to start a group to cover health and safety issues.
Housing: Contacted VT Housing and Conservation Board on upgrades to worker housing and is hopeful to hear something back from them soon. Some wondered if CVOEO weatherization program or Efficiency Vermont could help with financing and direction. For any housing situation, it is best to share Migrant Justice's number 802-658-6770 with the workers, they can plan a visit and talk about ways they could communicate this situation to the farmer asking for improvements. Depending on the farm, it's possible that a conversation between them and the farmer can result and collective solutions, such as workers taking care of a deep cleaning, farmer getting heaters, or farmer hiring an exterminator adding a heating system, etc. Or it could be that the farmer doesn't want to do anything but if the workers are educated about their rights there are different ways to ask for improvement under landlord-tenant rights. The goal is to have the farmer informed, maintain a record of the situation for future issues. One idea is if you let Migrant Justice know next time you are visiting that house and once you are there connect them by phone to the workers and they could share useful information with them, make a plan, etc.
Below are some articles on home safety that are useful for people:
A to Z Guide to Security, Safety and Prevention
Have a House Fire Evacuation Plan
https://www.adt.com/resources/fire-safety-checklist
https://www.safety.com/family-fire-extinguisher-safety/
Guide to Handling a Hoarding Spouse
20 Ways to Keep Kids Safe When They Are Home Alone
Child Safety Guide: Making the Move from an Urban Area to a Rural One
https://productdiggers.com/kitchen-safety-guide/
Household items needed: contact Veronica for current needs vciambra@gmail.com and if you have access to a truck to help move large furnishings and appliances.
Banking: Volunteers are often asked to help make purchases because workers don't have time to shop or have other constraints.  Kathy Comstock and Veronica Ciambra are working with the Middlebury Coop to try to get them to provide free check cashing to workers.  That's a start on the money issues.  They would get free membership. Veronica has been thinking and reading about banking and the population we are working with.  They would have to have an Individual Tax Identification Number in lieu of a SS#.  There is a whole process to get one of these and identification documents (birth cert, passport) are needed.  Plus they would have to go to either H&R Block or the IRS office in Burlington to apply (or send the documents by mail, not a good idea probably).  There are a lot of hurdles including the fact that ITIN's that are not used to file taxes, expire. And, the form is short but complicated and requires a completed tax return and a home address. I think for most people it makes no sense especially if they will not be staying for long.  It seems that the big thing is sending remittances.  Maybe our goal should be to work out a deal with local bank(s) or credit union to charge a reduced fee for this.  Right now they pay $8-$12 to send each remittance.  That is one benefit of a bank account (maybe) they could do the remittance online instead of going in to the facility. But, the remittance industry is huge.  This stuff is complicated and before we take any action, we need to educate ourselves.  We don't want to suggest something to people that will end up to be a negative for them.  There are so many fees associated with bank accounts.  Bank fees are a big problem for lower income people who don't do a lot of banking.
Using a Prepaid Credit Card to Buy Things on the Internet. Another tack we are exploring is teaching migrants how to acquire and use prepaid credit cards. Then the can make purchases online using their smart phones, which they all have but don't know how to fully utilize as a computer. Barbara Ekedahl has so enthusiastically and competently put together an English/Spanish "how to": Buying Things Online (2).     It would be great to come up with more how to's that would provide some benefit to workers.  If you have any ideas about this, please let Veronica know.
Wiring Money Home: Hannaford's in Middlebury discontinued its Western Union service as of 2/7/2018.  Please let any workers you come into contact with know this. In looking online, it seems that Middlebury's  Kinney Drug and Rite Aid both have Western Union and they may be less expensive than Hannaford's (at least according to the web site)
Farm Worker Family Fund: It came to our attention that workers sometimes need an infusion of cash to help a family member.  There were two situations
* the wife in Mexico left the 4 children (one disabled) with her new boyfriend and took all money a farm worker student/friend has been putting away to pay for disabled daughter's needs and rent
* the niece of a farm worker student/friend  has a genetic disorder requiring numerous surgeries. Though the medical care is free, the family must pay to get to and stay in Mexico City to care for the daughter during hospital stays
We collected $400 to help the person in scenario 1 above.  He needed more money.  Michele Fay helped set us up to do a Ripton Coffeehouse refreshment fundraiser.
It would be great if we could figure out how to start a fund to tap into when we know workers who have this type of family need that they cannot keep up with financially.  Any ideas??
Playgroup: Another activity for any families with younger children was a Spanish-speaking playgroup at St Jude, the Catholic Church in Hinesburg on the 2nd Friday of each month from 3-4:30 pm.  It was organized by Corali Bisbee, a native of Peru who lives in Hinesburg. She would be happy to coordinate with Spanish-speaking families.  Please note that this is not Spanish lessons.  If you have anyone who is interested, contact Joan Holloway (hollcpa@gmavt.net) and Corali will add them to the Facebook notification.
LEGAL HELP (DEPORTATIONS/WORKING CONDITIONS)
Resisting Deportation: Several local attorneys have been involved in efforts to resist deportation in coordination with ACLU and Migrant Justice, including Emily Joselson, Erin Ruble, Pam Marsh and Wanda Otero Weavor (802-363-3799). Here's an interesting and informative article with various perspectives and strategies of which to be aware:
https://www.nytimes.com/2017/05/23/magazine/is-it-possible-to-resist-deportation-in-trumps-america.html?_r=0
Know Your Rights (KYR) Training & Outreach  Middlebury lawyer Emily Joselson attended a livestream, 2-hour training, How to Give a "Know-Your-Rights" Presentation for Immigrants, presented by the Immigrant Defense Project (IDP) in collaboration with the CLEAR (Creating Law Enforcement Accountability & Responsibility) project at CUNY School of Law and The Center for Constitutional Rights.  She scheduled a rebroadcasting of this 2 hour training for the larger social justice & legal community recently that covered:
What rights do individuals have during an ICE raid, when questioned or searched at the airport, or during an interaction with immigration or law enforcement at home or in public?
How can you help your clients, community members, and others invoke their rights and remain safe?
What are the tactics that immigration and federal law enforcement use during an arrest, investigation or encounter and how can individuals protect themselves?
If you'd like to view the video in your own time, here is the link: https://www.immigrantdefenseproject.org/ttt-materials/.  Note that the training itself starts about 3 minutes after the video starts.
Refer to Know Your Rights booklet (KYR). Here are the one page "Know Your Rights" pamphlets published by ACLU, in English and Spanish:  ACLU – Know Your Rights – English-v01  ACLU Know Your Rights Spanish-v01 and a friendlier KYR flyer to share with workers developed by Migrant Justice: KYR Spanish Version.
To find out more about the groups who do this excellent training together go to IDP:  https://www.facebook.com/immdefense?utm_source=March+29+TTT&utm_campaign=73fbfde399-EMAIL_CAMPAIGN_2017_03_27&utm_medium=email&utm_term=0_89c34aa89c-73fbfde399-14190224
Here's a link to the Center for Const'l Rts: https://ccrjustice.org/
They now have the training slides available in Spanish.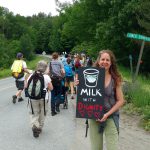 Migrant Justice: Migrant Justice, based in Burlington, is most know for its Milk with Dignity campaign. They've organized several rallies, marches and protest campaigns. See Migrant Justice's Milk with Dignity Timeline. Ben & Jerry's has finally signed the agreement. It is working with Vermont Legal Aid on a labor and housing, including a Know Your Rights booklet for dairy farm workers in Vermont. Also, they're working with Vermont Legal Aid for family preparedness plans. They warn us to be cautious when creating lists with names, addresses and other personal information of the migrant community to avoid any risks of getting this info in the wrong hands. You can reach out to them with any inquiries (marita@migrantjustice.net). Let workers know about seasonal convocations (assemblies) at Middlebury College in conjunction with Juntos, like the one on Sat April 28. Offer these phone numbers to workers on the KYR spanish version flyer mentioned above:
Teleayuda phone number 802-658-6770 for any question related to labor, housing, immigrant rights
For emergencies such as detention, accident, violence or threats of violence, death, forced labor, etc 802-881-7229
Migrant Justice asks to have their help line number on the KYR or outreach material. Their number is now open 24/7. They received calls from people at the moment of their arrest, from detainees, from their family members, thanks to promoting their help line. This is better than having an attorney number on a card which can cause confusion with workers thinking that now they have an immigration attorney. In practice, every time someone was detained and was able to communicate with Migrant Justice, they got better support. People that are free now reported that when they were in immigration custody, they were asked many questions and if ICE or BP doesn't have a proof of their nationalities, they were to use their only call to call the consulate. This is not what should happen. ICE work is to prove the person is not from the USA and if they don't have a passport or id, then cannot assume that person will call the consulate. Migrant Justice was deliberate in taking out the part with the consulates numbers on their KYR materials to make ICE work and not making it easier for them to prove people aren't from here. The right to a call is given after people are processed (finger prints were taken, names, etc) and under officer's discretion. So far no one had a problem calling who ever they wanted.
When Migrant Justice gets a call: They ask the person details about the arrest, if he/she has any record, who should we contact to let them know this person is detained (family, friends, etc here or in their country). They let the person know their chances, open a file with his/her info and location (people can be moved to different facilities depending on many factors). And that they'll make everything possible to connect with an attorney. For this, they have a list of Boston immigration attorneys, contact the consulate, contact the attorney that already is handling other cases.
They also connect with family members, open an account at the facility for money deposits that are used for food, toiletry items, text messages and phone calls. They also check visit times. They'll ask support of migrant ally groups, such as attorneys to use. And very important they ASK if the detainee wants to have a public campaign (depending on if it helps or not).
On Tuesday, December 12, 2017 the Vermont Criminal Justice Training Council (VCJTC) voted on an updated, significantly weakened version of the state's Fair and Impartial Policing policy, a move that has drawn sharp criticism from stakeholders involved in drafting the original policy, including the ACLU of Vermont, Justice for All, and Migrant Justice.  The vote followed the release of recently-obtained bodycam video footage from a Franklin County Sheriff Department traffic stop of two dairy workers, showing deputies calling Border Patrol and aiding in the detention of the immigrant farmworkers.
Migrant Justice spokesperson Enrique Balcazar: "The police are opening the door to discriminate against immigrants, just as new evidence comes to light showing the need for strong protections. Why would Vermonters allow their police officers to help Trump deport dairy workers and separate families? We have fought to come out of the shadows and we expect more from the state's political leaders."
Among other changes, the revised policy would allow Vermont police to refer witnesses or victims of crime to ICE, raising concerns that undocumented residents will not report crimes out of fear that interactions with police could lead to detention and deportation.
The VCJTC has acknowledged that changes to the policy are motivated in part by the Trump Administration's threats to withhold Justice Department grants from cities and states that adopt so-called "sanctuary" policies. Other localities have rejected those threats as without legal merit. In November, a federal judge ruled that the Department of Justice could not withhold funds from Philadelphia because it refused full cooperation with federal authorities on immigration.
ACLU of Vermont staff attorney Jay Diaz: "To be absolutely clear—we are not asking Vermont to thumb its nose at federal law. Regarding the FIP Policy, the Justice Department has no lawful basis to withhold funding from Vermont, especially for policies that ensure the safety of all Vermonters. Vermont should not be fooled by empty threats, nor should our law enforcement officials cave to the bullying of Jeff Sessions. Rather, we should join the growing number of states standing up to the Trump Administration's anti-immigrant agenda."
The Council is also considering a change in policy that would allow police operating "near" the Canadian border to refer anyone they suspect of crossing the border to U.S. Border Patrol. Advocates have voiced their concerns to the Council that this provision will inevitably result in racial profiling and other civil rights violations. 
Legislation to Protect Immigrant Farmworkers: Senator Feinstein (D-CA), Rep. Gutiérrez (D-IL), and Farmworker Justice President Bruce Goldstein joined United Farm Worker President Arturo Rodriguez,  farm workers, and farm owners discussed the widespread implications of Trump's immigration policies and the Agricultural Worker Program Act, legislation introduced by Senators Feinstein, Leahy (D-VT), Bennet (D-CO), Hirono (D-HI), and Harris (D-CA) to protect farm workers from deportation and put them on a pathway to legalization and citizenship. More information about the new legislation is available here. Trump's Mass Deportation strategy has produced fear tidal waves throughout not only the immigrant communities, but all sectors of the labor force — as over half of all United States farm workers are undocumented, according to the U.S. Department of Labor, and over 8 million undocumented immigrants contribute to America's workforce, according to Pew Research Center. Read more here: Leahy Calls for Blue Card for Farmworkers  One of the best things we can do to help is write to officials to push and thank for legislation changes.
Local/State Law Enforcement Model Policies Meetings:
Middlebury PD:  Emily J met with Chief Hanley, feel confident Midd PD is meeting these goals. See: Response to Inquiry about Sanctuary City Status
https://m.sevendaysvt.com/OffMessage/archives/2017/11/21/vermont-officials-welcome-court-ruling-on-sanctuary-states-and-cities
Mexican Consulate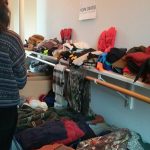 Visits: Several worked to strengthen the mobile Mexican Consulate Visit which allows workers to obtain legal documents. It's held each winter at CVUUS. The next one is Dec. 5, 2020. Several agencies and groups offered services and we offered winter work clothing, including new socks. The Consulate recommended inviting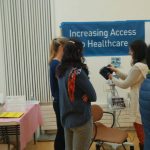 local banks to attend to provide information on opening accounts since saving money and sending it home is critical. This year, Citizen's Bank responded to the call. There was also more effort to address mental health wellness and addiction prevention. The Mexican Consulate reported that they processed 153 legal documents and were impressed by the number of workers who requested appointments in advance, which were recommended and promoted by Addison Allies Network.
The Consulate's summer visits – since 2011 – have been held at Goddard College, in an isolated rural setting. This past July 20, 2019, CVRAN hosted the Mexican Consulate for its annual summer visit to Central Vermont. The event was held at Bethany Church (UCC) in downtown Montpelier.
Contact office@cvuus.org if you want to use any of the bi-lingual handouts and signs left over from past consulate visits:
–Farm Safety Sheets (tractors, cold weather, personal hygiene, dust masks, animal handling, tics)
–Health Safety Sheets (heart disease, alcoholism, diabetes)
–Personal Finance
–El Viaje mas Cara cartoon story books
–Spanish mass schedule
Guatemalan Consulate Visit was conducted at Ilsley Library Community Meeting Room Sunday Aug 19, 2019 for the first time in Middlebury.
Sanctuary Church: CVUUS is exploring whether it should be available as a Sanctuary for immigrants and migrant workers threatened with deportation by the Federal Government. What are they in a position to offer? What are the risks? Look here.
Vergennes Farmer Wins Right to Argue in Court for Asylum
https://www.sevendaysvt.com/OffMessage/archives/2017/07/06/vergennes-farmer-wins-right-to-argue-in-court-for-asylum
drawn sharp criticism from stakeholders involved in drafting the original policy, including the ACLU of Vermont, Justice for All, and Migrant Justice.  The vote followed the release of recently-obtained bodycam video footage from a Franklin County Sheriff Department traffic stop of two dairy workers, showing deputies calling Border Patrol and aiding in the detention of the immigrant farmworkers.
AWARENESS EFFORTS (PANELS/FILMS)
Several have been held by various social justice and faith groups to raise awareness.
Middlebury SURJ (Showing Up for Racial Justice) meets on the 1st Thursday of every month at 7:45 pm.  They mobilized Addison County residents to attend Migrant Justice's  the March for Dignity in demanding justice for farmworkers and human rights for all.
They raised $500 for Migrant Justice and $500 for Open Door Clinic with a screening of The Long Ride on at Middlebury's Marquis Theater. It told the story of the historic 2003 Immigrant Workers Freedom Ride that sparked the birth of the new Civil Rights Movement for immigrant workers in the United States. http://www.sfchronicle.com/news/article/Documentary-shows-how-we-re-going-backward-on-11050443.php
They hosted a screening of Dolores (also at the Marquis) to tell the story of one of the most important, yet least known, activists in American history. A warrior in the ongoing fight for racial and labor justice, Dolores Huerta worked with Cesar Chavez to form the first farmworkers union, and even today, in her late eighties, continues to struggle against oppression. Funds raised at the screening of Dolores benefited Migrant Justice, as well as supported Middlebury SURJ's work with Addison County farm workers, many of whom face extreme hardship and the constant fear of arrest and deportation.
Migrant Workers/Immigration Panel at Congregational Church of Middlebury on April 28, 2017 was moderated by Emily Joselson and Andy Nagy-Benson and included: Phyllis Bowdish, farm owner;  Julia Doucet, Outreach Coordinator at Open Door Clinic; Dr. Susannah McCandless, International Program Director for Global Diversity and Migrant Justice board member; Robert Zarate-Morales, Middlebury College's Juntos organization. We were urged to be in touch with our federal elected officials and ask them to change immigration law to allow longer stays of at least one to two years for dairy workers. We were also asked to prioritize the teaching of English so migrants had greater capacity to access help available to them.
Clinica de Migrantes: Life, Liberty, and the Pursuit of Happiness: Middlebury College's Gloria Zenteno Gonzalez organized a screening of this medical drama about a year in the life of Puentes de Salud, one of the only health clinics in the U.S. involved in the politically controversial practice of providing healthcare to undocumented immigrants.
Middlebury Natural Foods Co-op hosted Life on the Other Border: Farmworkers and Food Justice in Vermont with Teresa Mares, author, and UVM Anthropology Professor.
FUNDING
CVUUS  provided fiscal oversight until Addison Allies Network become incorporated  in summer 2018. Donations for their ongoing work may go directly to Addison Allies Network, 58 Seminary St, Middlebury VT 05753. You can find their mission and list of accomplishments here: Addison Allies Accomplishments with mission
Refer to these notes for background on Migrant Ally Group efforts: Migrant Ally Group Meeting Sept 21 Migrant Ally Check in minutes July 2017 Migrant Minutes May Migrant April Minutes and Migrant minutes March 2017.