Service Projects
Neat Repeats
Clean out your closets and raise funds for CVUUS! Bring your used clothing to Neat Repeats and give them the CVUUS account number (108). It's easy way to raise funds for the CVUUS budget while also helping people who are in need of reasonably priced, good clothing. Donations are tax-deductible.
Donate to HOPE and WomenSafe
Look for HOPE shopping cart and WomenSafe heart-wrapped box in our sanctuary lobby near the welcome table. WomenSafe seeks toiletries, baby dolls with bottles, notebooks, granola bars (or other non-perishable snacks), towels /washcloths/ stuffed animals (new or gently used), gift certificates to local hair salons, restaurants, laundromats, and grocery stores. Thank you!
Kit and Kaboodle Project
Abi Sessions shared that 8 new immigrant families settled in VT and that Vermont Refugee Resettlement Program ( VRRP) organized clothing gift cards and collections for the 32 children that will be part of this in time for school opening. They invited groups and individuals to "adopt" a child to help cloth.
Vermont Refugee Resettlement Program (VRRP)reported that several  "cases are assured" meaning more families from Syria would be coming to Rutland once all paperwork was finalized (fingers crossed). The third family from Syria arrived in Rutland in July 2017. That bought the number of new neighbors to 14 – six adults and eight children. While they haven't seen all of the 25 families they originally planned for, they're thrilled to have three families living here and more coming to be a part of Rutland's wonderful community.
Rutland Welcomes wants to let you know that the donations (furniture, household goods, gift cards, etc–assembled in Kit and Kaboodle Kits) were put to excellent use helping the families set up their apartments and begin their new lives as Rutlanders.
The unused Kit and Kaboodle items donated to Rutland's refugee families were distributed to shelters and other places in need. Proceeds from items that were sold have gone to the Vermont Refugee Resettlement Program.
World Refugee Day (June 20th) was celebrated with a packed film screening and discussion of 8 Borders, 8 Days at the Paramount Theatre hosted by VRRP, Rutland Welcomes and others in 2017. This inspired a second film screening on June 26, 2017 of Warehoused at the VRRP office (1 Scale Ave Suite 101, Rutland) about the forgotten Somali refugees.
Contact Abi Sessions (abi.sessions@gmail.com) if you wish to be added to an email list to stay posted on efforts.
VRRP has  volunteer opportunities for setting up apartments, being a family friend and teaching English. People wishing to volunteer in any capacity will need to have filled out an application and been approved. Look for these in the sanctuary lobby racks or request one at office@cvuus.org. For VRRP Program Info, contact Laurie Stavrand  (rutlandwelcomes@gmail.com) or Abi Sessions (abi.sessions@gmail.com)
MANY THANKS to all CVUUS members and friends who contributed to the collection of household supplies for refugees that VRRP plans to resettle in Rutland in the fall. "Kit and Kaboodles" were collected by the Choir, the RE Council, the Board, a Small Group Ministry team and by lots of people working together. (Click on the link above to see more about this project.) Thanks to your efforts, we had six complete Kit and Kaboodles to supply refugees with household essentials! Abi can't mention all of you by name, but thanks you all enthusiastically for your generosity! In addition to household supplies, our Middlebury Area Refugee Resettlement Committee has been collecting furnishings. Paquette storage donated a tractor trailer, located in East Middlebury, in which was stored furniture collected from private households and from the college.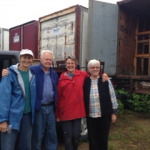 Amila Merdzanovic, executive director of VRRP (Vermont Refugee Resettlement Program), sat down with Tom Donahue for an interview on PEG-TV. Check it out at: http://vp.telvue.com/preview?id=T00969&video=284309.