Our Governance: Board and Elected Leaders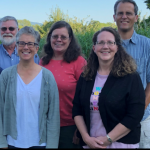 Each Unitarian Universalist congregation is a self-governing group, charting our own course, choosing our own ministers, and setting our own policies.
The Board of Trustees
The Board of Trustees sets policy for the congregation and is elected by the members. The Board works with the congregation to create a Mission statement, along with policies and procedures to make our purpose and mission a reality.
The Board meets on the second Tuesday of each month at 6:30 pm online during the Covid 19 crisis as of March 2020.
CVUUS 2021 Annual Meeting was held online via Zoom on Sunday June 6 following worship at 11:15 am. This was our sacred time to collectively make business and policy decisions needed to keep CVUUS vital. All members were asked and encouraged to attend. All non-member friends of CVUUS were invited and welcomed to observe and ask questions but not to vote.
The Board put together an agenda and distributed it ahead of time along with supporting documents. The budget was approved after robust discussion of  our music program.
WARNING CVUUS Annual Meeting 2021
Annual Meeting minutes-June 7 2020
At the meeting, we followed our version of Robert's Rules of Order. Ideally, the rules maintained a good balance between robust discussion and reaching decisions in a timely fashion. We used Zoom's hand-raising feature for discussion and the polling feature for votes.  If you have never used Zoom, watch the "Join a Meeting" tutorial here.
The Board reported on their effort to coordinate an update of our long range plan. They offered a report in June 2019 that documents the mission and goals of our ministries: 2018-9 CVUUS Annual Report.
The staff, including our minister, Rev. Barnaby Feder, includes an office manager,  religious exploration director, choir director, sexton, musical accompanists, bookkeeper, and nursery attendant. We are looking at transitioning to a music director who would absorb choir and accompanist direction.
To contact any CVUUS staff, board member, committee, or team leader, please phone the office, 802-388-8080 during office hours or email office@cvuus.org.
Ministries (also known as committees) run specific areas of congregation life, including Facilities, Finance, Worship, and Membership.
The Council of Ministries, including representatives of all the ministry committees, meets once a month to coordinate the work of CVUUS.
Our Elected Leaders
Doug Richards, President
Kerri Duquette-Hoffman, Vice-President
Ann Webster, Treasurer
Kas Singh, Clerk
Members At Large: Priscilla Bremser, Mary Hadley, Hannah Sessions