Rental of Our Building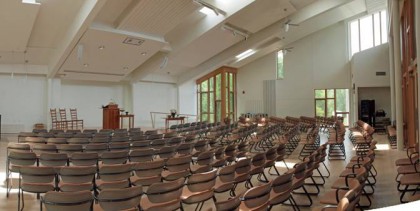 Champlain Valley Unitarian Universalist Society makes its beautiful, bright, new, environmentally-friendly sanctuary building and the adjacent Abbott Thayer Fenn House available to the community and to CVUUS members for weddings, memorial services, concerts, meetings, and other events. These facilities are located in Middlebury, Vermont, at the corner of Charles Avenue and Duane Court. If you would like to see our buildings in person or have questions about the use of the buildings, please contact the church office at office@cvuus.org or (802) 388-8080.
Building Use
For an overview and general information about our available spaces, see the CVUUS Building Use Brochure. To learn about guidelines and expectations for those using our buildings, please see Building Use Rules and Regulations.
Rates
For more in-depth information on pricing and policies for non-member use of the buildings, please see Community Rates. Please note that there is an additional fee for a CVUUS-approved gatekeeper who will provide access to the building and help with any building-related questions that arise during your use of the building. Members wishing to learn about building use possibilities for non-church related activities, please see Member Rates.
Parking
CVUUS has an on-site parking lot with twelve spaces. Additional parking may be made available at the nearby Middlebury Union High School parking lot, depending on availability, by arrangement through the church office.parking-map-2014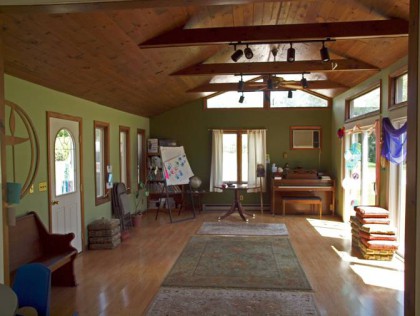 Building Use Application
To apply to use one of our spaces, please print out, complete, and mail the following forms to CVUUS, 2 Duane Court, Middlebury, VT 05753:
A signed copy of the Building Use Application.
A signed copy of the Building Use Rules and Regulations.
For groups with insurance coverage, a certificate of insurance listing CVUUS as an "additional insured"
or
For groups without insurance coverage or for individuals, a signed copy of this Hold Harmless Agreement.
You may also bring the completed documents to the CVUUS office in the Fenn House, at 2 Duane Court, Middlebury. Office hours are Tues-Fri 10 a.m. – 2 p.m. If you have any questions, please contact the CVUUS office at office@cvuus.org or (802) 388-8080.
Photo Credits:  Llyn Rice, Gossens Bachman Architects, and Google Earth.