Rental of Our Building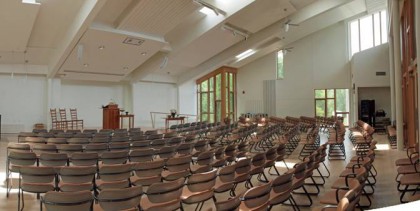 Champlain Valley Unitarian Universalist Society makes its beautiful, bright, new, environmentally-friendly, award-winning well-ventilated sanctuary building and the adjacent Fenn House available to the community and to CVUUS members for weddings, memorial services, concerts, meetings, and other events. Read about our latest COVID policy here. These facilities are located in Middlebury, Vermont, at the corner of Charles Avenue and Duane Court. If you would like to see our buildings in person or have questions about the use of the buildings, please contact us at office@cvuus.org or (802) 388-8080.
Sanctuary
Our sanctuary was designed by Gossens Bachman Architects to reflect our commitment to environmental responsibility by minimizing our carbon footprint. It received the 2020 AIA Award for its green design. Our sanctuary has two levels: the main level (pictured above) and lower level (pictured right and below).
The sanctuary main level will seat up to 260 people on a beautiful wooden floor. We adjust the permitted attendance level depending on COVID conditions so ask the Office when you schedule. Since Fall 2021, we limit attendance to no more than 100. It is natural light filled and has an excellent audio system, outstanding acoustics, and a highly prized grand piano.  It includes a small meeting room that seats 10-12 people around a table and a nursery that can be reserved. We can host concerts, memorial services, weddings, blood drives, public annual meetings, screenings, confidential group meetings, Mexican Consulate visits, and more.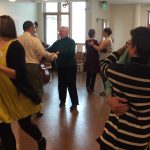 The sanctuary lower level includes our Ann Ross Fellowship Hall equipped with a new kitchen that can be used for catered receptions, an upright piano and a portable sound system. Like the main level, it includes a small meeting room that can be reserved with highly effective ventilation. Many find the sanctuary small meeting rooms perfect for staging breakout groups or prep for performers.
Citation Award for Excellence in Architecture
The Vermont Chapter of the American Institute of Architects issued a Citation Award for Excellence in Architecture to gbA Architecture & Planning for sustainable design of our sanctuary meeting house in Dec 2021. Through a highly reflective, participatory, and open process with the entire congregation, it was decided that the experience of the building must be inspiring, but not in a traditional way, and should not focus on traditional religious forms, icons, or dogma.  Over a year's time, it was determined that light would be the guiding principle of the design.  Textures, colors, and forms found in and of the space helped to reinforce this aspect.  The white walls, white ceiling, white textured acoustic treatment of varied types all aided in creating shadows and reflecting the color of the light and the colors found just outside – the deep greens in the summer, vibrant autumn colors, and the crisp blues of winter are all visible on the surface of the interior.
Fenn House
The Fenn House is our second building, renovated to include meeting and classroom space as well as a full kitchen and a small chapel with an upright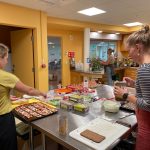 piano and portable high quality air purifiers.
Accessibility
Our buildings have wifi access and gender-neutral restrooms. They are accessible to wheelchairs, with the exception of the Fenn House Basement Classroom and Game Room.
Masking
We ask everyone coming into the building to have a mask available. We can provide some if you forget. You will need to mask when inside regardless of if you are vaccinated. Read about our latest COVID policy here. 
Building Use
To learn about guidelines and expectations for those using our buildings, please see the Building Use Agreement
For more in-depth information on pricing and policies for non-member use of the buildings, please see Building Use Agreement. Note that there are two tiers of rates (standard rate for ticketed events and a non-profit or CVUUS member rate). We offer rates for full day and half day use. Please note that there is a $50 fee for a CVUUS-approved event manager for large or complex events who will provide access to the building and help with any building-related questions that arise during your use of the building.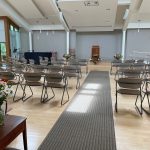 Parking
CVUUS has an on-site parking lot with twelve spaces. Additional parking may be made available at the nearby Middlebury Union High School parking lot and Mary Johnson Child Care Center lot, depending on availability, by arrangement through us: parking-map-2014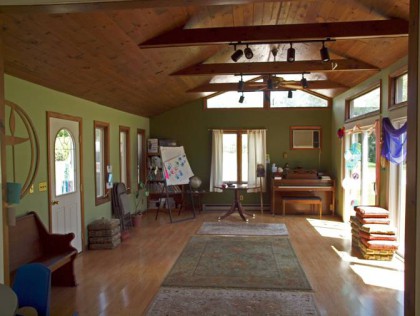 Building Use Application
To apply to use one of our spaces, please print out, complete, and email to office@cvuus.org or mail to CVUUS, 2 Duane Court, Middlebury, VT 05753:
A signed copy of the Building Use Agreement
For groups with insurance coverage, a certificate of insurance listing CVUUS as an "additional insured"
You may also bring the completed documents to the CVUUS office in the Fenn House, at 2 Duane Court, Middlebury. Office hours are Mon-Fri mornings. If you have any questions, please contact the CVUUS office at office@cvuus.org or (802) 388-8080.
Photo Credits:  Llyn Rice, Gossens Bachman Architects, and Google Earth.