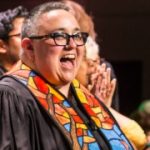 What gifts might we receive when we're willing to be transformed?
Rev. Lindasusan V. Ulrich (they/them) is a minister, writer, musician, and activist dedicated to a vision of radical inclusion, deep collaboration, and courageous kindness. They were called in 2020 as the settled minister at the Unitarian Society of New Haven and identify as a non-binary bisexual person of color. A graduate of Starr King School for the Ministry and Hesychia School of Spiritual Direction, Rev. Lindasusan previously served as Assistant Minister at the First Unitarian Universalist Congregation of Ann Arbor, MI.
We shared our offering this month with Razom for Ukraine. Watch a you tube video about them here. Our Facilities Team covered social hour and we celebrated Feb birthdays with cake.
See service details here: OOS Feb 19, 2023
See a recording of the service here: