We're sure you've been watching the news of the latest police brutality with grief and rage. Our Black neighbors, friends, and family members have been asking us to dismantle racism in ourselves for a long time. After demonstrations in Minneapolis, the police officer who murdered George Floyd has been arrested and is being charged more seriously. Protests work! We saw a lot of you at recent "No More Killing" vigils sponsored by CVUUS and Showing Up for Racial Justice (SURJ) congregating at Middlebury's College Park to say NO to police brutality.  Others attended protests in Rutland, Burlington, Montpelier, Vergennes.
If you are a white person reading this, please make a commitment to diving deep into the work of dismantling white supremacy in yourself, our community, and our world. Our Black neighbors, our Indigenous neighbors, our neighbors of color have been asking this of us for a long, long time. We are here to support you on this path.
Stay Healthy & Safe, CVUUS & SURJ
Here are 9 things to do- go for it! (Please note- items 1 through 6 are a little more external, while items 7 through 9 are to help us dismantle white supremacy inside ourselves. White people striving to be anti racist must do this internal work)
Push District Attorney Mike Ferman to arrest the 3 other officers involved in the murder of George Floyd. Text 'Floyd' to 55156 (Color of Change)
Contribute to bail fund

 

to get Minnesota protesters out of jail.
Join Ilhan Omar, AOC, and Ayanna Pressley

 

in their fundraising

 

to support Minnesota racial justice groups
Donate to

 

Colin Kaepernick's legal defense fund

 

in support of Minnesota activists
Become a member of

 

Rutland Area NAACP– they are our sister group and we need to support their work with our time, energy and resources!
Listen to the

 

Seeing White podcast. You will not be the same after you do.
Also listen to the

 

1619 podcast. Even if you read the whole thing in the NYT, the podcast adds a whole new depth- don't miss it.
Read How to Be Less Stupid About Race, by Crystal Fleming. There are So Many Other Amazing Books we could list here, but this one is particularly fabulous, and you can get it at

 

VT Bookshop. Two others include Me and White Supremacy by Layla Saad and How to be an Anti Racist by Ibram X. Kendi.
We have new anti racism book groups forming soon, which will be meeting over Zoom. Working with a small group of other white folks committed to this path is a really important way to strengthen our anti racism muscles.

 

Email Julie

 

to join a book group!
Post a Black Lives Matter lawn sign. Contact Priscilla Bremser to get one for $15.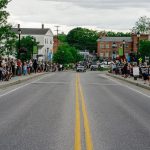 Working to dismantle internalized white supremacy is a lifelong endeavor. The work is never done. And in the same way that racist power structures have been constructed and reinforced over centuries, racism is not going to be dissolved this week or this year.

 
If you are a white person reading this, know that you are somewhere on the spectrum from those just waking up to these harsh truths, to people a bit further along on the journey. But every single one of us has work to do, and that work does not have an end. So we must work with love, to hold one another accountable, to encourage each other, and to demand better from our white colleagues, friends, and family members. Our Black neighbors, our Indigenous neighbors, our neighbors of color have been asking this of us for a long, long time. We are here to support your anti racism work.
Also see these links provided by Poppy Rees, Dir of Rel. Exploration
Lauren Wyeth, Director of Children, Youth and Family Ministries at First Universalist Church of Minneapolis
May 31, 2020 Message for All Ages
Lauren gives a really truthful yet tender telling of what happened to George Floyd and why people are so upset about it.  And she also offers really meaningful ways for families to respond on a small scale in our homes, our neighborhoods, or with our local officials.  Definitely worth a watch as a parent, to have some language modeled for a great way to talk with your own kids about what happened and why it's important to take some kind of action as Unitarian Universalist.
Supporting Kids Of Color in The Wake of Racialized Violence: Part One (with a link to Part Two)
Still relevant, unfortunately, this very first EmbraceRace live conversation happened in July of 2016 in the immediate aftermath of the murders of Alton Sterling, Philando Castile and 5 Dallas police officers. We convened by phone and over 700 people joined the call. For this conversation, EmbraceRace co-founders Andrew Grant-Thomas and Melissa Giraud frame and moderate a discussion between child psychologist Dr. Allison Briscoe-Smith, educator Dr. Sandra Chapman, and a group of parents, teachers, and other caregivers concerned about black and brown children.
Raising White Kids (7 mins. listen)
NPR's Michel Martin talks to Jennifer Harvey, author of Raising White Kids: Bringing Up Children in a Racially Unjust America, about how to talk with white kids about racially-charged events.
Talking with Children About Racism, Police Brutality, and Protests
Article that has concrete example of how to talk to kids of different ages about these topics.