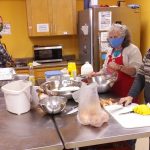 Charter House is a local organization which has been providing housing and meals to the homeless in the Middlebury area since 2005.  Over the years, its importance has grown, as has the need. Pre-COVID Charter House provided almost 40,000 meals to hundreds of individuals and families and housed 134 men, women and children. This year of the pandemic, Charter House had to radically change its activities, and served three meals a day to 90 people, living in various locations around Middlebury, including several motels. Obviously, this has taxed its resources, and although it has received funding from the state and federal governments, it is constantly seeking additional funding in order to employ the staff and purchase the food and other supplies it requires so that it can adequately fulfill the growing need for its services. CVUUS has always been a generous supporter of Charter House, and with your assistance, we will continue to do so.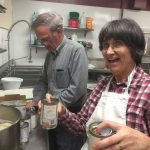 CVUUS provided a nutritious lunch once a month for Charter House for many years, led initially by Sue Grigg and Mary Lou Bright, and lately by Alan Moore and Revell Allen and a Friday night community dinner annually in late Dec or early Jan by Kathryn Schloff and others. Alan Moore now coordinates dinner meal prep for CVUUS for Charter House's guests once a month with prep taking place in our lower level kitchen on the second Monday of the month between 10 am and 1 pm. We provide baked goods for this meal as well as for Community Dinner on the fourth Friday of month. If you want to help, contact Alan Moore alanwmoore1947@gmail.com.
Middlebury College students used our kitchen on Saturdays to make meals for Charter House until the college closed its campus in Nov and will be resuming soon.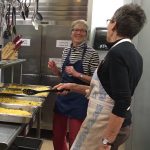 Charter House Emergency Winter Shelter Welcomes Your Help:  
volunteer to staff Charter House during the day for 2 – 3 hour shifts or overnight (you can sleep)
help with take-out food distribution (lunch from 11-12:15 and dinner 3:30-5:30)
donate prepared meals, bread/rolls, fruit/deserts
donate adult size winter clothing especially socks, boots, gloves, sweat suits, underwear, warm coats
make a contribution (Charter House Coalition, 27 North Pleasant Street, Middlebury, VT 05753 or online at https://charterhousecoalition.org/donation/)
Contact charterhouseinformation@gmail.com to speak with you and arrange your first visit. For more, visit https://charterhousecoalition.org/