Radical Love Giveaway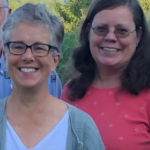 For our fall fundraiser in 2022, we returned to an in-person Radical Love Giveaway Raffle Party. Here's how it worked:
GET YOUR RAFFLE TICKETS: Everyone (adult or child) got ten tickets at the December 4th service. You could also get tickets online to choose by midnight Thur Dec. 8th
CHECK OUT THE CATALOG: Peruse a PDF of the amazing raffle items here!
WIN SERVICES & ITEMS: For each item, the raffle team randomly selected winning tickets and notifies the donors and winners on Dec 11. Here's who won what:
Q. Wait – how does this raise any funds for CVUUS?
A. Good question! The Giveaway Raffle focuses on the fun and fellowship of traditional fall fundraisers. Your financial gifts are needed and will be deeply appreciated. But they won't affect anyone's ability to participate in the Giveaway, which is more about staying in touch with each other. Make your financial donation to support this event online here. That financial donation is how we make the December Giveaway free to everyone in the Directory and the winning odds equal for all participants, regardless of wealth. We ask you to consider donating the equivalent of 5 percent of your annual pledge, however large or small the amount is.
Q. What could we contribute to the Giveaway Raffle?
A. Suggestions included baked goods, soups, shopping service, yard work, custom-decorated wreath or centerpiece, handknit accessories, housecleaning, ironing, mending, photography session, dinner for a family. We welcome your creativity! If you were comfortable springing for a gift card to a local business, perhaps one of the new ones in town, that was a welcome raffle offering as well. Entry deadline was Dec 1
Radical Love Giveaway in the Past
What ​was it? A party for all ages ​that began ​after worship starting in 2017 and continued through 2019 after which COVID interrupted it, until it returned online in 2021. It overhauled our annual Fall Service Auction. We eliminated bidding and admission fees. It aimed to be inclusive in every way possible–allowing everyone access to an equal number of pre-administered tickets. Anyone could win, including children. That's what made it radical. We gave away, through a massive raffle, more than 80 experiences and services to be shared and enjoyed by a majority of the congregation over the year. We held a party for the drawings that featured performances, pizza, and story telling about what we love about CVUUS.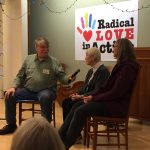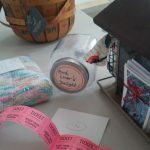 What did we do in 2019?
We listened to all the feedback from our last three fall fund raisers and this is what we heard:
* As usual, we need to do something to raise something north of $8,000 to meet our budget for the year.
* The Radical Love Giveaway Party two years ago was an experiment we should be proud of and not give up on easily. Raising funds, creating fellowship, and making the opportunities equally available to everyone regardless of wealth was a unique way of living out UU values. (No wonder Montpelier experimented with its own version last fall!)
* Moving the Party to January in the second year didn't work so we returned to November.
* Some families were upset with an arrangement where, by chance, some kids got several things they wanted and many got none. Younger children don't understand classism or the Giveaway as a stand against it.
* Some people miss the excitement of an auction.
* People are disappointed with events that get promised but don't happen.
We had a Radical Love Giveaway and Auction party on Sun Nov 24, 2019 after Worship. It was something similar to the first and second Radical Love Giveaway where all fellowship events were given away in random drawings and some items were auctioned off live and some by silent auction. People did not have to be present for drawings but they did have to have their tickets in the drawing which involved deputizing someone else to enter them on their behalf if they were away. All giveaway events had to specify a date (no more "date to be determined in the future" – those have a way of never happening). We extended the bidding to Dec 1. Here's a list of what was submitted:  Catalog Radical Love 2019
Here is a list of who won what: Radical Love Items Won Nov 2019.  We gave individual sheets to each person who donated something (with who won their stuff) and sheets for each person who won something (with what they won and from whom). Anyone who won an actual item and didn't pick it up yet could pick them up from the Blue Room on the Lower Level. 2019 Rad Love Organizers included Donna LaRose, Terry Racich, Mary Hadley and Rev. Barnaby
What did we do in 2020? Due to COVID, we didn't conduct a Rad Love Auction auction though we considered many ideas including offering an online version but didn't have a team ready to experiment with this. So we did a special fall appeal for financial donations based on what we recommended in previous years as a guideline to give 4% of your pledge if you were able.
What did we do in 2021? We hosted on online raffle similar to 2022 one. See who won what here: 2021 Radical Love Giveaway Winners