Ground Floor Construction Completed!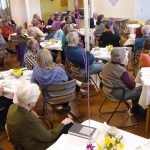 Our lovely new ground floor Fellowship Hall was completed in 2018-19. It's named the Ann Ross Fellowship Hall in honor of Ann Ross who did so much to provide hospitality over the years. We hosted a dedication party for her in May 2019. We have a full kitchen, bathrooms, a shower, and an elevator to make the space fully accessible. Our expanded library resides downstairs next to the kitchen. We call it the Blue Room because of its blue carpeting. It's round wooden table makes it a popular meeting space for small groups.
For more information about the kitchen, please contact Alan Moore.