Meet the Moment: Reimaging Radical Faith Community UUA General Assembly 2022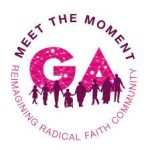 Learn about the wider work of UUA and UUA General Assembly.  Watch this Youtube clip of who we are! General Assembly (GA) is the annual meeting of our Unitarian Universalist Association (UUA). Participants worship, witness, learn, connect, and make policy for the Association through democratic process.
Anyone may attend; congregations must certify annually to have voting delegates
Multi-Platform General Assembly
In 2021, GA had more than 4,000 registered attendees participate from remote locations around the world. Although we give up the face-to-face interaction and hugs that are prevalent when we meet in-person, we retain our dedication to community and make our experience more accessible and more environmentally sustainable.
In 2022, we will have the option of meeting online or in-person! For those who enjoyed the convenience and accessibility of remote participation, General Assembly will continue to offer virtual attendance with robust programming and enhanced delegate discussion tools. For those who have been missing the physical experience, GA 2022 will also feature face-to-face interactions, hanging banners, a browsable exhibit hall, meals with friends old and new, local site attractions, and more! Join us June 22 – 26, 2022 online or in-person in Portland, Oregon.
All GA attendees and exhibitors are required to provide proof of Covid-19 Vaccination for in-person attendance at General Assembly. In addition, masking is required and physically distanced seating options will be reserved in our meeting spaces. Currently, free Covid-19 testing is available Monday to Saturday from 8 am – 3 pm, by appointment or walk-in, at a testing site in front of the Oregon Convention Center. Appointments may be scheduled online.
Circle 'Round for Justice ● Healing ● Courage was the theme for General Assembly 2021 (June 23-27). We studied ways to implement and live into our mission and incorporated recommendations from the Commission on Institution Change report, "Widening the Circle of Concern" and dialogue with the Article II Commission about our Principles and Purposes. Through programs and workshops, professional and lay leaders learned and developed skills to equip them with tools to continue the mission of our faith. Featured speakers delved into theological analysis, working around organizing for liberation, and the ways we tend our spiritual resilience. Honoring the myriad of communities within Unitarian Universalism, there was time for networking, meetups and caucusing over the span of our 5-days together. During GA 2021, we preserved our connection to Milwaukee and the MidAmerica Region through special programming and activities. See a video showcase of it here.
Virtual UUA General Assembly (GA) 2021 Report by Mike Greenwood (delegate)
A few notes and a few thoughts about our time at this year's UUA General Assembly.  As your voting delegates, Alan Moore and I each spent just under 12 hours in the Business component of GA.  But before we get to the business component of GA, did you know that you can access most of the GA workshops for free at https://gaonline.uua.org/login?e=0006b077b0bb533e ?  There you will find worships on equity, racism, spiritual healing, welcoming congregations  and so much more.  Check one out today!  We hope you will join us as a delegate, either in-person or ZOOM.  Next year GA will be in Portland Oregon June 22-26 and in 2023 Pittsburgh, PA. Now to the business component of GA. We passed several amendments to our UUA Bylaws and Rules and you can find more detail at www.uua.org
Bylaw Amendment #4: Timeline for President-Elect and Moderator-elect to Take Office was lengthened to a maximum of 45 days.  Prior, our newly elected President was expected to take office in Boston immediately after GA regardless of current residency or family commitments.
Bylaw Amendment #6: Requested by the Religious Education Credentialing Committee, there is  now more flexibility in the terms and levels of religious education credentialing.
Bylaw Amendment #1: Timeline for Submitting Actions of Immediate Witness was refined and shortened.  Immediate Witness occurs at GA and allows GA participants the opportunity to respond to an immediate incident or crisis through a statement that demonstrates solidarity with those who are mistreated.
Bylaw Amendment #2: Timelines for Campaigns for President and Moderator were shortened.
Bylaw Amendment #5: GA Registration Requirements states that delegates must register but not necessarily pay any fee such as a registration fee in order to be a delegate.
The General Assembly affirmed these Actions of Immediate Witness
Defend and Advocate with Transgender, Nonbinary, and Intersex Communities (PDF); The COVID-19 Pandemic: Justice. Healing. Courage (PDF); Stop Voter Suppression and Partner for Voting Rights and a Multiracial Democracy (PDF).
Election Results
We elected a number of individuals to UUA positions.  The only contested election was for the position Board of Trustees.  Sam Trumbore won the seat.
Statement of Conscience: The Statement of Conscience (SOC): Undoing Intersectional White Supremacy (PDF) was adopted. Delegates to the 2021 General Assembly affirmed two Responsive Resolutions: Include Systemic Anti-Racism in Principles (PDF) and Creating a More Just Future Through Divesting from Pipelines and Investing in Young People (PDF)