View a recording of Middlebury College's "United for Ukraine" Concert from 4/24/22
here
. It was an extraordinarily moving program featuring Middlebury Community Chorus which includes several singers from CVUUS.
As  we are all painfully aware, the situation in Ukraine is not getting any  better; with several months into Russia's invasion, there's no clear end in sight. As of April 10, almost 700,000 Ukrainians crossed the border into Romania  and 7.1 million are internally displaced. Behind the figures lies unimaginable suffering that only grows as humanitarian needs increase. For most of May 2022, we collected $3,283 for Providence Charity of the Hungarian Unitarian Church referred to us by Neil Chippendale. You can contribute to this UUA Faithify supported project through CVUUS or online here.
Attend to the needs of hundreds of Ukrainian mothers and children transiting through Kolozsvár/Cluj railway station
Provide housing and other support for 38 refugees in the Kolozsvár/Cluj area (more than half are children)
Transport urgent supplies to Transcarpathia (southwest  Ukraine), consisting of nonperishable foods and other items needed by  shelters housing internally displaced Ukrainians (cots, mattresses, sleeping bags, flashlights, light bulbs, hotplates)
Deliver a second shipment of medical supplies to a health center in Odessa (disinfectants, bandages, pain killers, syringes, flu medications, milk powder, diapers)
Launch a kindergarten class for Ukrainian refugee children in the day care center of the Hungarian Unitarian Church in Kolozsvár/Cluj
For the last week of May, we collected $328.50 for Razom for Ukraine, a relief effort designated by Diana Herasim, a Middlebury Union High School exchange student from Kherson, Ukraine. Her city is occupied by Russians and her family is in hiding.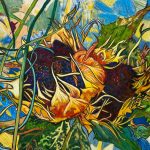 CVUUS's Flower Communion on June 12 paid homage to Ukraine by planting sunflower seeds to take home. The UU tradition of flower communion has its roots in Eastern Europe. The service featured Chris Murphy explaining the sunflower artwork of a Ukrainian artist raising funds for relief efforts.
CVUUS hosted a public vigil in our Sanctuary on Wednesday March 2, 2022. This was a time for sharing concerns, compassion, and music (one reason it is scheduled right after choir practice). This was an interfaith (and no faith) event open to the wider community.
Speaking priority was given to Ukrainians and those among us with relatives there, such as Diana Herasim (pictured), a Middlebury Union High School exchange student from Kherson, Ukraine. Her city is occupied by Russians and her family is in hiding. We also heard from Masha Makutonia, a recent Middlebury College graduate from Odessa living with her international host family in Middlebury.  Since the war broke, she and about 4 other MiddKids from Ukraine have been meeting, strategizing, networking with amazing UWC alums and advocates, channeling their desperation into constructive action.  Along with others, they've vetted news sources, composed communications to US officials, advocated in public forums, and identified appropriate organizations worthy of receiving donations that will do the most good. See the link to such resources here. 
In addition to the music CVUUS provided, we welcomed others to perform their sharing rather than speak it.
We welcomed 77 people and recorded it. We had a few technical glitches, but you can still hear many parts in our YouTube post here.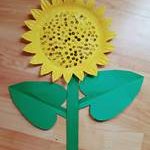 Children attending our religious exploration class during Sunday's worship service made sunflowers to display in our windows in solidarity with Ukraine.
In acknowledgement of our pain at these current events, here's a poem written by a Unitarian Universalist colleague, the Rev. Robin Tanner. Blessed be and peace be with you, Rev. Barnaby
Middlebury Union High School students of SCHOR assembled in response to the continuing heartbreaking news from Ukraine shortly after our vigil.
Pray to Be Brave when Fear Is Catching You
"We have to be brave because of the children."
She is clear-eyed, flushed and leaning against a steel column in a subway station.
One child sleeping against her leg,
The older boy staring,
Round, brown eyes
Fixed on his resolute, rosy-cheeked mother.
Pray
To be clear to speak truth.
She offers sunflower seeds to the Russian soldier
Before she curses him
She reminds him that he will die for a dictator
Who asks him to betray their humanity.
Before she curses
She levels her eyes to this young man to remind him
She could be his grandmother, she unarmed and ready to fight.
Take this truth, if you will die here, remember the flowers will grow again.
Pray
To endure when the waves crash over your head.
My grandmother's hands
Ukrainian hands
Always with a long slim cigarette
Even as she moved the hand mixer
And sipped cold coffee.
My not understanding
The meaning of chocolate cake with raspberry sauce
Until this moment
Staring generations forward
At the rosy-cheeked mother.
The weary lines that hid a world war
And the endurance in the ocean of grief, to mix, bake, find life in depression.
Pray
To resist even if your name will never matter.
Ordinary people
Under a fascist
Ordinary people who in a moment
Grabbed a coat, made a sign, and stood in the public places
Knowing they will disappear
Die without
fame or name
And who resist because some day, they will say, "not all the people were silent."
Pray
To love enough to cry and kiss the head of your child, filling their pockets with sunflower seeds as they board the last bus out of town.
Hands pressed to windows as one last ritual of love
Because we know
We may not see the sunrise
But someday when the sunflowers bloom
They will return to harvest seeds again
To feel the warmth of sun
And to sit quietly before the arching open bursts of yellow,
That mark the memory and prophecy.
"We have to be brave because of the children."
Pray for peace, yes.
Pray for the truth, also;
Pray for endurance, amen.
Pray for resistance.
Pray to remember that love
That can never be
Bombed
Obliterated
Or silenced.
The children
The flowers
And the sun
Return.