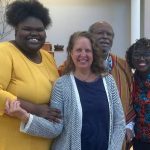 In our Sanctuary (on site only, no Zoom). Led by Esther Charlestin with Joanna Colwell, Justice Elijah (NAACP of Rutland members), and Dr. Francois S. Clemmons. See here for Juneteenth's history and here for CVUUS' efforts to address racism. Followed by the option of hiking at Spirit in Nature up in Ripton with Mike Greenwood. We shared our offering plate with Addison County Community Trust (ACCT).
Watch a recording here:
Juneteenth, official name of federal holiday Juneteenth National Independence Day, is also called Emancipation Day, Freedom Day, Jubilee Day, Black Independence Day, and Juneteenth Independence Day, a holiday commemorating the end of slavery in the United States, observed annually on June 19.  In 1863, during the American Civil War, Pres. Abraham Lincoln issued the Emancipation Proclamation, which declared more than three million slaves living in the Confederate states to be free. More than two years would pass, however, before the news reached African Americans living in Texas. It was not until Union soldiers arrived in Galveston, Texas, on June 19, 1865, that the state's residents finally learned that slavery had been abolished. The former slaves immediately began to celebrate with prayer, feasting, song, and dance. More here.
Order of Service
Bell: Land Acknowledgement  
Welcome & Pathways to Connection:  Esther Charlestin, Worship Associate
Prelude & Call to Worship: Come Sunday (Duke Ellington)    Ronnie Romano, Music Dir. and Dr. Francois S. Clemmons
Chalice Lighting: Esther Charlestin
We light this chalice, symbol of the Light within us and around us. May this gathering for worship enlighten our hearts and our minds and our souls. And may the Inner Light of the Spirit be kindled by our time together. Amen. By Stephen Lingwood
Hymn: I Wanna Be Ready   Dr. Francois S. Clemmons
Time for All Ages: Joanna Colwell
Offering:  We'll share our collection with Addison County Community Trust (ACCT). Please write all checks to CVUUS. All cash and checks not otherwise specified will be split between CVUUS and our donee. You can give online at https://cvuus.breezechms.com/give/online.
Offering Music: Ronnie Romano
Receiving the Offering:   From You I Receive (Gray #402)
Milestones & Passages: Esther Charlestin
Meditation:  Esther Charlestin
Music: Steal Away & No More Slavery Chains   Dr. Francois S. Clemmons
Reading: Hey, Black Child    Esther Charlestin
Reflection: Justice Elijah
Hymn: We Shall Overcome   Dr. Francois S. Clemmons
Closing Words:  Esther Charlestin
Postlude: Spirituals   Ronnie Romano
Credits: Thanks to our guest speaker Justice Elijah, Joanna Colwell for Time for All Ages and Francois Clemmons for special singing; Flower Co-op for seasonal arrangements; Abi Sessions for technical support; Mike Greenwood and Alan Moore for overseeing safety, sound, and social hour and Avi Freund and others who helped set up, usher, and greet.
Thank you for joining us for worship!