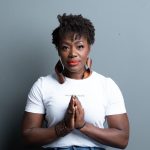 ON SITE ONLY. NO ZOOM. With Christal Brown, Middlebury College Dance Professor. Christal is an assistant professor of dance at Middlebury College and the current chair of the Dance Department. She is an entrepreneur in her own right, having founded several of her own projects: INSPIRIT, Project: BECOMING, and the Liquid Strength training module for dance. Christal is also a proud mother to her son, Gabe. Little known fact: After touring around the world as a performer, Christal believes that one of her greatest achievements is being able to fry chicken like her Aunt Carolyn and replicate her Granddaddy's cornbread. 
See more details of the service here: OOS Aug 13, 2023
From Christal: Thanks again for allowing me to speak and share on Sunday.  If anyone has any comments or takeaway's I would love to hear them.  I recorded the service and have included a link to it here. If anyone is interested in purchasing a copy of my book that can use this link.
More about Christal Brown,  Mother|Artist|Educator|Disciple|Coach|Author
Christal is the Chief Visioning Officer of Steps and Stages Coaching Facilitation and Consulting, the Founder of INSPIRIT, Project: BECOMING and the creator of the Liquid Strength training module for dance.  She blends her creativity, background in education, and spiritual insight into the practice of establishing, structuring, and implementing visions in the lives of individuals, institutions, relationships and  families. For over 10 years Coach Christal has worked with creatives, entrepreneurs, educators and executives, to help them clarify their vision and accelerate their results. Coach Christal is adamant that no professional development can happen without personal development and the Vision is the first step in creating a life by design.
As a sought-after Vision coach and professional speaker Coach Christal offers inspiring workshops to sold-out audiences around the country as well as transformational in-depth coaching programs that help clients achieve new heights of success, meaning, and spiritual aliveness. Having been a professional artist for over 20 years Coach Christal knows first-hand what it means to catalyze imagination into reality.
Coach Christal has been featured on NPR's the Moth, Ted X Middlebury, as well as various podcasts and conference stages across the US and Zambia. She is a mover, a warrior of change and transformation, living out experiences her double amputee father recounted from his war-ridden dreams.
Christal's unique candor and ability to stand in discomfort with vulnerability and strength allows her to usher in transformation in the lives of others with grace and compassion at every stage of life.