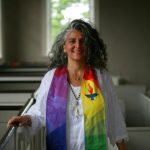 Rev. Christina Sillari returned to our pulpit and asked: "Frankly, do you need to believe in God to be convinced that sincerity is preferable to dishonesty, courage to cowardice, generosity to egoism, gentleness and compassion to violence and cruelty, justice to injustice, love to hate." by Andre Comte-Sponville
Watch a recording of it here:
We donated to Hungarian Unitarian Church efforts to aid Ukrainian Refugees and stayed after worship for a congregational conversation during social hour on feelings about the use of our new media screen.
About Rev. Christina Sillari: Christina exchanged pulpits with Rev. Barnaby in Fall 2019 and returns to us this month during his sabbatical. She recently retired from her ministry at UU of Maine. She's a mystic seeking priestess with masters in Divinity and Psychology and Mind Body Health. Before entering ministry, she served as a therapist, yoga teacher, and shamanic practitioner. She is passionate about star beings and justice. She lives in Portland with her husband, daughter, and yellow lab. Her husband's family has a summer home in Westport on Lake Champlain, where they often spend their vacations and holidays. You can reach out to her at christinasillari@gmail.com.
Order of Service
Bell: Land Acknowledgement  
Welcome & Pathways to Connection:  Jay Harrington, Worship Associate
Prelude: Ronnie Romano, Music Dir.
Call to Worship: Little Book of Atheist Spirituality by Andre Comte-Sponville (excerpt)  Rev. Christina Sillari
Chalice Lighting: Jay Harrington
May we release ourselves from the need to
fit every truth neatly into our own language.
May we occasionally forget ourselves
long enough to remember each other.
Hymn:  Come Sing a Song With Me (Gray #346) Ronnie Romano
Time for All Ages:  Rev. Christina Sillari
Offering:  For most of May, we'll share our collection with Hungarian Unitarian Church Ukrainian Relief Efforts referred to us by Neil Chippendale.  Please write all checks to CVUUS. All cash and checks not otherwise specified will be split between CVUUS and our donee. You can give online at https://cvuus.breezechms.com/give/online.  You can also contribute directly to this UUA-supported project online here.
Offering Music: Ronnie Romano
Receiving the Offering:   From You I Receive (Gray #402)
Milestones & Passages: Jay Harrington
Prayer/Meditation:  Rev. Christina Sillari
Hymn: Spirit of Life (Gray #123) Ronnie Romano
Sermon: What Are the Blessings of Atheism — How Does It Shape Our Faith? Rev. Christina Sillari
Read it here: Atheism Christina Sillari
Hymn:  For All that Is Our Life (Gray #128) Ronnie Romano
Benediction: Rev. Christina Sillari
Postlude:  Ronnie Romano
Credits: Thanks to Jay Harrington for assisting Christina Sillari in leading worship; Avi Freund, Mary Hadley, Abi Sessions and Richard Hopkins for technical support; our Flower Co-op for seasonal arrangements; Mike Greenwood and Alan Moore for overseeing safety, sound, and social hour and Lise Anderson and Bill Sessions and others who helped set up, usher, and greet.
Thank you for joining us for worship!