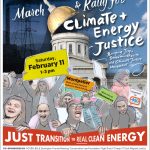 Mission: Supporting and amplifying climate action
"We need teams of people to catalyze the 100's of decisions that individuals need to make over the next decade to change behaviors, change their home heating, and purchase transportation." Steve Maier
Thinking of going to Montpelier for the  March & Rally for Climate & Energy Justice Sat. Feb 11 (1-3 pm)?
It's a long drive, but lots more fun when we travel together. Email  Lise Anderson if you'd like to carpool. Let's see if we can get a group of us to go! In Montpelier meet at City Hall (39 Main St) and march to State House. Sign a postcard calling for support of key climate action legislation online here.
Thinking of Going Electric? Learn from the Experiences of Trusted Others
Have you been curious about electric heat pumps as an alternative heat source? Have you made the switch from gas stove to electric? Let's talk! At social hour March 12th come network with each other about alternative ways we have tried to electrify, insulate, and lower our carbon footprints. Talk to a trusted other. This will be the first of three climate networking Sunday social hours in 2023.
Thinking of other actions?
Lise Anderson invites you to contact her about some suggested actions for 2023.
Heat pump conversion at CVUUS
Making people aware of, and bring volunteers to, Climate Economy of Addison County's residential decarbonization project (aiming to develop home weatherization capacity in Addison County)
Swapping solar tops and tricks, cars, e-bikes, etc purchasing experience at an annual social event (recommendations from trusted UU pioneers)
Carpooling to CVUUS using our neighborhood UU network (with Caring Network)
Fundraise for and install new and better bike racks at CVUUS
Be a hub of "get out the UU letter writers, activists" for key local community meetings re climate
Inform and direct UUrs who own land to key groups doing agricultural and forestry work
Have a CVUUS plan to support the community/UUs if rural power goes out, communicate it
Share the opportunities for action by national campaigns (Third Act, 350.org, Extinction Rebellion, Citizen Climate Lobby)
Implement a Lower Carbon Diet social group(s) among CVUUSrs (Gershon book)
Collectively make donations to local efforts–share the basket