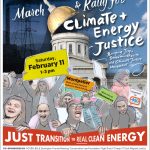 Mission: Supporting and amplifying climate action
"We need teams of people to catalyze the 100's of decisions that individuals need to make over the next decade to change behaviors, change their home heating, and purchase transportation." Steve Maier
CVUUS Carbon Footprint
CVUUS is measuring & tracking this. Facilities Team with support from Climate Engagement Team is planning alternatives to our propane heating and gathering  estimates for heat pumps. Contact Llyn Rice for more. CVUUS offsets some of its electric with solar and  encourages you to go solar. Contact Rich Wolfson for more & help. Track our carbon reduction efforts here.
Thinking of Going Electric? "Ask me…" Social Hour
Plans are underway for networking events at social hour over the next few months.
March 12—Learn from the experiences of trusted others who have tried heat pumps and taken other measures to reduce their household's carbon footprint. Jean Terwilliger shared this plan for electrifying your household: Electrification One Pager 2023
April 23—Come share your experiences and learn more about greener transportation options, including electric cars and bikes and carpooling. Bring your EV and offer test rides. See neighborhood clusters  for carpooling on Fellowship Hall bulletin board.
Fall 2023—Let's talk about earth friendlier yard and garden practices, including electric mowing, pollinator planting and composting practices.
World Water Day is March 22 and kicks off a two month commitment by UU Ministry for the Earth including Earth Day on April 22.
Want to try the Low Carbon Diet?
Some tried the "Low Carbon Diet" 30-Day Program to reduce your household's carbon footprint while gaining energy savings rapidly. This easy-to-follow series met for four Mondays beginning March 6, from 12-1 pm in Fenn Chapel Learn how to measure your household's carbon footprint in the first session and about the biggest sources of energy use and carbon emissions for your household. Next, make an Action Plan from choices in the Low Carbon Diet Workbook working toward a goal of reducing your household's carbon footprint by 5,000 pounds in 30 days. Report on your results and learn more about energy savings and options in subsequent sessions. Sessions facilitated by Laura Asermily. For more info or to register for the program, email or call 802-349-4157.
UU Ministry for Earth
Explore spiritual & practical actions at  UU Ministry for the Earth. Learn about their Spring for Change Campaign, including ways to honor Earth Day April 22. 
FULL MOON SPIRITUAL GATHERINGS:  In 2023, UUMFE continues our Monthly Spiritual Gatherings so that we may all find time to ground, recenter, and imagine what is possible in a world in need of repair. This year to draw us more closely into alignment with Earth-based philosophies, we will follow the Lunar Calendar. We will gather each month, via Zoom, on the Full Moon to nourish our spirit.
SPRING FOR CHANGE: Spring for Change: a Season of Sacred Activism is an invitation to the Unitarian Universalist faith community to embody the transformational, regenerative power of Spring through sacred activism for Earth and all our relations. The 2023 Spring for Change theme is Active for Earthcare! Beginning the evening of Sunday, March 19 (the night before the Spring Equinox on Monday, March 20th!) and continuing through May 22nd (International Day for Biodiversity).
2023 Spring for Change was galvanized by a March 19th concert in honor of World Water Day. From workshops for all ages to special programming for the UU Young Adults for Climate Justice, we're excited to connect with you.
Together, we will get active in our faith communities, our spiritual practices, and our relationships to the ecosystems we are home to. We will practice Earthcare by facing the facts and forecasts of our climate and ecological crises with courage, moral clarity, and a commitment to justice, equity, and compassion.
Earth Day Service Thursday, April 20th 8 pm ET   Earth Day is a special tradition at Unitarian Universalist Ministry for Earth. Join us for this special online worship service- whether at its premiere or for use in your congregation! Together, let's be "Active for Earthcare!" Click Here for More Details and to Sign Up [7]
Biodiversity Sunday  Sunday, May 21st   UU Ministry for Earth is delighted that across the Association congregations in our pilot project will be participating in the culmination events of "May You Survive and Thrive [8]" for Biodiversity Sunday! May You Survive and Thrive is Arts-Curriculum oriented toward biodiversity, based in methodologies of popular education and arts-organizing, using collective learning and creativity as a vehicle for community building and social change. 2D and 3D artwork and creative writing that emerges from this project will be displayed at the 2023 Unitarian Universalist General Assembly, a hybrid gathering of our congregation, hosted in Pittsburgh, PA, June 21-25.
VT Interfaith Power & Light
Explore rich offerings vtipl.org.
Thinking of other actions?
Lise Anderson invites you to contact her about some suggested actions for 2023. CVUUS is measuring its carbon footprint and planning alternatives to propane heating and is offsetting some of its electric with solar. More here.
Heat pump conversion at CVUUS
Making people aware of, and bring volunteers to, Climate Economy of Addison County's residential decarbonization project (aiming to develop home weatherization capacity in Addison County)
Swapping solar tops and tricks, cars, e-bikes, etc purchasing experience at an annual social event (recommendations from trusted UU pioneers)
Carpooling to CVUUS using our neighborhood UU network (with Caring Network)
Fundraise for and install new and better bike racks at CVUUS
Be a hub of "get out the UU letter writers, activists" for key local community meetings re climate
Inform and direct UUrs who own land to key groups doing agricultural and forestry work
Have a CVUUS plan to support the community/UUs if rural power goes out, communicate it
Share the opportunities for action by national campaigns (Third Act, 350.org, Extinction Rebellion, Citizen Climate Lobby)
Implement a Lower Carbon Diet social group(s) among CVUUSrs (Gershon book)
Collectively make donations to local efforts–share the basket