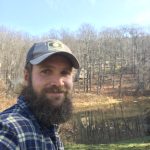 In our Sanctuary (no Zoom). The center of this service was singing: "I want to sing with people — that's my joy!" David says.  We shared our plate with Vermont Adult Learning. Followed by a book discussion of Arribada with Guatemalan food.
About Rev. David Ruffin:
After serving in a Consultant Ministry focused on Caring and Belonging during the height of the pandemic, David is excited to have joined the FUUSB staff as the new Developmental Director of Youth and Creative Arts Ministries. Early in his ministry, while still studying at Harvard Divinity School in Cambridge, MA, David worked with other seminarians and area artists to found an alternative spiritual community for young adults and other seekers looking for something beyond traditional church, The Sanctuary Boston. He then served for two and a half years as the Assistant Minister at All Souls Unitarian Church in Tulsa, OK. In 2017 David came to Vermont for a sabbatical time of renewal and discernment and got happily stuck here.
David is a performing artist, with a love for music and especially singing, a passion he pursued professionally in the world of musical theater in his twenties. He's a lover of the natural world, which led him, along with his affinity for working with young people, to the world of outdoor education while charting new paths here in Vermont. A life-long spiritual seeker with a calling for working with folks at the level of the heart, David is grateful to FUUSB for welcoming him onto their staff team in this newly-created role, giving him the opportunity to do work he finds meaningful.
Order of Service
*asterisk indicates congregation participation
*Gathering Music:  Rev. David Ruffin and Ronnie Romano, Music Dir. and the House Band
Land Acknowledgement: Karl Lindholm, Worship Associate
Welcome:   Karl
*Call to Worship: Come Sing a Song with Me   David
Chalice Lighting:  Drawn Together   Karl
We are drawn together
By a belief, that how we are in the world,
Who we are together
Matters.
We light this chalice,
Together in the knowledge
That love, not fear, can change this world
*Time for All Ages: Like a Little Duck by Heidi Wilson   David
Offering:  We'll share our collection with Vermont Adult Learning. Please write all checks to CVUUS. All cash and checks not otherwise specified will be split between CVUUS and our donee. You can give online at https://cvuus.breezechms.com/give/online.
Offering Music: Ronnie
Milestones and Passages:  Karl
Meditation on Breathing:   David and Ronnie
* Community Sing:  David with Community
Gather the Spirit
Gather the spirit, harvest the power.
Our separate fires will kindle one flame.
Witness the mystery of this hour.
Our trials in this light appear all the same.
Gather in peace, gather in thanks.
Gather in sympathy now and then.
Gather in hope, compassion, and strength.
Gather to celebrate once again.
Benediction:   David
Extinguishing the Chalice   
Postlude:  Without a Song  David, Ronnie and House Band
Credits: Thanks to our guest speaker David Ruffin; Flower Co-op for seasonal arrangements; Abi Sessions for technical support; Mike Greenwood and Alan Moore for overseeing safety, sound, and social hour and Avi Freund and Helene Vanderburgh who helped set up, usher, and greet.
Thank you for joining us for worship!
Stay Connected!
Follow us on Facebook CVUUSVT for future updates on our Sunday morning worship services.  Sign up for our e-weekly blast news at office@cvuus.org.