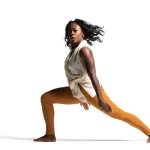 Christal returns to our pulpit. We'll collect for Rokeby Museum as our special 5th Sunday donee.
About Christal Brown: choreographer, educator, performer, writer and activist    A native of  Kinston, NC, Christal received her BFA in dance and  minor in  business from the University of NC at Greensboro. Upon graduation, she went on to tour nationally with Chuck Davis'  African-American Dance Ensemble and internationally with Andrea E. Woods/Souloworks. She's performed and apprenticed with many.
Christal is the Founding Artistic Director of INSPIRIT, a performance ensemble and educational conglomerate dedicated to bringing female choreographers together to collaborate and show new work, expanding the views of women of all ages, and being a constant source of inspiration to its audience as well as members. Combining her athleticism, creativity, love for people, and knack for teaching, she continues to teach and create works that redefine the art of dance and the structure of the field.