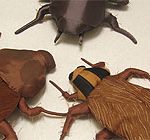 ON SITE ONLY. NO ZOOM. Art Instructor and Fabric Artist, Jenny Muskopf, invited us to see beauty in the uncomfortable by using the creative arts.  When Jenny lived in California, she would go to sites that had experienced deadly shootings and create a 3-D mandala on the sidewalk to invite peaceful and healing thoughts.  This added a spirit of beauty and healing to place of hurt and grief.  She also has a whole family of giant cockroaches — fabric sculptures that are at 12-18 inches long of various species of cockroaches.  Her attention to detail, pattern and different textures brings beauty to these creatures that are otherwise associated with uncomfortable feelings.  Her fifth grade class at Shoreham elementary has enjoyed her artwork and her inspiration, and we hope you did too!
See more details of the service here: OOS July 30, 2023
Join us for Social Hour in our Fellowship Hall following worship.