Rhubarb Festival Coming! (Sat June 3, 10-1)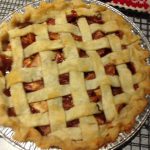 If it takes a village to raise a child then it takes a community to hold a Rhubarb Festival. We need your help to ensure this fundraiser is a community success. Join us in the fun!
Got rhubarb? Donate (or get) pre-chopped rhubarb in CVUUS downstairs freezer before Sunday May 21 and FRESH in the fridge after May 21. We want fresh stalks without leaves this year in 1.5 lb bundles. See Gayle Muenchow
Got plants or seedlings to share? As you divide plants in your garden this spring, think about what you can contribute. Visitors ask for veggie and herb starts as well as perennials.  Perennial divisions potted up now will be well established in time for June 3.  If you have invasive jumping worms in your garden, we know you won't want to share plants with us.  Learn about them here.  See Dinah Smith
Bake pies?  We'll offer rhubarb ($20) and rhubarb/strawberry ($24) pies.  Small ones for $15. Slices for $5. Some gluten free, vegan. Several pie making events are being held.  See Lise Anderson  Sign-up here.
Rhubarb Café ?  We'll be serving rhubarb crisp with Wilcox vanilla ice cream along with assorted non-alcoholic beverages.  Bake crisp?  Be server?  See Mike Greenwood
Books? We'll forgo books and offer just our CUUK BUUK of favorite rhubarb recipes ($10) and focus on our other offerings such as the return of "Bling."
Bling? It's back! Bring jewelry, scarves, ties and accessories for sale.  See Mary Conlon
Sweets & Savories? Want to make home kitchen contributions of additional rhubarb items such as jams & jellies, cakes & tarts, cookies & bars, muffins & buns, breads & brownies, sauces & chutney—Rhubarb with other berries in a pie or crisp – you decide! This year we also welcome non-rhubarb ones for sale. See Mary Conlon. Get recipes and sign up with Marnie Wood during social hour.
More on this fun annual event that helps raise proceeds for HOPE here. Next planning meeting is Thurs. May 25 at 5 pm on Zoom.