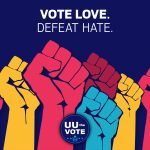 A UU election-day space spiritual grounding: From 10 am to 10 pm on Nov. 3, UU ministers from around the country will be offering a space on Zoom for reflection, prayer and comfort. A different minister will lead each 15 minute segment (Rev. Barnaby will host the 5 -6 pm hour. Here's the connection information: https://zoom.us/j/96542479927  Meeting ID: 995 5323 1971 Passcode: 954636
Voting news: Check out www.uuthevote.org for information about election-related initiatives sponsored by our UUA denomination. UUA President Rev. Susan Frederick-Gray calls us to speak out, to take risks, to leverage our resources to support the values we hold dear. Click here for a homily from her that is part of a series of videos that make up the #UUtheVote.
If you are especially concerned about an Addison County response to an election where there is delaying, tampering with results, or resisting a peaceful transfer of power, contact Lise Anderson (liseand55@gmail.com) for information about resistance training opportunities organized by Choosedemocracy.org. She can also update you on plans for daily 4 pm vigils on the Middlebury Town Green, starting Nov. 4, depending upon the election outcome.
The Donations Ministry has chosen Alyssum, a unique local mental health agency, as our share-the-plate donee for November. Alyssum is a small mental health crisis retreat center in Rochester heavily dependent on the VT Dept of Health for funding. It provides free, holistic, peer-guided emotional support for eligible Vermonters working on recovery and self-awareness. In this time of heightened stress for everyone, we hope you will listen to Sunday's testimony by Linda Fuglestad, an Alyssum staff member, during worship and join us throughout November in supporting this organization modeling loving treatment of mental illness. For more, see https://www.alyssum.org.