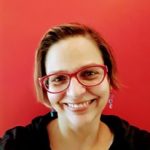 As I write this, school will start in 2 weeks.  Our families are feeling the push-pull of wanting our kids to have a normal life again, to be with friends and people – and – wanting them to be safe.  Staying at home is the safest but we can't do that all the time and be okay, so we are making risk assessments and doing things we know aren't the safest but we hope are feeding their spirits and hearts.  And ours.  And this is hard and sometimes scary.
We are buying masks we hope will work (comfortable, not to hot, fitted, 3 layers…. wait, what's the latest study say now?) with little guidance.  We are making decisions about homeschooling or remote school 5 days or a mix of remote/in-person.  There are no easy choices right now.  We are trying to work, trying to parent "enough", trying to get enough sleep, and some of us are just trying to keep it together.
SO – what does this mean for the Religious Exploration (RE) program this year?  It means…
Reinvention.  If ever there were a year to try different things, this is it.
We are asking lots of questions.  What will lift up the kids?  What do they need? What could we give them that would be helpful and joyful?  We want to help them feel hopeful, happier, and stronger.
Families are all over the place with what they might want for RE, what they need, and how they might engage (or not – some are waiting for us to be able to meet in person)
We will be reaching out to kids and parents after school has been running for a few weeks to see what they want and need
Planning only a few months out, not for the whole year – we need to be flexible and support kids and families where they ARE, physically and emotionally
Multiple delivery methods:  boxes, mailings, videos to watch when you want to, some Zoom…different ways to interact with each other and with CVUUS
Our parents with children at home are handling a lot, so we'll be reaching out to congregants without kids at home to see if they want to be part of lifting up and connecting with our kids and families with children
REinvention.     Hope.     Joy.     Fun.    Community. 
If you want to be part of RE this year or have any ideas for things to do, I would love to hear from you.
And to everyone – I love you.  I miss you.  I am in this with you.
~ Love, Poppy – your Director of Religious Exploration