Rev. Barnaby and the Director of Music Search Team are thrilled to announce that Ronnie Romano, whom many of you came to know as our fill-in accompanist in the five months since Kate Gridley retired, will become our first director of music, starting Aug. 16.
Ronnie will be both our main piano accompanist and choir director. He will also devote a portion of his time to expanding our music program. That includes leveraging his connections to his two other local music jobs: directing the Wellspring Hospice Singers and his recent appointment as founding director for a new choir at All Souls Interfaith Gathering in Shelburne, Vt. (All Souls uses the UU hymnal and meets Sunday afternoons). Ronnie also comes to us with close connections to the music program at Middlebury College, from which he graduated in 2020.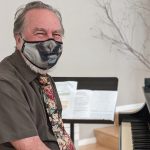 You will hear much more from and about Ronnie once he starts his new job with us. But there's more good music news to share. First of all, we will continue to periodically enjoy Chuck Miller's piano talents. Chuck is looking forward to being our go-to back-up accompanist when he's in Vermont.
Secondly, our job search for music director introduced us to another candidate who wowed our search team — Ana Guigui. Ana lives just outside Boston, where she is on the faculty of both the world-famous Berklee College of Music and the nearby Longy School of Music of Bard College. In addition to her teaching skills, she has many decades of experience as a singer, pianist, and actor in diverse forms of musical performance. The choir loved rehearsing with her and the search team came away impressed that she is everything advertised in her resume and then some. Ana is aiming to relocate a chunk of her life to Middlebury, having spent much of her childhood here while her father was conducting the Vermont Symphony Orchestra. Ultimately, it became clear that she would not be in Middlebury enough of the week for the music director job to be a good fit. But it also became clear that a relationship of some sort with CVUUS would be exciting for both the congregation and Ana. And Ronnie! She and Rev. Barnaby have been working on the details of that relationship, which will be subject to Board approval. We expect to have good news on that front to share with you in the near future. Stay tuned!
SEARCH FOR DIRECTOR OF MUSIC: This new position is designed to enhance and grow the music program at CVUUS. The Director of Music will be an experienced pianist and choir director who is interested in diverse forms of music and cultural traditions and might also play the guitar or other instrument. Ideal candidates will be capable managers and congenial collaborators who understand and support the values of Unitarian Universalism, have experience bringing persons of all ages into musical performance settings, and are comfortable with basic operations of creating, uploading, and archiving digital audio files. The part-time position invites creativity and innovation and brings opportunities to build new connections between CVUUS and musicians in the local community.
CVUUS has a beautiful, well cared for Steinway grand piano, and our sanctuary has been a favored performance space for the community, including piano recitals, chamber music performances, and Middlebury Opera Company events.
See more about music and choir at CVUUS in recent times at https://www.cvuus.org/worship/music-and-choir/