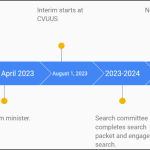 Your Interim Minister Search Team has a table at social hour where members of the team (Alan Moore, Kas Singh, Hannah Sessions, Heidi Sulis, Tom Morgan) can answer any questions you may have about the search process.
From CVUUS Board (Fall 2022): Your CVUUS Board is using celebration as a theme for this fiscal year, our last with Rev. Barnaby as our settled minister who retires in June 2023.  The UUA has guidelines and guidance which the Board is using as relates to the transitions we are planning – from Settled Minister (Rev Barnaby), to Interim Minister for 1-2 years, to our next Settled Minister.  Nothing is needed from us as a Board or the Congregation for a while yet . In fact, the UUA Transitions Ministry doesn't even want to hear from us until February! We encourage everyone to take this time to Enjoy and Celebrate – all we are and all we've done – since the founding of CVUUS until now (and into the future) and particularly during our remaining time with Rev Barnaby.
From CVUUS Board Member Kas Singh (Fall 2022): The fall foliage is gorgeous and a reminder to me that time does fly.  This also means the remaining year of Rev. Barnaby's tenure with CVUUS is going to pass quickly, too.  As was referenced in previous newsletters, the theme for this year is CELEBRATION.  We want to celebrate and honor Rev. Barnaby's time at CVUUS and celebrate and honor CVUUS from its inception through now.  This is an important and necessary part of the process for any congregation that goes through a ministerial change.  We must first review and celebrate who we were and are before we can assess who we want to become.  Assessing who we want to become will be done via the interim ministerial process.  Then we can be better prepared to select a settled minister to help lead us towards our goals as a congregation.
As a reminder of the ministerial process timeline, please review the wonderful graphic explaining the process that Mary H. created.  The board has been busy working with UUA and other resources to put into place a strong base for the ministerial transition process to be successful. The Board members, as all CVUUS members and friends do, have the best interests of CVUUS at heart and want us to continue to be successful and grow.
Finally, I would like to end this article with some transparency from the Board.  At our Board retreat in August, we came up with 4 main goals to work on this year:
Creating and implementing the ministerial transition process
Celebrating the current minister and his tenure at CVUUS
Focusing on financials with respect to the annual budget
Checking our Long Range Plan each month as it is a living document
As always, if you have any questions or commentary, please feel free to contact any board members.
From CVUUS Board Chair Doug Richards (Dec 2022): An organizing meeting of the Interim Minister Search Team took place in mid-December 2022, with most of the work to take place during May to have someone in place by August 2023.  Note that participating in the Interim Search will have no effect either way on the subsequent selection, later in the transition process, of members of a Settled Minister Search Team.
YOUR CVUUS BOARD 2022-2023
Doug Richards (President)
 Kerri Duquette-Hoffman (Vice President)
Ann Webster (Treasurer)
Kas Singh (Clerk)
Mary Hadley (at-large)
Hannah Sessions (at-large)
Alan Moore (at-large)