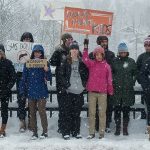 Sunday, Dec 16, Remembering Victims of Gun Violence, 11:30 pm—Communities all across the country will be holding memorials this month because December 14th is the 6th anniversary of the Sandy Hook tragedy. This year we will light candles for them and others, and say the names of those killed at Marjorie Stoneham Douglas High School in Florida last February. We will hear passages from the book Glimmer of Hope, How Tragedy Sparked a Movement, written by survivors and read by our Coming of Age kids, who went to the Burlington UU church in October to hear three of them speak. This will be followed by other sharings, and conversation about where to go next after Governor Scott's signing of gun safety bills last May. Please invite anyone not part of our congregation who you feel would like to attend. Talk to Bobbi Loney (bobbiloney@gmail.com) if you have questions or would like to help.
 #nationalschoolwalkout: Students from our local high school (MUHS), including members of our Youth Group, responded to a national call for a school walkout on March 14 at 10 AM for 17 minutes on Cross St Bridge. They gathered despite the school snow day and were met by many Middlebury College students and community and CVUUS members. The walkout protested failure to enact gun legislation to protect kids from gun violence and honored the children killed at Marjory Stoneman Douglas High School.
March for Our Lives: Many attended rallies in Middlebury on the Town Green, Montpelier (our CVUUS Youth Group went here), and in other cities nationwide on March 24 asking for stronger gun regulation.
State legislators Peter  Conlon and Robin Scheu met with youth asking for gun control measures. Wren Colwell and Zora Duquette-Hoffman were among many youth leaders who gave testimony. Zora shared about this in a recent worship service. Listen here:
Can We Talk About Guns? community conversation  held at Congregational Church of Middlebury in May welcomed Dr. James Davis (Professor of Ethics and Christian Studies, Middlebury College), Eden Neary (Law Enforcement Officer), Theo Wells-Spackman (Middlebury Union High School sophomore); and Mary Welford (Vermont attorney). In the wake of recent school shootings, and Governor Scott's recent signing of "sweeping gun control legislation," the  panelists explored why it is both so difficult, and so very important, for us to speak civilly together about guns and gun control.