In response to recent deportations of Addison County farm workers, many seek to help. Follow initiatives here or by joining the Migrant Ally email list (contact office@cvuus.org). Come to Addison County Migrant Ally check-in meetings on third Wednesdays of the month, 4:30 pm in CVUUS Fenn House.
CHECK IN MEETING UPDATES
At the Oct  18 check-in meeting, we inquired about how to communicate better with farmers, migrants and volunteers about who we are and what help we offer and reported on the successful ongoing ESL classes with Rebecca Holmes. We discussed meeting migrant's banking needs and spreading the word about the Consulate's wish to offer a Finance Class from 12-2 pm at the Dec 2 Consulate Visit.  We discussed how to organize and publicize the Consulate Visit and manage volunteers. We reframed the tamale making event that was supposed to happen on Oct 29 (3-7) at Methodist Church since it needed more coordination. We will either make tamales on Fri Dec 1 at CVUUS Fenn kitchen or recruit Mexican food providers to sell food as done at the Consulate Visit in Plainfield in spring. Refer below and to Migrant Ally Group Meeting Sept 21 Migrant Ally Check in minutes July 2017 Migrant Minutes May Migrant April Minutes and Migrant minutes March 2017.
Initiatives
In recognition of all the issues that the Migrant Ally group addresses,we decided that we should find a way to simplify in order to stay on task. We divided our concerns into 4 sub-groups (knowing full well that each impinges on the other). Each group has a coordinator. We recap at the beginning of each check in and then divide into the sub-groups for a fuller discussion, returning to the group at the end to summarize.
The sub-groups and their coordinators are:
Everyday Living Needs (shopping, transportation, medical) – Veronica Ciambra vciambra@gmail.com
Education and Tutoring – Rebecca Holmes rebeholmes@gmail.com
Clergy – Barnaby Feder bafede@gmail.com
Legal – Pam Marsh
Carol Kulczyk leads the meeting. Any agenda items can be sent to her prior to the next meeting. clkulczyk@gmail.com
EVERYDAY LIVING NEEDS
"How Can We Help?" Project: Several recognized that we needed to ask migrants what they need and developed a card and flyer where they could see a menu of options and leave the card with us or call and text a contact on the flyer to get help.  Contact Veronica Ciambra (802-578-8696 or vciambra@gmail.com) to learn how she took the lead on this and developed it in coordination with others. Here's the latest draft: How to Help Card
English Language Practice: Many are working to meet this great need.
1) At Open Door Clinic: Volunteers help with translation of and completion of forms at their sites.
2) On farms: Several are visiting farmworkers and providing language services by tutoring in English or translating English forms or instructions to Spanish and teaching them their rights. Contact Veronica Ciambra (802-578-8696 or vciambra@gmail.com) to learn how she has done this and accompany her on a lesson or connect with other migrants seeking practice speaking English or to acquire a white board for practice. You can check in and debrief with her at her home on Sunday afternoons. ESL Trainings were provided in August by longtime ESL teacher Rebecca Holmes. More are scheduled for Nov at CVUUS.  Contact Veronica for details. Here are some resources from UVM Extension Services:
http://www.osymigrant.org/EnglishWorkbook_VT.pdf http://www.osymigrant.org/EnglishTeacherGuide_VT.pdf http://www.osymigrant.org/Problem-PosingESL_VT.pdf
http://www.osymigrant.org/AdultELLclassesTN.pdf
Some very exciting things have been happening. There is a Misty Knoll group class with Kaela (kmaria798@gmail.com) as the anchor person and Alison and Cheryl and maybe others working with her on alternate weeks.  Kemi has been joined by Jenn Nixon offering their four students two classes a week, a preferable model if we ever get enough teachers to provide this kind of coverage at all farms.  Steve has started with a student who is very happy to have someone to practice his English with and continue his studies, even though he works the 11:00 PM to 11:00 AM shift and doesn't have a day off.  Thank you to everyone for providing support to 27 English Language Learners.  Many rides are being provided plus social opportunities.  We'd like to expand in these areas, but it will take some more time to get the word out.
Workers are in contact through What's App, a messaging app that everyone in our ESL group should use for communication with workers.  free and easy to download onto your phone. www.whatsapp.com Messages are secure with end to end encryption.  But, we should still use caution when communicating about and with workers, particularly when communicating addresses.
Be sure to discuss the GED program with migrant students.  Only requirements are that they have had to have moved at least once since coming to the US and they do not have a high school diploma or the equivalent. GED students work through the UVM Extension Service.  The contact person is Claire Bove- claire.bove@uvm.edu, (802) 476-2003. There is also a program that includes English language study for workers under age 23. (802-476-2003 ext. 223 or alexandra.houghton@uvm.edu)
The Ben & Jerry's grant proposal for $2000 for ESL supplies was submitted.
3) At Middlebury College: Juntos, a Middlebury College student organization, aims to help migrants in many ways. They support the Mexican consulate visit each year and produced a brochure on Immigrants in the U.S. Myth vs. Fact.  They invite you to share it to explain the obstacles to legalization.  They seek volunteers to tutor English at their classes on campus when the college is in session and perhaps on farms over the summer or other times. Email them at juntos@middlebury.edu
Spanish Language Practice: Some are working to help farmers and volunteers learn basic Spanish needed on dairy farms (e.g., don't milk that cow, close the gate). https://www.joe.org/joe/2012june/a7.php. ESL teacher Rebecca Holmes recommends offering Oxford Picture Dictionary (Eng/Span) to help farmers point to what they are trying to communicate. Veronica is working on getting a bulk purchase deal on them.
Open Door Clinic: ODC provides needed health services for migrants. They are a critical hub of migrant support on many levels and coordinate with many groups seeking to assist migrants. Visit www.opendoormidd.org and scan Vermont-Farm-Labor-Wage-and-Hour-and-Housing-Fact-Sheet-English . ODC director Julia Doucet shared that there was a recent press call in Wash, DC to discuss New Legislation to Protect Immigrant Farmworkers. Senator Feinstein (D-CA), Rep. Gutiérrez (D-IL), and Farmworker Justice President Bruce Goldstein joined United Farm Worker President Arturo Rodriguez,  farm workers, and farm owners to discuss the widespread implications of Trump's immigration policies and the Agricultural Worker Program Act, legislation introduced by Senators Feinstein, Leahy (D-VT), Bennet (D-CO), Hirono (D-HI), and Harris (D-CA) to protect farm workers from deportation and put them on a pathway to legalization and citizenship. More information about the new legislation is available here. Trump's Mass Deportation strategy has produced fear tidal waves throughout not only the immigrant communities, but all sectors of the labor force — as over half of all United States farm workers are undocumented, according to the U.S. Department of Labor, and over 8 million undocumented immigrants contribute to America's workforce, according to Pew Research Center. Read more here: Leahy Calls for Blue Card for Farmworkers Open Door Clinic says that one of the best things we can do to help is write to officials to push and thank for legislation changes.
Migrant Health Survey: Cheryl Mitchell has been in touch with Open Door, Migrant Justice and VT Dept of Health about updating the 2007 Migrant Health Survey. If you would like to join the small working group that will help to craft the 2017 Health Survey, contact Cheryl (cheryl.w.mitchell@gmail.com or 989-8141). Some met with Health Dept reps on Sept 5 at Rokeby.
Here is a quick overview of current status.
http://www.bistatepca.org/uploads/pdf/VT%20PC%20Sourcebook/18%20A%20Member%20Farm%20Health%20Initiatives%2006.2015.pdf
Clinica de Migrantes: Life, Liberty, and the Pursuit of Happiness: Middlebury College's Gloria Zenteno Gonzalez organized a screening of this medical drama about a year in the life of Puentes de Salud, one of the only health clinics in the U.S. involved in the politically controversial practice of providing healthcare to undocumented immigrants.
Driving Migrants: Wendy Goodwin (wendyg820@gmail.com), Norm Tjessom (nkt.xcski@gmail.com) will drive migrants to shop or shop for them. Let either of them know if you're willing to be a driver to shop for migrants or take them shopping or to errands.
Transportation Payments
Particularly when traveling long distances, transporting numerous people and/or when large amounts of time is involved, transporting people can be costly to the person providing the ride(s).
Workers who provide rides charge $35 or more per ride.
Some workers have wanted to and even insist on paying for the ride.
The group decided that a $10/hr fee will be charged for transportation services.  This will be explained to riders up front and added to outreach materials.  If the driver does not want the fee, s/he will donate the funds to Open Door Clinic (or we could use any donations to buy English language learning supplies).
Food to Farms: Many efforts are being made to bring food to farms or hubs and to organize social events for cooking ethnic food. We see evidence that food trucks deliver ethnic food, some monthly. NOFA has a strong interest in better supporting the Migrant community and would welcome ideas for how they might do that, beyond the Milk with Dignity campaign.
Socializing is happening, particularly on Thursday nights at Two Brother's Tavern for Salsa dancing, starting at 9 pm. Workers enjoy local music events and playing pick up soccer, sometimes at Middlebury College field.
Tamale Making Project: Join us, tentatively, Fri Dec 1 at CVUUS  Fenn House, 3-7 pm to provide worker friendly food for the Consulate Visit while providing a fun cultural event. The current idea is to hire some of the farmworkers to teach cooking classes and to offer a worker friendly community supper with music.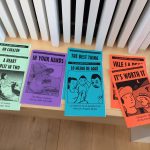 Huertas Project and El Viaje Mas Caro: Both programs are designed to address the unique needs of Vermont's migrant worker population. One helps establish gardens growing migrant food and the other records stories in cartoon format.  Learn about el-viaje-mas-caro project.
Spanish language Catholic mass at St. Michael's college on second Monday of month.  Norm (nkt.xcski@gmail.com) will provide transportation.  Let him know about any people you talk to who'd like a ride to this mass. St Mary's new pastor Father Luke is very interested in helping migrant workers and the ally group. There is hope of reviving a regular Spanish mass at Bridport's St Bernadette's Church.
Migrant Women's Group: Veronica spoke with WomenSafe which supports her effort to start a group to cover health and safety issues.
Housing: Veronica contacted VT Housing and Conservation Board on upgrades to worker housing and is hopeful to hear something back from them soon. Some wondered if CVOEO weatherization program or Efficiency Vermont could help with financing and direction.
Household items needed: Kitchenware and dishes for Four Hills Farm (contact Jenn Buker jennbuker@yahoo.com). Used dryer for Connor Farm (contact Cheryl Connor mhfarms@gmail.com).
LEGAL HELP
Resisting Deportation: Here's an interesting and informative article with various perspectives and strategies of which to be aware:
https://www.nytimes.com/2017/05/23/magazine/is-it-possible-to-resist-deportation-in-trumps-america.html?_r=0
Vergennes Farmer Wins Right to Argue in Court for Asylum
https://www.sevendaysvt.com/OffMessage/archives/2017/07/06/vergennes-farmer-wins-right-to-argue-in-court-for-asylum
Know Your Rights (KYR) Training & Outreach  Middlebury lawyer Emily Joselson attended a livestream, 2-hour training, How to Give a "Know-Your-Rights" Presentation for Immigrants, presented by the Immigrant Defense Project (IDP) in collaboration with the CLEAR (Creating Law Enforcement Accountability & Responsibility) project at CUNY School of Law and The Center for Constitutional Rights.  She scheduled a rebroadcasting of this 2 hour training for the larger social justice & legal community recently that covered:
What rights do individuals have during an ICE raid, when questioned or searched at the airport, or during an interaction with immigration or law enforcement at home or in public?
How can you help your clients, community members, and others invoke their rights and remain safe?
What are the tactics that immigration and federal law enforcement use during an arrest, investigation or encounter and how can individuals protect themselves?
If you'd like to view the video in your own time, here is the link: https://www.immigrantdefenseproject.org/ttt-materials/.  Note that the training itself starts about 3 minutes after the video starts.
Refer to Know Your Rights booklet (KYR). Here are the one page "Know Your Rights" pamphlets published by ACLU, in English and Spanish:  ACLU – Know Your Rights – English-v01  ACLU Know Your Rights Spanish-v01 and a friendlier KYR flyer to share with workers developed by Migrant Justice: KYR Spanish Version.
To find out more about the groups who do this excellent training together go to IDP:  https://www.facebook.com/immdefense?utm_source=March+29+TTT&utm_campaign=73fbfde399-EMAIL_CAMPAIGN_2017_03_27&utm_medium=email&utm_term=0_89c34aa89c-73fbfde399-14190224
Here's a link to the Center for Const'l Rts: https://ccrjustice.org/
They now have the training slides available in Spanish.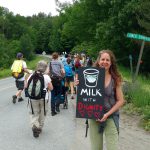 Migrant Justice: Migrant Justice, based in Burlington, is most know for its Milk with Dignity campaign. They've organized several rallies, marches and protest campaigns. For more, see Migrant Justice's Milk with Dignity Timeline. Ben & Jerry's has just signed the agreement. It is working with the Vermont Legal Aid on a labor and housing Know Your Rights booklet for dairy farm workers in Vermont. Also, they're working with Vermont Legal Aid for family preparedness plans. They warn us to be cautious when creating lists with names, addresses and other personal information of the migrant community to avoid any risks of getting this info in the wrong hands. You can reach out to them with any inquiries (marita@migrantjustice.net). Offer these phone numbers to workers on the KYR spanish version flyer mentioned above:
Teleayuda phone number 802-658-6770 for any question related to labor, housing, immigrant rights
For emergencies such as detention, accident, violence or threats of violence, death, forced labor, etc 802-881-7229
Migrant Justice asks to have their help line number on the KYR or outreach material. Their number is now open 24/7. They received calls from people at the moment of their arrest, from detainees, from their family members, thanks to promoting their help line. This is better than having an attorney number on a card which can cause confusion with workers thinking that now they have an immigration attorney. In practice, every time someone was detained and was able to communicate with Migrant Justice, they got better support. People that are free now reported that when they were in immigration custody, they were asked many questions and if ICE or BP doesn't have a proof of their nationalities, they were to use their only call to call the consulate. This is not what should happen. ICE work is to prove the person is not from the USA and if they don't have a passport or id, then cannot assume that person will call the consulate. Migrant Justice was deliberate in taking out the part with the consulates numbers on their KYR materials to make ICE work and not making it easier for them to prove people aren't from here. The right to a call is given after people are processed (finger prints were taken, names, etc) and under officer's discretion. So far no one had a problem calling who ever they wanted.
When Migrant Justice gets a call: They ask the person details about the arrest, if he/she has any record, who should we contact to let them know this person is detained (family, friends, etc here or in their country). They let the person know their chances, open a file with his/her info and location (people can be moved to different facilities depending on many factors). And that they'll make everything possible to connect with an attorney. For this, they have a list of Boston immigration attorneys, contact the consulate, contact the attorney that already is handling other cases.
They also connect with family members, open an account at the facility for money deposits that are used for food, toiletry items, text messages and phone calls. They also check visit times. They'll ask support of migrant ally groups, such as attorneys to use. And very important they ASK if the detainee wants to have a public campaign (depending on if it helps or not).
Local/State Law Enforcement Model Policies Meetings:
Middlebury PD:  Emily J met with Chief Hanley, feel confident Midd PD is meeting these goals. See: Response to Inquiry about Sanctuary City Status
Bristol PD:  Monkton People Power met with Chief Gibbs, with the same results
Vergennes PD:  Emily J will reach out to Chief George Merkel, & along with John Barstow, and anyone interested from Monkton, or elsewhere, will arrange a meeting
Addison Co. Sheriff's Office:  John B will reach out, and along with anyone interested from Monkton, and elsewhere, will arrange a meeting
State Police/Addison Barracks:  Monkton ACLU/PP will reach out and arrange a meeting; if others are interested, email the group.
Mexican Consulate Visits: Several are working to strengthen the next mobile Mexican Consulate Visit (each winter, Sat. Dec. 2, 9 am- 3 pm at CVUUS). See this debriefing: Mexican Consulate After thoughts. A Mexican Consulate Visit is held at Goddard College's North Campus library in Plainfield (each Spring). Jessica Holmes met with officials there. The Consulate recommends inviting local banks to attend to provide information on opening accounts since saving money and sending it home is critical.
Sanctuary Church: CVUUS is exploring whether it should be available as a Sanctuary for immigrants and migrant workers threatened with deportation by the Federal Government. What are they in a position to offer? What are the risks? Look here.
Coordinating with Other Social Justice Groups: Margy Young and others have created a list of local organizations meeting and doing work in Addison County in an effort to help us avoid duplication:  https://sites.google.com/view/middleburyresistance/connect and calendar of upcoming events at https://sites.google.com/view/middleburyresistance/calendarMiddlebury
Indivisible tries to meet the second Monday of every month at 7:30 pm at CVUUS and is discussing migrant support as well as other issues. They hosted an  "activist meetup" on Sunday June 11 at Kingsland Bay State park in place of their Monday meeting in June for members of activist groups (and their families) to connect. They'll meet next Aug 14, and Sept 11.
Middlebury SURJ (Showing Up for Racial Justice) meets on the 1st Thursday of every month at 7:45 pm. Migrant Justice has been the focus of their recent meetings. They mobilized Addison County residents to attend the March for Milk with Dignity on June 17 mentioned under Migrant Justice's work. the March for Dignity in Burlington demanded justice for farmworkers and human rights for all. All were invited to check out the May SURJ meeting, enjoy some cake, and write postcards to Ben and Jerry's encouraging them to support the Milk with Dignity campaign. They raised $500 for Migrant Justice and $500 for Open Door Clinic with a screening of The Long Ride on Sun May 21, 7 pm at Middlebury's Marquis Theater. It told the story of the historic 2003 Immigrant Workers Freedom Ride that sparked the birth of the new Civil Rights Movement for immigrant workers in the United States.
http://www.sfchronicle.com/news/article/Documentary-shows-how-we-re-going-backward-on-11050443.php
Migrant Workers/Immigration Panels: Several have been held by various social justice and faith groups to raise awareness. The one at Congregational Church of Middlebury on April 28 was moderated by Emily Joselson and Andy Nagy-Benson and included: Phyllis Bowdish, farm owner;  Julia Doucet, Outreach Coordinator at Open Door Clinic; Dr. Susannah McCandless, International Program Director for Global Diversity and Migrant Justice board member; Robert Zarate-Morales, Middlebury College's Juntos organization. We were urged us to be in touch with our federal elected officials and ask them to change immigration law to allow longer stays of at least one to two years for dairy workers. We were also asked to prioritize the teaching of English so migrants had greater capacity to access help available to them.
WORKING CONDITIONS
March for Dignity: On Saturday June 17, several migrant allies and Middlebury SURJ members walked almost 14 miles from Montpelier to Waterbury, demanding humane working conditions for Vermont dairy workers. They learned devastating news that two farmworkers who bravely marched for their human rights have been detained by ICE. Several wrote immediately to ICE/Boston (1000 District Ave, Boston MA 01803) to tell them to use their discretion to release Esau Peche-Ventura (2/4/91) and Yesenia Hernandez-Ramos (1/18/98). We asked them to pass the message along to Field Office Director Chris Cronen. Then called Senator Sanders (802-862-0697) and Senator Leahy (802-863-2525) asking them to do everything they can to free Yesenia and Esau. Both Leahy and Sanders' offices were excellent and said they were trying to take action on the case.
Jostein Solheim, the CEO of Ben & Jerry's, publicly reassured hundreds of farmworkers and their fair food allies — at the culmination of the 13-mile march to the company's factory in Waterbury, VT – that Ben & Jerry's was "ready to go" when it comes to Milk with Dignity.
The corporation, known by many for its professed progressive values, finally followed through on its commitment to protect the fundamental human rights of dairy workers in its supply chain by signing the Milk with Dignity Agreement. The Milk with Dignity Program is designed to secure economic justice in the dairy industry by requiring corporations like Ben & Jerry's to pay a price premium that goes to providing farmworkers and farmers with economic relief and direct support to comply with the Program's human rights-based Code of Conduct.  The Code of Conduct requires farms to respect workers' fundamental rights or lose sales to participating buyers.
You can write to Ben & Jerry's to thank them.
Mr. Jostein Solheim, CEO
Ben and Jerry's Homemade, Inc.
30 Community Drive
South Burlington, Vermont 05403-6828
Dear Mr.  Solheim:
Dairy workers have spoken with you directly about the unacceptable housing and working conditions that they face every day. Thank you for signing the Milk with Dignity Agreement.
The Milk with Dignity Program is a powerful tool to fight the systemic injustice, racism, and human rights crisis in the dairy supply chain. Milk with Dignity offers a holistic approach to workers' rights that brings together farmers and farmworkers to achieve worker- defined human rights standards.
I stand with Migrant Justice and you in making an unequivocal commitment to human rights in your dairy supply chain today.
Sincerely,